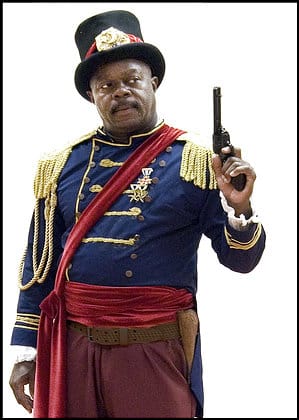 Eugene O'Neill's The Emperor Jones is a play one often has to read, but rarely gets a chance to see. Many people will say that, in order to realize a play, it must ring true to the time period; it must be able to spark something in the contemporary audience. Why then does a play about an African-American criminal enslaving a population of jungle natives and then going mad amidst the shrubbery appeal to the modern theatre patron?
Because that's not what the play is about, silly. It is what happens in the play, but what the play is about is an entirely different matter. And there are many reasons why The Emperor Jones does not deserve to be shelved because of its period. The Emperor Jones chronicles one night in the life of Brutus Jones, an African-American exile from the states who, with the help of a good story and a lucky silver bullet, has installed himself as a tyrant over the native people. When his servants abandon him for the hills, where a ceremonial drumbeat adds a menacing flavor to their unseen preparations, Jones takes off into the jungle, hunted by his subjects and haunted by things long past.
While the above paragraph outlines what the play is about, the appeal of The Emperor Jones lies somewhere different: somewhere within a man's search for God, where he will try imitation, condemnation, and tearful appeal before arriving to a place of acceptance. Jones' own attitude toward the natives of the jungle mirrors the attitude of the slave owners in early American literature; not only is he glorifying the men who once enslaved his ancestors by condoning their behavior, he is also placing himself above his own people… in essence, naming himself a god.
Once he is on his own, running scared through a jungle that he does not know, he is chased by the ghosts of the men he has killed (both black and white), as well as by the spirits of long-dead slaves, seemingly indifferent to his pleas for mercy, lost in the suffering they endured on behalf of their children, on behalf of him. At the end of the Emperor's personal journey, when he is pleading directly with the Christian God whose name he has so often used in vain, he is met, not by Jesus, but by a masked, bejeweled tribal god, unknown to him, in yet another example of the way Jones has failed to uphold the virtue and nobility of his roots. Considering the highly disturbing nature of the devils awakened in Jones' own mind, it's only appropriate that the story be told, not on a proscenium stage, but in an awkward sort of round that lends instability to the very venue.
A set design by Thomas B. Kennedy allows for movement of the jungle surrounding the frightened Jones, so that the forest seems at times to be closing in on him, adding credibility to Bus Howard's already fascinating performance as the feverish Emperor. Rip Claassen ought also to be commended on his costuming, adding quick changes to take Jones' clothes a little more to shreds with every new scene, and also giving us the first clue as the Jones' own personal ties with slavery, taking him from well-dressed despot to a Mark Twain slave in a matter of moments. Barbara Weber's drumming, of course, is not to be ignored, either; continuing from the moment the doors open through the greater part of the play, Weber's drumming goes far in setting the scene and proves to the an integral part of this particular theatre experience. The themes and the issues echoed throughout O'Neill's The Emperor Jones are pertinent even now, and this production is a testament to what theatre is really about. It's about a play that says something, and if a play says something, it will say it in any language, at any time, and a play that says something certainly deserves a chance to speak.
The Emperor Jones runs June 23-July 23. Performances are Wednesday-Saturday evenings at 8 PM with 2:30 matinees on July 10, 17 and 23. Tickets are $18-$26. Performances are at Theater II, Gunston Arts Center, 2700 S. Lang Street, Arlington, Virginia 22206. Call 703-553-8782 or visit www.americancentury.org for information and reservations.