Quite a few years ago I lost my mother to cancer and to this day I wonder what it might be like to see her one last time. What would I say? What would she say? What would I feel? All these thoughts came to mind after seeing Michel Tremblay's play For the Pleasure of Seeing Her Again currently mounted at MetroStage in Alexandria, Virginia. Mr. Tremblay, one of Canada's most popular playwrights and certainly one of its most respected has written a wonderful tribute to his Mother whom he lovingly refers to as Nana.
The play takes us through the Narrator's (Bruce M. Holmes) life with his mother Nana (Catherine Flye), from his early years of pranks in the streets of Montreal, through his teenage years when he receives gifts from his mother that guide him down the paths his life would take as a playwright and a man. They discuss their different tastes in literature (her thoughts on French orphans are hysterical) and the mechanics of the family wringer washing machine (that always sucks in arms up to the arm pit) with equal amounts of humor and motherly wisdom. When Nana has to face cancer, Ms. Flye gives her best performance, comparing the act of giving birth to the growing cancer inside her. It is when she falls to the stage in pain, giving "birth" to her death, that our Narrator reveals a wonderful send-off for the woman who guided his life.
Catherine Flye is well cast as a snippy, nimble-witted mom who, complete with dowdy apron large enough to carry the evening meal and a snack to boot, manages to make us laugh and bring us to tears all in one evening. Ms Flye whisks us off to a place that we see just how special our mothers are. She tells her stories and offers her wisdom with such grace and humor that she becomes our mom in the process. Mr. Holmes delivers a satisfactory performance as the ever questioning son, always attentive, never losing interest in her thoughts and visions.
A single chair placed on an elegant hardwood stage with a backdrop of translucent fabric screens make up the scenic design by Dan Conway. This is the perfect setting for a play where the dialog is front and center. The direction by John Vreeke is impeccable. Vreeke who has recently worked with Theater J and Woolly Mammoth is currently working on Bal Masque, the world premiere of a new Richard Greenberg play for Theater J.
Through the translucent screens and misty fog we see a golden swing that waits to carry her to her heavenly reward. As she pulls herself up into the swing there is not a dry eye in the audience.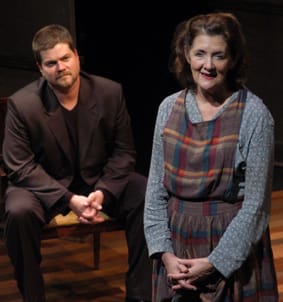 Michel Tremblay's play is a colorful palette of smart dialog and loving memories that linger long after the lights dim. I have come to expect excellent direction and quality performances from MetroStage and this production does not dissatisfy. Carolyn Griffin continues to bring wonderful theatre to the Washington area – The Last Five Years comes immediately to mind. For the Pleasure of Seeing Her Again is a tale of imagination and love told by a wonderful playwright but more importantly a tale of mother and son. It's funny how the most simple of stories can be the most satisfying.
---
For the Pleasure of Seeing Her Again will be in performance October 12-November 27, Wed-Sat at 8, and Sun at 2 and 7. Tickets can be ordered by clicking here 1-800-494-8497. For group sales, call 703-548-9044. MetroStage is fully accessible and has free off-street parking for its patrons. Café Marianna's is next door for patrons who wish to dine before the show. For the Pleasure of Seeing Her Again is sponsored in part by the Canadian Embassy.