SIGNATURE OPENS ITS DOORS ONCE AGAIN –
HIGH NOTES OF THE DAY
By Joel Markowitz
Talent was oozing from the walls of Signature yesterday, August 4th, as subscribers, curious Shirlington neighbors and musical theatre lovers (like me) flocked into The ARK and MAX theatres to watch and to listen to the area's and some of The Big White Way's most talented singers. Here 10 of my favorite moments.
(1) Will Gartshore's duet of "Not A Day Goes By" from Merrily We Roll Along, (where he will star as the very unlikable Franklin Sheppard when the show opens the new Signature season next month), and "I Don't Remember You," a Kander and Ebb classic from The Happy Time, which will be part of the Kander and Ebb Festival next Spring. Want to know why Will has won two consecutive Helen Hayes Awards for Best Actor in a resident musical? When I was listening to his gorgeous voice singing these two songs – I was in musical heaven. I could see a third consecutive win next year for what should be an incredible performance this fall in Merrily.
(2) James Gardiner and Erin Driscoll singing "Something," a sweet duet from The Witches of Eastwick, my friend Steven McKnight, who was sitting next to me, said after these two young and talented singers concluded their beautiful harmonies, "Every time I listen to this song, it gets better and better." It's my favorite song in the show and no one has ever delivered it quite like James and Erin.
(3) Gorgeous, gorgeous harmonies on "Dear One", a scintillating quartet from The Kiss of the Spider Woman, another Kander and Ebb production that will grace the Signature stage in the spring. I wish you were all there to hear Will Gartshore, Eleasha Gamble, Erin Driscoll and Nick Blaemire sing my favorite song from Spider Woman. It was sheer bliss!
(4) Composer/lyricist Nick Blaemire touching "Me and The Open Road" (I apologize if I got the title wrong), a song from Glory Days, (which will have it's inaugural full production at Signature) a portrait of four high school buddies who reunite a year after graduation and find they've drifted apart, where he tells the story of meeting he met a boy "He kissed me in the car under the sky." and then  having book writer James Gardiner join Nick on "We Can't Be Boys Anymore."
It's so rare to find a composer and lyricist who can actually sing beautifully, and Nick and James can (we heard James' beautiful voice in Witches this year as Michael Spofford. I believe that these two are going places and Glory Days should be the launching pad for what I hope will be a long and successful career in the theatre. And what a pleasure it was talking to Nick and James after the show. Best of luck guys!  
(5) The powerhouse Eleasha Gamble rocking the roof with the theme song of The Kiss of the Spider Woman. Look out Chita Rivera! When Eleasha threw up her arms to end the song, she enveloped the entire appreciative audience in her web!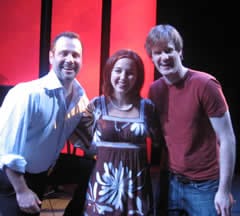 (6) Jessica Grove (pronounced Grovay) from a cabaret with Nevermore's Edgar Allan Poe and Into The Woods' Baker – Daniel Cooney – singing "Take Me To The World" from Evening Primrose, a TV special written by Stephen Sondheim about a girl who is stuck in a department store when the doors are closed at night, and her strange encounter with a young man played eerily by Anthony Perkins. Jessica proved that you could sing a song powerfully without turning the decibel level up. I saw Jessica many times in Thoroughly Modern Millie in NYC. She is a real trouper and boy can she sing!
(7) Jessica's Dad – Billy Grove – surprise singing of "O Sole Mia." We found out quickly where Jessica got her singing pipes, as her Dad gracefully hit all the high notes with this famous Neapolitan classic. He told me after that show that he's been singing forever. I don't know what's in the water in Columbus, Ohio where the Groves reside, but they need to bottle it. Bella Billy!
(8) And now to my favorite cabaret of the day – the hysterically funny, personable, multi-talented Jackie Piro, making the crowd laugh with great songs and stories about her Broadway and On The Road career. Jackie is a storyteller and each song becomes an event. Her diction is perfection and listening to her singing "Words, Words, Words,"
Sookie's big number from The Witches of Eastwick, was like hearing the song for the first time. And her stories, "I was the star of the show, Marc Kudisch (Darrel van Horne – the Devil) just didn't know it, And, "This is the part of the song where I straddled Marc.And Eric Schaeffer yelled, "That is a bad idea," left the crowd roaring!
Jackie's rendition of "I Dreamed a Dream" (she played Cosette and Fantine in Les Miz) was heartbreaking, while her "Vanilla Ice Cream", a song made famous by a legend – Barbara Cook in She Loves Me showed off her operatic upper range and, again, her talent to sell a song. And when she sang "He can't Filler Up," a naughty song about a man who just can't please her –
"He can monkey around
'Til his wrench is sore.
But he won't filler up anymore,"
The audience was howling.
After the show, Jackie and I had a sort of reunion (see photo). When I podcasted the three witches last month, she was the life of the interview. Her unique laugh filled the podcast with so much joy, and having her throw her arms around me and I around  her, was the highlight of my day! Love ya Jackie!!

(9)  Stephen Gregory Smith singing the powerful "Paper Soldier" from One Red Flower in his cabaret You Gotta Use What You Got. Here, Stephen showed us again that he can deliver a song with immense emotion. It was, for me, the highlight not only of the show, but of his many performances at Signature. And watching the real, funny, sarcastic  slasher movie loving Stephen (I love the movie BUG too) getting the audience to sing and sway along to "I Can't Take My Eyes Off of You," reminded me of his playful side, one I see when I check his personal website often.
Stephen sang "Giants In The Sky" from Into The Woods, where he played the adorable Jack, temporary keeper of the beans in Signature's production which inaugurated the new complex. Watching and listening to Stephen sing those tongue twisting lyrics reminded me of his fantastic adorable performance as the kid who just "didn't get it." Special kudos to Jenny Cartney who not only accompanied Stephen on the piano, but also lent her wonderful voice to many of the songs in the show, and then ran over to accompany George Dvorsky  in his cabaret. You are something else, Jenny Cartney!
(10) I saw George Dvorsky when he took over for Doug Sills when Mr. Sills suddenly disappeared to London after The Scarlet Pimpernel opened to scathing reviews. Talking about that experience where he was called in to take over the lead in the show, offered the audience a look into the life of a real Broadway trouper. With his gorgeous voice that can soar up and down the scales, the ability, like Jackie Piro, to sell a song, and vocal ability to sing a gorgeous falsetto, George Dvorsky showed his audience what a talented singer could do with songs by Jerome Kern, Cole Porter and Kander and Ebb.
His funny rendition of "Where is the Life That Late I Led?" and his ability to pronounce all those difficult lyrics, made me hope that I could one day see him in shows like Man of La Mancha. His sultry take on "There But for You  Go I" from Brigadoon  – his favorite show that he has performed many times ––sent chills up and down my spine, and what he did with Kander and Ebb's "Sarah Lee", well, it was delicious! What a pleasure to watch and listen to a pro!
So there's the list of highlights from the House of Signature, where great music and talent lives. Thanks to all the Signature staff who made this possible! Good luck with your 2007-2008 season as we Merrily Roll Along to see what musical pleasures await us.