THE RHYTHM MAN IS HONORED  
GIL MEAD: A CELEBRATION

Monday, Sept 17th in the Kennedy Center Concert Hall

Written by Joel Markowitz

Photos of the evening's performers taken at the after party by Joel Markowitz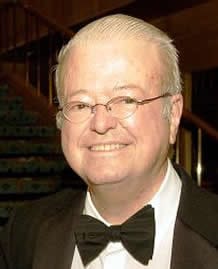 With the lush sounds of strings playing "Bali Ha'I," from the overture of South Pacific, the Celebration Orchestra, conducted by George Fulginiti-Shakar, began the festivities to honor and thank DC's theatre's best friend and fan, Gilbert Mead, in the Kennedy Center Concert Hall on Monday, September 17th at 6 PM.
As the screen above the orchestra flashed the names of theatres, dance groups, libraries, and arts-related programs which Gilbert and Jaylee supported with their time and financial generosity, it was almost unbearable to think that this kind man would not be seen anymore on opening nights, at The Helen Hayes Awards or at his Watergate home tickling the ivories.
But at the same time, you couldn't help smile and applaud this generous man who always had a kind word for actors and directors and anyone associated with the theatre.
Later we heard that when he liked an opening night, he spread his arms wide as if to hug the stage.  Well, this time the show hugged back. And what a show it was.
Lauren Williams and James Gardner started the evening on a "Lovely" note with a silly song from A Funny Thing Happened On The Way To The Forum called, you guessed it, "Lovely." Lauren's funny facial expressions brought wide grins and laughs from the audience.
Brad Oscar recreated his larger-than life Emcee with "Wilkomen" and Meg Gillentine sang the heart-breaking "Cabaret" from last year's Arena Stage production.
Glen Seven Allen, who also appeared in Cabaret at Arena Stage (as Cliff), and who is about to appear in 1776 at Goodspeed. beautifully sang "If Ever I Would Leave You" from Camelot.
Michael Forrest, Steve Cupo, Diego Prieto, Stephen Schmidt, Stephen Gregory Smith and Lawrence Redmond joined Glen and Brad to sing the rousing "Heart" from Damn Yankees. Not a bad choice to honor a man with a big heart.
What better song to sing to a music lover than "I Hear Music" by Frank Loesser and Burton Lane, two of Broadway's greatest composers. And who better to sing it than Charles Williams, a vocal teacher and artist-in-residence at the Levine School of Music.  His smooth as silk voice filled the hall.
And then the thunder came and the concert hall shook as Julia Nixon recreated "Lot's Wife," from Studio Theatre's Helen Hayes Award Winning Best Resident Musical Caroline, Or Change. Climbing up and down the scales with her powerfully beautiful voice, Julia left the audience roaring. You had to be there to experience it.  Who would want to follow that?
The Ringers Barbershop Quartet did, and they stole the show singing "Rhythm Man" and "Memories of A Song" -showing us why Gilbert Mead loved to sing barber shop songs – their harmonies were so gorgeous. Watching their hand movements squeeze out those beautiful notes, left us all in a tizzy.
Kelly Lucas, President and CEO of Community Foundation of Greater South Woods County in Wisconsin Rapids, Wisconsin, Gilbert Mead's hometown, told about how their high school theatre needed a new piano, and Gilbert and Jaylee not only bought them a new Steinway, but sent a group of students to NYC for a theatre weekend.
Donna Migliaccio (Helen Hayes Winner in 1992 for her role as Mrs. Lovett in Signature Theatre's Sweeney Todd) and Stephen Gregory Smith joined forces to sing "Not While I'm Around." It's one of my favorite songs and Stephen's rendition was truly heartbreaking and beautiful.
The guys from "Heart" returned to sing the fluffy and silly "There is Nothin' Like A  Dame" from South Pacific, with Meg Gillentine's sexy crossover giving them added incentives.
Sherri Edelen brought her comedic talents to "No Time At All" from  Pippin, followed by the Celebration Orchestra's powerful rendition of the Overture from Merrily We Roll Along, conducted by Jon Kalbfleisch, who is conducting the show now at Signature Theatre.
Jackie Piro sang the heartbreaking "Simple Little Things" from 110 In The Shade, from her Helen Hayes' Award Winning  performance at Signature Theatre. She didn't sing the song, she lived it.
E. Faye Butler shook the place up and had the audience clapping with her singing of "Glory"  from another Signature Theatre Production The Gospel According to Fishman.
Molly Smith, Artistic Director of Arena Stage, told how Gilbert and Jaylee Mead urged her to direct her first musical South Pacific. She told us that, along with all his other accomplishments, he was a talented musician. "A great theatre town needs great patrons" she said, and named Gil and Jaylee two of the greatest patrons of this American century. She reminded us that when the Arena Stage renovations are complete, the new center will be forever named The Mead Center for American Theatre.
Will Gartshore lent his voice to Gilbert Mead's favorite Broadway song  "Somewhere" from West Side Story. It was sheer beauty.
It was Studio Theatre's Artistic Director Joy Zinoman who got to make the final introduction. First, she recalled how there was a plastic box in their old lobby to collect contributions so Studio could build their own theatre. "People usually put in quarters and dollars in the box, but when the box was emptied that week, we found a check for $3,000 from Gilbert Mead." And then she introduced Jaylee Mead.
Jaylee came onstage beaming, thanked everyone and drew laughs when she especially thanked those who battled DC's rush hour traffic to make the 6 PM curtain. She also thanked the night's producer Victor Shargai and Linda Levy Grossman for organizing the celebration and the performers for contributing their time to be part of the celebration for Gil.
Such a Mead thing – always thanking others.
What better way to end this thank you to a man who loved the business – a man who musical directed, performed and produced musicals  for MAD, the Music and Drama club formed by NASA employees, and who, with Jaylee,  transformed the cultural landscape in Washington through their philanthropy than with a finale of"There's No Business Like Show Business".
As each of the performers walked onstage singing Irving Berlin's anthem to the theatre and handed Jaylee a beautiful  rose, I realized that the variety of the rose was Double Delight. (I am an avid rose grower).
What an honor it has been to for all of us to be in the presence of these Doubly Delightful patrons of the theatre.
At the reception that followed, I thanked Jaylee Mead for her and Gil's generosity, and after I took her picture for this article, she said to me,  "I'll see you in the theatre."
I'll be looking for you,  Jaylee…
Thanks, Gilbert, for the memories.
Gil Mead- A Celebration was videotaped as part of the Kennedy Center's Millennium Series, and can be viewed here.