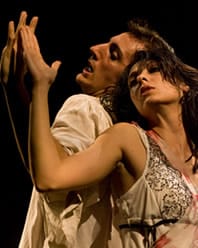 Greg Marzullo tells us about his recent role as Roderick Usher
Joel Markowitz reports from Synetic's Monster Ball following The Fall of the House of Usher
"Ladies and gentlemen. This show is the most disturbing ever… If you have a big heart – leave the theatre now…"
It was Halloween night at The Rosslyn Spectrum and what better show to see than The Fall of the House of Usher, and who better to see the show with –  than with over 200 costumed theatre goers ! Dick Nixon sat near me, and when a witch and her cowboy friend discovered that the former president was sitting in one of their seats, they impeached him and banished him to the back of the theatre,  Dick wasn't happy – it really bugged him.
After the the house fell, and the best costume prize was given to two monkeys, the Monster Ball began with everyone gobblin' down tasty treats and gulping down lots of vino.
But the tastiest treat of all was having watched Greg Marzullo's creepy, disturbing, elegant dancing, stretching, incestuous, pained, morbid, depressing confused performance as the brother who just couldn't close the lid on his need to be so ever close to his sister.  It was simple and powerful, at the same time, quite elegant and loony.-not an easy thing to accomplish.
————-
Joel: Was the performance creepier tonight because it was Halloween?
Greg: The show certainly had an extra hint of atmosphere, I think, from the audiences' perspective, but on my end, I still had to focus on telling the story. The journey is creepy any day of the week or time  of the year, so it speaks for itself.
Joel: What is it about the Synetic experience that lured you away  from your desk at The Washington Blade to come and be battered  around again on the Rosslyn Spectrum stage?
Greg: I've loved Poe's "Usher" since I was about 10 years old. It was one of my favorites, and I knew that Synetic would tell the story exactly as it needs to be told. Plus, it's the type of role that I love –  someone who's falling apart, struggling against seeming insurmountable odds and making morally dubious choices. That's something I can really play as an actor. Because Synetic does things in the classical vein, a lot of the men's roles are alpha male types, who are, more often than not, complete dullards. They fight, get angry, get jealous, give in to savagery. Nothing about that is alluring to me as an actor. Roderick Usher is a much different story and one that allowed me to feel challenged and, hopefully, ring in an effective performance.
Joel: Tell us about your character?
Greg: Roderick is one half of a pair. He and his twin sister Madeleine are raised in this monstrous family, and in Poe's story there's a hint of incest. We amped that up a bit, which helped the arc of the story. I see Roderick as someone who is struggling so desperately against the influence of his family, but it's all he's known. Much of the story has to do with fighting against the curses our family places on us – those curses can be lashing out in anger, various forms of abuse,  self-hatred, and, in this case, what we would call today sexual abuse. Roderick knows he has to end this line of insanity, but at the play's start he doesn't know how. His method, of course, is devastating and horrifying.
Joel: What life experiences did you bring with you in preparing to play Roderick?
Greg: Well, mercifully, I don't have any sexual abuse in my past to deal with! However, I think at various points in my life I've lived with a certain sense of shame over things that I've done or, in my teen years, about my gay identity. Roderick is deeply disgusted with his own desires, his own actions, and remembering what that was like became part of the mix. Plus, Roderick's "illness" is a sensory one. He says that food is too much. The touch of his clothes is torment. He can't be in bright lift. Scents make him nauseated. All these things are so utterly human that it was very easy to hook into my own senses – consequently, however, the role also really got under my skin.
Joel: Please talk about the physical demands of your role.
Greg: For a Synetic show, this is pretty light for me. Past shows,  especially the wordless ones, are much more vigorous than Usher. The ensemble are the real workhorses of this production – as they alwaysare with Synetic. More often than not, they're the ones panting after every scene while the so-called leads are backstage having tea and biscuits.
Joel: What is the most difficult scene for you to perform?
Greg: The end is, by far, the most difficult. The story, both in Poe's original and in our interpretation, has no denouement – it builds to the climax, and then it's lights out. Consequently, that final moment, Roderick's complete unhinging, has to be the peak of the  performance. During many shows, I'm able to walk off stage and be ready to go out to dinner, talk with friends, and joke with fellow actors. After the curtain of Usher, it takes me a few moments to ground myself from the incredible sense of horror that the scene engenders. During the week, I often review certain moments of the show while I'm walking to work, but I avoid thinking about the finale, because even thinking about it, my heart rate goes up and my breathing becomes a little ragged. Sometimes, after the final crash,  when we were all "dead" on the floor, I'd tremble and cry, because it's really overwhelming.
Joel: Talk about working with Irina Koval, who plays Madeline in the show?
Greg: Irina is an absolute gem on stage. She and I have known each other, through Synetic, for six years, and we had never had the opportunity to play opposite one another. It was a delight. She's a ferocious actress, in that she really goes for it all the time. She is unrelenting, and that's a wonderful source of inspiration. I considered it a great honor to be paired with her.
Joel: Do you do anything special on the day of a performance to save your energy?
Greg: Not really. I used to get into all of that – lying around with cucumbers on my eyes and speaking in low tones to conserve my voice -but ultimately, my impatience and laziness won out. Plus, I've found that it's important to spend time away from the show. I need to live my life and enjoy the moment, not live for that 90-minute stretch.
Joel: What was the rehearsal process like?
Greg: The Synetic rehearsal process is really arduous. We develop the show mostly through improvisation with the guiding hands of Paata and  Irina Tsikurishvili, the director and choreographer of the company. The name of the game with Synetic is "non-attachment." It's all very Buddhist. We might develop a scene that's amazing and loved by all, including the Tsikurishvilis, but 10 minutes before opening, it could get cut because it doesn't work in the Rosslyn Spectrum space. Things are constantly shifting, and it can be challenging for actors, who want a certain sense of consistency, to work with this. However, the cast of Usher was really wonderful, and I think they rolled with  things remarkably well. Much of the cast is either completely or relatively new to Synetic, and they made the process the easiest and most enjoyable one that I've yet encountered with the company.
Joel: You were incredible in Synetic's production in Faust, where again you had to writhe all over the stage. Was this role less or more or equally difficult to play than Faust?
Greg: They were both difficult in different ways. Playing Faust was about bringing life to antiquated text and finding what is sympathetic about him. He's such a bastard, really, but it's his foolishness that connects him to the audience. We all  have committed seemingly inexcusable acts of betrayal in our lives, so the trick was allowing people to connect to him through their own memory of those moments.
Roderick's initial difficulty is in his "gear shifts." He quickly goes from the gracious host to the invalid to terror-stricken nut-job so quickly, and yet, in some ways, underneath all that, he's also guiding the situation where he wants it to go.
Joel: Do you enjoy being in productions where you and the actors are covered with blood, have to perform incestuous acts, where you are surrounded by vampires, drug addition, insanity and sex?
Greg: I don't know that "enjoy" is the right word for it. One of Synetic's top shows is "Host and Guest." It is a favorite among many of the audiences and was first performed in 2002. That show, although it's brilliant, is one I dislike intensely, because of its savagery. It's all about ethnic hatred and the madness of war, and I hated performing it. All the things you mentioned I can handle, but sinking into the animalistic berserker of battle, especially in this blood-soaked world, is something that disturbs me greatly.
Joel: They just don't build those things like they used to, so can  you tell us how that damned house falls?
Greg: There's very little set magic that goes on. It's the actors. The ensemble, scantily dressed and painted as if they were carved from marble, is the house – its walls, its statuary, its former residents – and through an intricately choreographed scene they crumble and fall apart. Other than that, it's just some smoke and revolving doors.
Joel: Would you ever consider doing something happier, like a musical?
Greg: Actually, before coming to Washington, I used to do musicals. I was trained as a singer and actor, and when living in Phoenix, I was doing musicals primarily. Perhaps my favorite was "When Pigs Fly," a fantastic feel-good piece that is a far cry from the depths that Synetic traverses.
Joel: Are there any roles that you would like to play that are less physically stressful?
Greg: I don't know that there are. I believe that we, as a culture, are generally so disconnected from our bodies that any art that reminds us of that connection is something I want to be a part of. People respond viscerally to Synetic shows, because, whether that individual is physically active or not, we all can innately grasp the physical condition. There's millennia of physical knowledge stored deep in our genes, and I think it gets reawakened by work like Synetic's.
Joel: When you are not being battered around in a Synetic production, what do you do to pay the rent?
Greg: I'm the features editor at the Washington Blade.
Joel: What's next for you theatre-wise?
Greg: I'm not sure right now. Paata Tsikurishvili and I are talking about what would be good for us to collaborate on. He is a wonderful director, whom I completely enjoy working with, and because of a long history together, we're able to talk about what will work best for us as a pair and for the company as a whole. He's gotten things out of me as an actor that I never dreamed possible. He's incredible! So, we're not sure yet, but we're kicking some ideas around for next season.
Until then, I'm very much looking forward to seeing Synetic's "Romeo and Juliet" and, of course, "Carmen." Irina Tsikurishvili is so damned perfect for this role, and I think she's totally going to rock it out!
——————
The Fall of the House of Usher has closed.  Tickets are on sale now for Synetic's take on the classic Christmas Carol which opens Nov 24th at Rosslyn Spectrum.