Three Who Shone in Beauty and the Beast
Joel Markowitz on the Winston Churchill High School production
Getting technical with Beauty and the Beast lighting designer Scott Selman
Joel: What were the biggest challenges in lighting Winston Churchill High School's gorgeous production of Beauty and the Beast?
Scott: Time is always the biggest challenge.  I am very fortunate to have such a dedicated group of students and nice budgets to work with.  After Churchill did RENT: School Edition at the end of October, we had less than a month to mount Beauty.  RENT took up only half the stage space and obviously had a different kind of feel than Beauty, so we really needed to reinvent the space in a very short period of time.
Joel: How many student lighting assistants helped you with the lighting in the show, and what were their duties?
Scott: My main assistant was Jon Feldman, who is a sophomore at Churchill.  He served as my crew chief for the show, and also ran the lighting console during the show.  Alex Cort, one of my seniors, is my other main lighting technician who worked with Jon to get the plot hung.  They both acted as a master electrician would, responsible for figuring out how to circuit the plot and getting it hung.  They have an added challenge because we work with so many moving lights, so they needed to provide power and data for those units as well.
Joel: Can you describe the different kinds of lighting instruments you used, and how long it took to create the lighting?
Scott: The conventional rig has roughly 150 fixtures, ranging from Source Four and Strand SL units to Fresnel and Par Can wash systems. The show also had 24 moving light fixtures provided by Rick McKinney at Main Light Industries in Delaware. Rick and I have worked together for over 5 years now, and he provides me incredible fixtures at a great price. We had twelve Mac 700 Profile fixtures, which mainly provided template work inside the castle, and twelve Mac 300 wash fixtures, which added to the overall wash systems. The plot was put together over the course of a month.  I knew I would need most of my firepower inside the castle, but I was careful not to limit myself for scenes in alternate locations.
Joel: Tell us about the lighting board you used, and what you were actually doing at the lighting board during the performances?
Scott: Churchill owns a Strand 520i console. The board is a great cross between a standard theatre desk and a rock moving light desk.  It gives me a good balance between controlling my moving fixtures and organizing the conventional systems. It is also very easy to teach.  Jon operated the lighting console during performances, playing back all cues from the computer system.
Joel: You have chosen three pictures from the production that illustrate your lighting for the show. Tell us about these pictures, the scene in the show, and the lighting decisions you created for the scene, and why you chose them.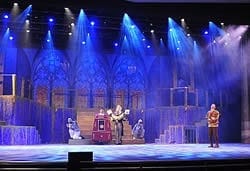 Scott: The first shot is the first time the audience is introduced to the Beast's castle. This happens early in Act 1 when Maurice stumbles upon the castle.  The picture shot is actually about 6 cues into the scene, we built into this cue by revealing the castle with a dramatic moving light sweep that was timed to the orchestra. I am very big about designing for the whole picture and almost always use haze and atmosphere for my shows. In a show like Beauty I am creating a whole ambiance, not just putting light on the actors faces, and the templates shooting through the haze really define the air space and give great depth and life to the castle.
The second shot is during the dance break in the song "Gaston." This takes place in the tavern and is one of the most recognizable songs in the show. I feel that color is very important to storytelling. In lighting I help create the mood and can tell a story with the color of light that I use. Specific colors evoke different emotional responses and I can use those colors to help push the audience further in the right direction. This scene is a much warmer colored scene than inside the castle which is much bluer and much more stark in contrast.
The last show (end1.jpg) is in the last verse of "If I Can't Love Her," which closes the first act. This is really when we see the Beast starting to look inside himself to decide that he needs to change in order to fix his world. He really pulls himself out of his current situation and starts to imagine a world where he can actually love. I love to be able to break out of reality using lighting, and I love using light beams. There is a big musical swell right before the final verse, and our Beast came running down the grand staircase to downstage center. Timed with the music and his movement we have 11 of the moving spot fixtures track from upstage positions and follow him to his down center mark. It was a very moving cue to watch each performance. You really feel the energy build around him as the music swells and the energy builds around him. It's a real Disney magical moment.
Joel: What was the most difficult scene in Beauty and The Beast to light, and what scene are you most proud of?
Scott: The most difficult scene to light was the fight sequence at the end of the show between Gaston and the Beast.  I wanted to really heighten the action, but at the same time I couldn't take away from the fight, or the actors' ability to see properly for the fight choreography.  What started out as a heavily strobe lit scene ended up being very template heavy and the actors would pass in and out of light while fighting.
I am most proud of the title song in Act 2. In this picture (beauty.jpg) I again really wanted to pull of out of reality when Belle and the Beast begin dancing. It is really one of those magical moments where something great happens. I always remember that great shot from the movie with the grand staircases and towering windows, and needed some special moment with the music.  I chose to use a very fine starlike template pattern that rotated slowly though the air and almost carried the actors off the stage. With some extra smoke pumped in, it really looked like Belle and the Beast were floating.
Joel: Scott, tell us about the first time you were smitten by the lighting design "bug."
Scott: When I started at Syracuse University, my only technical background had been in audio work. Syracuse didn't have a formal design program for sound, so lighting seemed like the next closest thing. I have never been the most artsy when it comes to making a set rendering or sketching out a costume, but I found that my paint canvas was a blank stage, and I could paint it with light. My first real design was Three Days of Rain in the Black Box at Syracuse.
Joel: Where did you get your training?
Scott: I think the most important training I have gotten so far, is the ability to think on my feet. When I started college I worked for a production company on campus, doing staging work and crew work for rock tours, dance shows and theatrical shows. Doing changeovers for rock and roll tours and having to deal with very strict load in/out schedules really helped me to think two steps ahead… to solve the next problem before it comes up.  I have a BFA in Design/Technical Theatre from Syracuse University. Most of my intense study was in lighting design, and I got to work with some phenomenal directors as a student, learning how to light for dance and learning how to use color effectively. I also was on the US National Tour of 42nd Street as an electrician, which gave me a great view into a large-scale Broadway lighting system, and I got to really learn what made it so effective.
Joel: You are one of the founders of Act Two, whose productions of Les Miserables, Blood Brothers and 42nd Street were on my Best Musical Of The Year lists the past three years. What is Act Two, and what shows will you be lighting this year at Act Two and Churchill High School?
Scott: Act Two is a non-profit youth theatre company in Rockville, MD.  We just started our fourth season, and will open Children of Eden on January 22nd.  My two partners and I all came from professional theatre backgrounds and wanted to bring that same level of professionalism and showmanship to youth theatre. Just like at Churchill, it all starts in the rehearsal process and the actual learning. My program at Churchill is successful because I have students who are willing to learn, and then students who are willing to teach to new students. This is how programs grow.
At Act Two we have a wonderful apprentice program, where students are empowered to take leadership positions in the production staff. We have stage managers, assistant directors, and choreographers; all who learn from the professional staff and get to teach their peers at the same time. The learning process never stops, and we are always learning as much from the students as they learn from us, that's how programs keep running.
Joel: What shows would you love to light that you haven't lit before?
Scott: This is tough because there are so many wonderful shows, with so many great challenges.  My senior year of college I got to design Chicago and I have always wanted to go back and do it again. It is one of those shows that require a level of such precision, and I have taken those skills into every project since then. I am a big fan of the Disney shows, because I am a big believer in spectacle.  I would love to work on Aida, or maybe one day The Lion King or Phantom of the Opera will make it's way to those of us outside New York. I don't think there would be any project that could be boring though… anything that looked boring on the surface would just push me to find a way to turn it upside down.
Joel: Who are your lighting design heroes?
Scott: I am a big fan of Natasha Katz.  I think she has really pushed the boundary in her lighting projects. Her design for Aida (which won her the 2000 Tony Award) is still one of the most amazing pieces I have scene. Her use of color and the way she defines a dancer's body is just amazing. And who can forget the song Easy as Life which they painted the air which tight beams of light until the whole Palace Theatre was transformed.
I also really like the work of Don Holder. Since I cross over the theatre boundary into rock & roll I really enjoyed watching how he handled Movin' Out. It was theatrical with a rock flare, which is how I like to work on some of my projects. I am a big moving light fan and Don is one of those designers that is not afraid to use technology.
Lastly, I am a big fan of Charlie Morrison.  His name is well known as the others, but it will be one day.  I have seen several of Charlie's designs here in the Washington DC area including his Helen Hayes winning work on The Elephant Man at Olney Theatre and Richard III at the Shakespeare Theatre.  Charlie was also my lighting designer for 42nd Street and was really inspirational to me. I enjoyed watching him work, and learning from him while I was making his show come to life at every tour stop.
Back to Beauty and the Beast