Glory Days, the latest gemstone on Signature's string of world premiere musicals, is a diamond in the rough. It is 85 high-energy minutes of song with some of the smartest dialog and lyrics you're likely to hear in any musical, let alone a pop-rock musical.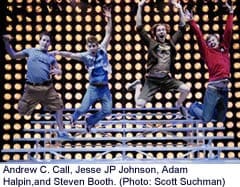 The show is also buoyed by across the board strong performances from its four talented young actors.
The show might have an image problem and an uphill climb with people who find post-adolescent angst both overwrought and uninteresting and who tsk-tsk at the first chord of an electric guitar in an orchestra (Is nothing sacred!). The show is described as "the story of four high school friends who reunite one year after graduation only to discover how dramatically their lives have grown apart." Dramatically, I ask you? Can the journey from 18 or 19 years of age to 19 or 20 years old – short of the characters ending up in fatigues in Iraq – help but seem callow? Nevertheless, Glory Days is not The Breakfast Club: The Musical goes to college. True, it's about students who bond in high school owing to their outsider status. True, it's about the jock, the brain, the princess, the basket case, and the criminal. Oh, that's one too many characters; someone has to go. See, it's NOT The Breakfast Club. Seriously, Glory Days is about two young writers, Nick Blaemire (composer and lyricist) and James Gardiner (librettist), who intentionally, unabashedly and unashamedly follow the dictum, "write what you know," coming together with a gutsy regional theater with a commitment to nurturing new works. And it's a delightful collaboration and a good beginning.
Steven Booth (as Will, the show's lynchpin character) has a show-opening song, "My Three Best Friends," that delights and surprises with Blaemire's fresh, clever, narrative-driven lyrics and his music. That number had me recalling my first exposure to the pop-rock show songs of Jason Robert Brown (who proved his classic show music genius with his Tony Award-winning score for Parade). Along with "My Three Best Friends," the songs "Generation Apathy," "The Good Old Glory Type Days" and "The Thing About Andy" are solid book songs that will reward musical theatre fans who take a chance on Glory Days.
Overall, however, less than half of Blaemire's songs have melodies that really hook the listener; the remainder are somewhat nondescript boy band fare, serviceable and often fun, but not memorable. (Important disclaimer: Yours truly found the critically-acclaimed, Tony Award winning Spring Awakening painfully sophomoric, while everyone else in the audience appeared to me to be in the throes of religious ecstasy. Go figure.) I did not find Blaemire and Gardiner's work the least bit cloying. Yes, I did cringe on occasion: Was there no better rhyme for football team than social regime? Blaemire also has the occasional Dylan-esque lapse or two: way too many syllables in a verse. He gave this cast a real run for their money to learn their numbers. But simply put, this show is smart, smart, smart.
As Will, Steven Booth gives an open, honest performance; he's vulnerable without being mawkish. Andrew Call plays the misbegotten jock, Andy, who goes from high school outcast to college frat boy. His character is stereotyped and disparaged by the others, though they claim to value his friendship. The part harkens back to characters such as Joey on Friends, only here Andy is given an increasingly unsympathetic portrayal as the story progresses. His confrontational song, "My Turn," is full of bombast but not much substance as far as I could make out. I wasn't at all clear what Andy wanted and needed to say in "My Turn." Adam Halpin plays Skip, a military brat who's come through his freshman year in college not quite radicalized, but certainly more cynical than his three friends.
Jesse Johnson plays Jack, a "younger brother" to his friends. Jack's reunion with the others is a personal challenge. In his year of transition he has confronted his sexual orientation and now wants to be open and honest with his friends whatever the fallout. Jack's "coming out" song, "Open Road," seems half-formed because the melody doesn't grip the heart as it should. If only Jack"s hejira was rendered with a fraction of the artistry of Joni Mitchell's "Hejira." When rejected by Andy, Jack and Andy's duet, "Other Human Beings," packs a visceral wallop but, again, the material doesn't match the actors' splendid emotions. I felt that "Other Human Beings" would have resonated more strongly had it been directed as a quiet and disappointed/regretful song, not raucously confrontational one.
On balance, I strongly recommend Glory Days. Is the show perfect? No. Oh, but the writing talent is palpable and the acting is terrific. Some day when Blaemire and Gardiner are collecting a Tony award for one of their future collaborations, you ARE going to want to smugly tell your friends, "I told you so."
Glory Days

Music and Lyrics by Nick Blaemire

Book by James Gardiner

Directed by Eric Schaeffer

Reviewed by Gary McMillan
Running Time:  1:25, no intermission

When: Thru Feb 17.  Tues & Wed at 7:30, Thurs – Sat at 8 pm, Sun at 7 pm, Matinees: Sat & Sun at 2 pm

Where: Signature Theatre, 4200 Campbell Ave, Arlington, VA  (in Shirlington Village)

Tickets: $40 – $69. Youth tickets: $22 – $32.50
DCTS Podcast: Glory Days authors James Gardiner and Nick Blaemire interviewed by Joel Markowitz. Listen here.