The creator and star of 25 Questions for a Jewish Mother speaks with Joel Markowitz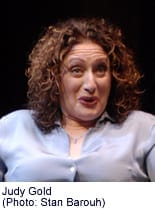 Stand-up comic Judy Gold can't help being funny. In an hysterical interview with Joel Markowitz, the star of Comedy Central specials, host of The View and HBO's At the Multiplex talks about having, knowing, and being a Jewish mother.
She's bluntly honest, emotional,  and did we mention funny? as she talks about Barbra, Golda, her family and all those Jewish mothers whose stories helped her create the show.
Listen and laugh.
25 Questions runs thru Feb 24th at Theater J
For more on the show, go to the 25 Questions official website.
Read the DCTS review here.