By Joel Markowitz
I've seen a lot of shows this winter. Here are some scene stealing performances that made the Metro trip home a lot cheerier.
BOBBY LIST and JONNY PERL
Singing and dancing their way through "What I've Been Looking For" in High School Musical at The National Theatre and MTC.
High School Musical is a phenomenon. Some critics, like DCTS's own Gary McMillan and Jonny Perl like it, while some critics (like Peter Marks) despise it. OK. It's not  Gypsy.  But this musical theatre lover loves HSM because the show has gotten children of all ages interested in musical theatre. So, bless you Disney!
Although I had my hearing permanently damaged by the OVERLOUD and PAINFUL sound system on opening night at The National Theatre, I just couldn't get enough of Bobby List, who played Ryan, the spunky, adorable, pushed around cutie, who always co-stars in his high school musicals with his overbearing sister – Sharpay  (one of the most obnoxious characters in musical theatre history (think of the The Bad Seed with songs!)
And in Musical Theater Center's production, it was 12 year old Jonny Perl, also playing Ryan, who played the nebbish Ryan with his tuchus wiggling and his arms waving, with a huge smile, as he breathed life into those forgettable lyrics with his beautiful, clear voice.
Jonny and Bobby had  their audiences cheering and applauding as they showed off their stuff. Jonny and Bobby, it was a pleasure, as the lyrics say, "being there beside you."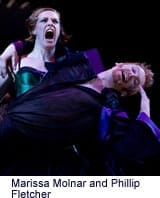 PHILIP FLETCHER and MARISSA MOLNAR
Performing a breathtaking dance at Synetic Theater's Romeo and Juliet
My head is still spinning four weeks after I saw this scintillating production. What do I see when I close my eyes and think about all the visual brilliance? I see the incredibly powerful, twisting, sexually suggestive, writhing, jumping, uplifting, acrobatic dance performed by Philip Fletcher as Mercutio and Marissa Molnar as Juliet's Nurse. You have to see it to believe it. Simply amazing and breathtaking!
LYNNE SHARP SPEARS
Singing "Climb Ev'ry Moiuntain" at The Sound of Music at Toby's – The Dinner Theatre of Columbia.
I've heard this corny yet inspirational song performed by so many out-of tune , screeching actresses/singers  in so many community productions, and by some fabulous singers in Broadway and touring companies, that I wished for many decades never to hear this song again!
Last month, I could not believe what I heard when Lynne Sharp Spears closed the first. act. No one -let me say this once more -no one has ever left me speechless and goosepimply after performing this song until now. And if you don't believe what I just wrote, listen to Lynne sing a snippet of it in a podcast I recorded with her.  
I hope the Helen Hayes voters who came out to see the show when I was there remember her when nominations are announced on February 25th.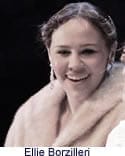 ELLIE BORZILLERI
Singing "I Only Have Eyes for You" at Act Two's 42nd Street.
She's only 15, but Ellie Borzilleri has a gorgeous voice with perfect diction and the acting ability of many actresses twice her age. How could a young actress play the aging diva  Dorothy Brock, and make it believable? Ellie told me how she managed to pull it off in a podcast that Jonny Perl and I recorded.
When Ellie sang:
"You are here
So am I
Maybe millions of people go by,
but they all disappear from view.
And I only have eyes for you"
all eyes were on this talented actress, singer, and hoofer who made each lyric come alive. That's how you sell a song!    I saw many parents in the audience look at each other, smile and hold hands.
FELICIA CURRY
singing "Come To Your Senses" at Tick, Tick…Boom! at MetroStage.
It's as close as I've seen to a roof almost blowing off when Felicia Curry rocked Metro Stage with her soaring rendition. At the end, the audience jumped to their feet and I was reminded why I have always been a big Curry fan since I saw her in the title role at Toby's-The Dinner Theatre of Columbia (she received a Helen Hayes nomination), and in Two Queens One Castle at MetroStage.
Felicia is not only a powerful singer, but a powerful actress as she proved in Tick, Tick… Boom!. She talked about her roles in my podcast .
LARRY MUNSEY
Singing "I Am What I Am" at La Cage aux Folles" at Toby's – The Dinner Theatre of Baltimore..
When I was trying to gather a group from The Ushers to come see La Cage aux Folles next Sunday, I heard a lot of "It's so dated."
What's not dated is the power of the show to emphasize tolerance and the importance of family. When the multi-talented Larry Munsey (singer, actor, director, costume designer and  choreographer) dressed to the max, begins to sing "I Am What I Am" at the end of the First Act, you could see his eyes blazing as he looks at the husband and son who have betrayed him.  You better watch out – this Zaza's really pissed! I almost called the 911 and reported a fire!
I'm sorry, George Hearn. You might have a Tony, but Larry Munsey owns this song!
JANICE LORRAINE
Impersonating Louis Armstrong in Cookin' at the Cookery at MetroStage..
Dead on!  
Not only does Janice sound like Louis, but she manages to convince us she looks like him!  If you don't believe in resurrection, you will after seeing Janice drive the audience into a frenzy as she becomes the great Satchmo in front of their eyes. Listen to Janice's impersonation here,