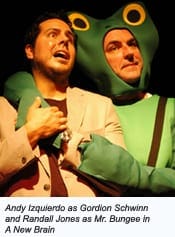 PICKING THE BRAIN OF ANDY IZQUIERDO:  ON GORDON SCHWINN AND A NEW BRAIN AT KAT
by Joel Markowitz
It's one of my favorite musicals, and he's one of my favorite local musical actors/singers. As he tackles the difficult role of Gordon Schwinn and his not so healthy brain, Andy Izquierdo discusses KAT's production of the William Finn musical – A New Brain.   
Joel:  Tell us about Gordon Schwinn, who you play in Kensington Arts Theatre's production of A New Brain? 
Andy:  Gordon is a frustrated composer.  He wants to write Broadway shows and "important" music- but instead, he's trapped in a job writing music for a maniacal children's TV show host, Mr. Bungee.  Gordon has a very close friendship with his co-worker, Rhoda… a loving, but sometimes distant relationship with his partner, Roger… and a sometimes combative relationship with his mother, Mimi.  Gordon is sarcastic, witty, neurotic- and lives life as if there is never enough time to do the things he really wants to do. 
Joel:  What is A New Brain about from the point of view of Gordon Schwinn? 
Andy:  From Gordon's standpoint, I think A New Brain is about the creative process and the concept of time.  I think it's about one man figuring out how he can contribute to society and those around him – in this case, from an artistic standpoint.  And I think the show is about time and how we choose to spend it – whether it's the relationships we try to maintain, the jobs we try to keep, or the things we do "in the meantime," while we figure out what we ultimately REALLY want to do – or were MEANT to do — with our lives.
Joel: How physically and vocally demanding is the role? 
Andy:  I think this show is much more physically demanding for others in the show– some of my cast mates are constantly changing costumes and dancing.  I really have one true dance number– and then the rest of the time, I'm in a bed or a chair.  So I can't really complain about that aspect at all.  I am on stage a lot – so while that might be a challenge in some respects, it's sometimes easier than coming on and off stage.  I have horrible stage fright– especially when I'm first coming on – so if I can just get on stage and stay there – I feel like I don't have time to get nervous- well, as much anyway!  As for the score, it definitely has some challenges because no two songs are alike.  You have some really belty numbers and then you have some really quiet songs – so it's that constant state of varying things that make it a challenge.  Also, the show is really challenging from an emotional perspective. It's a very raw, heavy show at times – so that's tough to do at times.  But that's also one of the best things about the show – so it's a welcome challenge. 
Joel:  How did you prepare for the role of Gordon Schwinn? 
Andy:  I think being a performer definitely gives me insight into the character of Gordon because he's always in a state of trying to create something – and I'd like to think I'm always engaging in the creative process in some manner.  Also, I think the circumstances of my life the last year or so – with a couple of loved ones passing away – makes the experience very real in a way.  So it's tough not to do a show like this and bring some of that to the performance.  I mean, there are times in rehearsal where Lisa Bailey is singing "The Music Still Plays On" and you start thinking about what's happened in your own life, and you find yourself on stage bawling.  I think that helps to bring some realism to what you're portraying on stage. 
Joel:  Do you bring any life experiences to the role of Gordon Schwinn? 
Andy:  I think the fact that Gordon is such a real person makes him readily identifiable to all of us.  We all know a Gordon – and I think there's a lot of Gordon in me.  I think we can all relate to the issues of tough family dynamics, romantic strife, and challenges at work- and I think that comes into play when you're playing a part like this.  Plus, the whole concept of losing someone you love has hit close to home recently- so that personalizes things as well.  I would like to think that I'm more optimistic than Gordon (at least in the beginning of the show) – or I hope so anyway – but I definitely think you could draw parallels – certainly.
Joel:  William Finn wrote these wonderful lyrics:
Stories of living
Stories of dying
and ways we can deal with our fear.Stories of horses, parental divorces
and how rich or poor, it's a very small sphere
where we appear.But you gotta have heart and music
Heart and music
Heart and music get along."
Does the show have "heart and music"? 
Andy:  I think that's a nice, succinct way of capturing the essence of this show.  The show is almost entirely sung through, so there is a lot of music – and that music does have a lot of heart.  The show is about relationships – whether it's friends, family, or lovers – the show is about the creative process – the show is about how many of us go through life  thinking there's not enough time to do the things we really WANT to do.  These are all universal themes – so I think it will resonate with people.  I think this show definitely wears its heart on its sleeve. 
Joel:  How does a show about a young man undergoing brain surgery – avoid turning into a depressing evening of theatre?  
Andy:  I think some people might get upset watching this show because it's very emotional – and although a lot of it takes place in Gordon's mind, I think it will strike a chord – it feels very real.  Having said that, and I know this might be difficult to believe considering the show's about a guy who undergoes brain surgery, but it's VERY funny in places.  Whether it's a line here or there – or whole songs, there are many light moments in this show.  I think it has a really good sense of humor and it's nicely balanced with emotion.  And I don't want to give away the ending, but the show is ultimately optimistic.  So I don't think people will leave depressed.  I think they will be touched, and ultimately, uplifted.  I think that's the goal of this production. 
Joel:  Tell us about the wonderful score that William Finn wrote for A New Brain. 
Andy:  The score really is amazing.  William Finn has created such a variety of songs– both in tone and style.  I mean, at one point late in the show, you have a tango, followed by a vaudevillian number, followed by a big song-and-dance number, and then followed by an emotional torch song.  There are so many types of songs in this show.  I truly think there is something for everyone.  And from a performer's perspective, the score is a dream – because you have the big production numbers and then you have the small, emotional ballads.  It's really wonderful music with lush harmonies.  And for people who know William Finn's shows, I think it's a definite departure.  It's truly a wonderful score to perform. 
Joel:  What is your favorite song in A New Brain? 
Andy:  This is a really difficult question to answer because I love so much of the score– "Sailing," "And They're Off"… but if I had to pick one, I would have to say "I Feel So Much Spring," the finale.  I think it's just gorgeous.  And the entire cast gets to sing it – the harmonies are so wonderful – and it's just a really beautiful moment in the show. 
Joel:  My all-time favorite song from a musical is Sailing from A New Brain.
   What is it about Sailing that touches the audience and this theatre goer? 
Andy:  I think it's two things about "Sailing" that really strike a chord.  I think the obvious one is that it's just a beautiful song – period.  It is just gorgeous to listen to.  But I think above and beyond that, I think it resonates with people because it's one of the few examples (at least that I can think of) of a true love song in musical theater between two men.  I think the fact that you don't see that a lot in musical theater makes this an especially touching moment.  You know, the song starts sort of comically and somewhat whimsical (it takes place in Gordon's dream), but then it becomes clear that this is a love letter from Roger to Gordon.  I think the song gets you when you least expect it– and Ryan sounds so beautiful singing it – it's a really nice, tender moment.   
Joel:  Introduce us to your fellow cast members and the roles they play. 
Andy:
  Ryan Khatcheressian plays Roger, Gordon's partner.
  Susanna Todd plays Rhoda, Gordon's best friend.
  Lisa Anne Bailey plays Mimi, Gordon's mother.
  Katie Pond plays the homeless woman.
  Dave Moretti plays Richard, the "nice nurse."
  Karissa Swannigan plays two roles: The Waitress at the beginning of the show and then Nancy D., the "thin nurse."
  Duane Monahan plays Dr. Jafar Berensteiner (the best character name in musical theater history I think), the attending physician.
  Randy Jones plays Mr. Bungee, Gordon's boss and the host of a children's TV show.
  Tim Adams plays the Minister.
Joel:  Have you ever worked with them before? 
Andy:  It's funny because other than Tim (who I had seen perform many times), I knew everyone in the cast beforehand – and some of them quite well.  This is my fourth show with both Karissa and Duane, my third with Susanna, and my second with Ryan.  I worked backstage on one of Katie's shows, and although I had never worked with Dave, Lisa and Randy –  I knew them all quite well.  So it was just a really comfortable and fun experience from Day 1 – we hit it off right away.  This cast is absolutely wonderful to work with – and so well suited to their roles.  It's really fun to watch these people do their thing on stage.
Joel:  You were named one of the Falls Scene Stealers in my Theatre Schmooze column. Playing Orin Scrivello/Mr. Bernstein/Mrs. Luce and Skip Snip in KAT's production of Little Shop of Horrors.
If I named you one of my Spring Scene Stealers, what scene should I choose? 
Andy:  Wow!  I think there are so many wonderful scenes in this show – but two really jump out at me.  The finale – that moment is so special – the song is gorgeous and it's a moment where the cast gets to convey unbridled joy – it just feels wonderful to be up there singing that number.  I hope people are really moved by it.  The other is "The Music Still Plays On."  I don't sing this song.  In fact, I don't utter a single word in that scene.  But the way Jeff has staged it, Gordon is "playing" the piano while his mother sings the song.  It is an absolutely beautiful song – and Lisa Bailey does an UNBELIEVABLE job of performing it.  It is just an incredibly powerful moment in the show for me because our characters get to share this really raw and emotional moment on stage – it's very special to me. 
Joel:  What other shows have you appeared in here at KAT, and why do you enjoy appearing in KAT productions? 
Andy:A New Brain is my 7th Show at KAT.  My previous shows there include Little Shop of Horrors (Orin Scrivello and other roles), Urinetown (Bobby Strong), Assassins (Balladeer and Lee Harvey Oswald), Company (Robert), Kiss of the Spider Woman (Valentin) and The Rocky Horror Show (Frank n' Furter).   KAT is a great place for theater because they take risks and those are the kinds of shows I want to do.  You take a look at shows like Nevermore, their upcoming  Zanna, Don't! and One Red Flower, and you see that they're really trying to bring something different to community theater.  That's why I also gravitate to companies like The Elden Street Players, 2nd Flight Productions and Silver Spring Stage – they are doing shows people don't usually touch – and that's really appealing and exciting. 
Joel:  Are there any roles that you have not performed that you would love to play? 
Andy:  If anyone ever puts on Les Miz, I would love to play Marius.  Angel in Rent would also be a fantastic role.  Oh, and I would love to play Amneris in Aida – although something tells me that's a stretch.  But the music for that character is amazing – so I'm only half kidding!  Honestly, there are probably dozens of roles out there I would kill to do – I just don't know it yet.  I didn't know I wanted to do Blood Brothers, for instance, until Gloria DuGan introduced me to the music and book.  I tend to fall in love with shows and roles after I hear the music.  
Joel:  What do you want audiences to take with them when they leave A New Brain? 
Andy:  I would love it if audiences came away moved by this production.  I think the music is so beautiful, and I think the storyline is something that everyone can relate to.  It may sound corny, but I hope people are touched by something they see on stage.
Joel:  What's next for you after A New Brain.  
Andy:  Well, there are four shows that I am eyeing for the rest of the year – 2 plays and 2 musicals.  I'm definitely going out for Doubt at The Elden Street Players.  I love that show – it is so wonderfully written, and I would love to work with Gloria and her team again.  Then there are two musicals in the summer that interest me – 1776 at Little Theatre of Alexandria ("LTA") and Tick, Tick… Boom! at The Elden Street Players.  They are very different shows and roles, obviously.  I have never worked at LTA before and the role of the Courier has always interested me because his song is absolutely heartbreaking.  
As for Tick, Tick… Boom! I love The Elden Street Players , and the chance to work with David Rohde and Shannon Khatcheressian again would be wonderful.  I saw my friend Felicia Curry in the MetroStage production last year (twice!) and fell in love with the show.  And then finally, I am very interested in doing Fat Pig at Dominion Stage this fall.  My friend Sara Joy is directing it and Neil Labute's script is wicked.  So hopefully I will land some of those roles.  
A New Brain plays at Kensington Town Center, 3710 Mitchell Street in Kensington, Maryland. Performances are on Fridays and Saturdays — March 7, 8, 14, 15, 21, 22 (all at 8 PM), Sundays — March 9, 16 (both at 7 PM) and Thursday — March 20 (at 8 PM).
General admission prices are $20 for adults; $17 for seniors (60+) & students; $13 for Kensington residents and children under 13.  For ticket reservations, call  (240) 396.4307, or reserve them here  http://www.katonline.org/