Gem of the Ocean, Joe Turner's Come and Gone and Ma Rainey's Black Bottom

Produced by the Kennedy Center

Reviewed by Alan Sharpe, Guest Reviewer
Not even last-minute tornado warnings kept excited theater patrons away from the opening of the Kennedy Center's month long celebration of playwright August Wilson.
Those who braved severe storm alerts and snarled rush hour traffic to attend Gem of the Ocean as staged by series Artistic Director, Kenny Leon, witnessed the opening of an historic occasion – the first ever opportunity to see all ten plays that make up Wilson's "Twentieth Century Cycle" performed consecutively in chronological order based on the decade in which each play is set., from 1900 through the 1990's– an unprecedented experience.
Upon arrival, it quickly became clear that threatening storms were far from the only source of electricity in the air. The teeming shuttle bus from METRO to the Kennedy Center's cavernous and normally hushed Hall of States, and packed elevators to the third floor lobby of the Terrace Theater were all abuzz with excited theatergoers, eager to be part of this unparalleled theatrical event.  From August Wilson devotees, to uninitiated but adventurous tourists, the audience ranged across a spectrum that reflected the age, income and ethnic diversity of the nation's capital.
It had been widely and well-publicized that these were not to be full productions, but rather staged readings, with the actors carrying their scripts.  Eavesdropping among those assembled before the house actually opened revealed much curiosity and even some concern as to how Wilson's cherished works would fare in this format.
August Wilson wrote "big" plays, overflowing with expansive monologues and ferocious feelings.  Although he could wrench your heart with intimate moments of tenderness as well, he was not at all hesitant about detonating emotional explosions onstage.  His works frequently call for sizable ensemble casts, and they are filled with an abundance of physical (and metaphysical) action to negotiate.  How would the various directors deal with the challenge of staging performers who remained tethered to, and possibly encumbered by their scripts?  Would actors who were merely reading Wilson's operatic, jazzily-riffing speeches actually be able to capture the bantering interaction, plumb the emotional depths and, frankly, hold audience's attention during the lengthy running times for which his plays are notorious?   Ten plays would be a daunting challenge for a year.  Ten plays in one month must have been a nightmare of logistics.
Even the most cursory glance at the Playbills that the audience clutched while settling into seats should have allayed most of those reservations.  In addition to securing the talents of a veritable "Who's Who" among the country's directors–all of whom have had comprehensive, sometimes seminal, experience with the August Wilson canon, the Kennedy Center has assembled a powerhouse company of actors.  The cast biographies described careers stretching back to the original production of A Raisin in the Sun and beyond.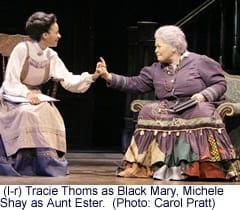 For Gem of the Ocean, set in the 1900's, the stylized and inventive set designed by    David Gallo, accommodated, with minor modifications, all ten plays.  And once the inimitable Michele Shay, as 380-something year-old Aunt Esther made her first appearance, with costume designer Reggie Ray's evocative patchwork quilt of a skirt sweeping the ground, any remaining concerns about the artistic and cultural integrity of the production was alleviated. 
Even before Allen Lee Hughes' sensitive lights came up for the curtain call, some two and a half hours later, the audience was rising in unison to salute the cast with a well-deserved standing ovation. At that point, it seemed clear that any concerns had been satisfied and all questions answered … except for how to get tickets to the rest of the series.
For the second drama of the series, Joe Turner's Come and Gone, I was struck again by how masterfully the playwright was able to weave history, humor and heartache, creating a rich tapestry at once captivating and insightful.    As director Todd Kreidler and an extremely talented cast plumbed the pathos and longing so central to what is, reportedly, Wilson's favorite play, many of the author's recurring themes and concerns resonated even more deeply for me, amplified by having already seen this script's precursor, set in the prior decade.
Again and again throughout these masterworks, images emerge of families uprooted, displaced and separated, with the desperate search to reunite stretching over the decades.  The clear metaphor for the African-American experience is never far from view: past lives erased and the struggle to reconnect and rebuild roots amid frequently hostile circumstances; surrogate families formed by those cut off from their roots; the perseverance of folk determined to fashion a way out of no way and make something from nothing.  Frequently his plays are set in symbolic way stations that provide a temporary refuge for wanderers seeking lost lives and loves, driven by a desperate need to connect, or reconnect.  They resound with the heroic and miraculous ways in which the disenfranchised are able to maintain some dignity and humanity, even in the face of unimaginable cruelty and despair.  Yet always, the threat of potential danger and violence lurks, especially when that tenuous self-esteem is threatened by even the most capricious of slights or circumstances. 
While waiting for performances to start, or lingering after they ended, I watched members of the company arrive from their own rehearsals to watch and support fellow cast members in other plays. Over the week, as I saw them reconnect with colleagues from past shows and create a new "family" for the period of this series, I realized how much the experience of life in the theater in general, and among this company in particular, parallels the transient existence of  many of Wilson's characters.
By Sunday's matinee, sunshine beamed from a brilliant blue sky.   This time, the storm occurred onstage, as Ma Rainey's Black Bottom — the only play in Wilson's cycle not set in the Hill district of Pittsburgh — unfolded with inexorable force under the expert direction of Penumbra Theatre's Lou Bellamy.   Although the entire tightly-meshed cast was simply remarkable, without a single weak link, I can't resist taking special note of the heartbreakingly detailed work of Roger Robinson as Toledo.  Special kudos also, to Ebony Jo-Ann's multi-layered hauteur as Ma Rainey, and the spell-binding intensity of Anthony Mackie as Levy.
Another ovation, another successful production, and it seemed clear that the Kennedy Center's singular programming gamble was already paying off, beyond even the most optimistic expectations.  If this level of achievement can be maintained — and the remaining line-up and participants strongly suggest that it can and will be —    Washington's artistic showcase on the Potomac will not merely be illuminating history … but also making it. 
When: Thru April 6th     Tuesday – Sunday at 7:30 p.m; Sat. & Sun. matinees at 2:00 p.m.

Where: Kennedy Center,  2700 F Street, NW Washington, DC 20566
Tickets:  $65 per reading

Call : 800-444-1324 or 202-467-4600. Or consult the website.  
 Well worth watching: a Kennedy Center interview with August Wilson
— Alan Sharpe is Artistic Director of African-American Collective Theater (ACT).
He has been writing and directing plays and films on Black gay life and culture in Washington, D.C. since 1976.