IN THE HEIGHTS

Conversations with cast members Andrea Burns and Robin de Jesús

Interviewed by Joel Markowitz

Part of our Spring Tony Previews
April 4, 2008 – He has followed Lin-Manuel Miranda's In the Heights from off-Broadway to its transfer to Broadway last February, and so Joel was thrilled to catch up with Andrea Burns and Robin de Jesús backstage at the Richard Rodgers Theatre before the evening performance.
Andrea talks about playing the assertive, passionate Daniela, the feeling of the cast and audiences for this Latino musical about Washington Heights, and recording the soon-to-be-released cast CD.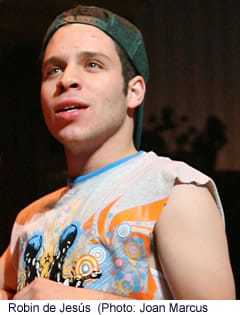 Robin tells us why audiences love his character Sunny, how his role has been expanded since the transfer to Broadway, being in Rent, and a new charitable project started by he and fellow cast members to give back to the Latino community by getting children interested in the arts.
Listen here.