LONDON CALLING :

The Vortex, Speed-the-Plow, God of Carnage, Billy Elliot, Brief Encounter, Gone with the Wind, some not to be missed London spots, and a visit with Emma Thompson
by NY Theatre Buzz columnist, Richard Seff
[Editor's note:  Life's a bloomin' holiday when you're Richard Seff. He hopped the pond to take in the London scene and in a week's time, covered 6 shows, had time to chat with friends and get in some blackjack.   The next time he packs his bags is to visit our town to catch the Kander and Ebb shows at Signature in May.]
What a week I had! Each day dawned sunny, warm and bright, each ended pelting cold rain. One had to wear the mac, carry the brolly, to weather the weather adventure. But London theatre is everywhere and it too offers great variety.   The surprise to me was that three major playwrights, writing in the l920s, l950s and in 2006, should all offer serious plays about the society of their time, and all should be totally relevant and engaging today.
Noel Coward's The Vortex, his first success, established him in l925. The dialog is polished and brisk as always with Coward, but though most of his characters had little or no insight into their own behavior, Coward certainly did. He's created a character called 'Helen' in this play who is his spokesperson. Best friend to Florence Lancaster, seeming satellite to Lancaster's star, she watches and waits, and in the final act she erupts and forces the facing of some long hidden and very bitter truths. Florence's son Nicky, the light of her very solipsistic life, has been in denial too for most of his 21 years. And when he confronts his Ma, the battle is joined, and the conclusion is stunning. Felicity Kendal hits the high point of her long London stage career with this great star turn. Dan Stevens, so very good in the BBC mini-series The Line of Beauty, holds his own opposite her, and the sight of the two broken souls clinging to each other as the play ends, is powerful. How Coward knew so much about the games people who love each other play (he was 24 when he wrote it) is hard to fathom. He remains a master playwright of great range.
To visit David Mamet's Hollywood via Speed-the-Plow at the Old Vic is to move into the ninth circle of hell.  As played by Kevin Spacey and Jeff Goldblum at top speed, this one has tornado force. 'Bobby Gould' and 'Charlie Fox' are old and dear friends, two producers on the same lot in l950s Hollywood. Charlie, on a lower rung of the ladder of success, brings a screenplay to Bobby, knowing his friend has the power to green light it. By  Scene One's end, that's just what happens.  Then enter a temp secretary; cute, curvaceous, cunning – truly Mamet meat. By the end of Scene Two, all is reversed and Charlie has been betrayed. But Mamet, ever the misogynist, turns the tables once again and we and the secretary are left devastated, which is just where he wanted us. Spacey and Goldblum have a field day with these two juicy roles, with Spacey turning on all the madness in him to create a speed freak who belongs in Rob Howell's design for a bright and soulless major movie mogul's office.  In the small but pivotal role of the secretary, created in the 1988 New York production by Madonna, this time surprise casting turns out to be good casting. Laura Michelle Kelly, who created the title role in Mary Poppins in London, proves here she has plenty of acting chops as well. Underplaying, but always in tune with her two male co-stars, she creates a frightening character who looks like an ingénue – yes, that's right, an ingénue named Eve Harrington.  These are not characters with whom we'd like to have lunch, but they are fascinating to follow from the safety of our theatre seat.
Ralph Fiennes and Janet McTeer have returned to the West End in Yasmin Reza's The God of Carnage (she wrote Art) and here we have a third evening in the company of civilized savages. In this one, four very fine Parisians dressed very nicely in upper middle class finery and equipped with good manners, begin the play very amiably, but it starts to get nasty about twenty minutes in, and takes us down a road very different from the one on which we began our journey.  Think Who's Afraid of Virginia Woolf with a polished accent, played in one act in 90 minutes. Tamsin Greig and Ken Stott are a fine match for the two better known stars. The evening revolves around two sets of parents, each with an eleven year old son, one of whom socked the other with a stick, messing him up rather badly. That's all you need to know – but expect fireworks, for they are the main course on the evening's menu.
London offers lighter fare too. Billy Elliot The Musical is everything wonderful you've heard about it. A fine book adaptation of the film, lyrical lyrics by Lee Hall, and the best score Elton John has yet written for the stage are only the first three of many delights. Stephen Daldry's staging is fluid and imaginative. His casting is impeccable.  Though there are five young actors who alternate playing 12 year old Billy, at our performance we were lucky to get Corey Snide, who had everything – looks, personality, incredible dance talent, simple and eloquent acting skills and great musical ability, which made his only passable singing voice land with every number. It's fascinating to watch a young actor (Master Snide is actually 15) who has already learned how to listen, how to stay alive even when he's way upstage and momentarily out of the central action of the scene. It's easy to predict that Corey Snide, unusual name and big talent, if he chooses to, will be with us for a long, long time.
Noel Coward's moving film Brief Encounter has been transformed by the young Kneehigh Theatre of Cornwall Company, under the guidance and inspiration of adapter/director Emma Rice, into a memorable and moving film-musical-play that tells the same story as the original movie. They are both about the once in a lifetime passionate affair that alters the course of the lives of an average middle class housewife and an equally conventional doctor, who meet quite by chance. All the major scenes from the movie are onstage, but oh so imaginatively conceived so that we hear inner thoughts via mostly Coward words and musical numbers. And we see emotions – joy, sorrow, passion, visualized through film. Add a company of super actors who double as ushers, candy butchers, porters, compères and whatever else is needed, and you have a theatre experience par excellence.  I hope this one comes to us, as did The 39 Steps, another brilliant re-examination of a classic film. If it ever nears your neighborhood, run, don't walk to see it.
But alas, into every life a little rain must fall, and out of nowhere came a deluge called Gone with the Wind, the Musical. Granted I saw an early preview, and one must not judge a work until it's completed, so consider this an early impression, not a review. But it's always dangerous to mess with a masterpiece, unless you think hard and come up with a raison d'être, one that sheds new light as Brief Encounter and The 39 Steps did. Trevor Nunn, a major British director, must have been under the influence of something odd when he agreed to tackle this four hour mistake. It was written entirely (book, music and lyrics) by one Margaret Martin.  This lady's bio proudly informs us that this is her first play! She brought the project to Trevor Nunn after she had acquired the rights to the property from the Margaret Mitchell Trusts. Ms. Martin felt "the film adaptation left considerably more within Mitchell's epic tale to be explored."
As "the film adaptation" on which this musical is based is also four hours long, in order to accommodate the twenty or so musical ditties, Ms. Martin has created the scenes had to be pared to the point where they seem like parodies on "Saturday Night Live". The famous "Let's make a gown out of the green velvet drapes" scene is almost as funny as it was in the Carol Burnett travesty of it.   To accommodate the 15-20 year span of the story, Ms. Martin resorts to the crudest form of narration:  Example: "1861. Twelve Oaks and Tara are flourishing and Scarlett O'Hara is surrounded by a dozen admirers." – that sort of thing. That is not an exact quote, but I promise it's on the level of what is offered throughout the very long evening. The music is unmemorable, the lyrics are sophomoric. When Mammy finishes telling Scarlett that 'children need to be loved' she then sings 'children need to be loved' and expands on that for what seemed like ten minutes.  Hello! Ms. Martin needs to start all over in a class called "Lyrics 101."
Jill Paice (lately of Curtains on Broadway) and Darius Danesh (lately of "Pop Idol") do their best with Scarlett and Rhett but all they achieve are pale replicas of the posters for the classic film. Paice comes off best. She's lovely to look at and she sings well, but she's not an original and in retrospect I have no vivid image or memory of her. Danesh is handsome and has a fine voice, but he has a tendency to strut. My final image of him was of Gaylord Ravenal in a third rate road company of Show Boat.
It's difficult to understand how Margaret Martin, known for her work in behavioral science and health education, should have been approved for the writing of this musical. .Perhaps it was felt that Margaret Martin would channel into Margaret Mitchell. She claims she felt great kinship with Scarlett O'Hara because they were both single mothers!  I understand the management closed down the production for several days so they could cut 40 minutes from its four hour length, but they needn't have bothered. Length is not its problem. A great work of popular fiction has been reduced to pulp, and the wise thing to do would be to treat it to euthanasia and give it a decent burial.
During my London week I did see the outside of a theatre now and then. Two visits on the #9 bus to the Palm Beach Club just off Berkeley Square allowed me my now-and-then turn at the blackjack tables. A posh club this, it's always made me feel very grand being served tiny chicken sandwiches and coffee while at the gaming table. On the Tuesday I had a very fine lunch at St.Alban's on Lower Regent Street in the company of two of my dear friends from my agency days. Simon Beresford, now representing three of the West End's bright lights, Ralph Fiennes in God of Carnage, Laura Michelle Kelly in Speed The Plow and Michael Ball in Hairspray, is head man at Dalzell-Beresford Ltd. He'll be coming to New York in May to shepherd Sian Phillips through the opening of Les Liasons Dangereuses. And we were joined by Larry Dalzell, who founded the firm and is now retired and most happily watching only from the sidelines. These two always make my London visits special and this luncheon was one example of how they do it.
From Lower Regent Street I hiked to Upper St. Martin's Lane, then into Monmouth Street to the shop called Dress Circle, without which no theatre lover's visit to London would be complete. This gem of a two-story shop carries what seems like all the musicals ever recorded, plus a cornucopia of books and articles and magazines and posters. Check them out online if you're curious to see what you've  been missing. Allow me a moment of total self service. While I was standing at the register chatting with Michael Nelligan, the manager, a young singer from the currently playing Gilbert and Sullivan company popped up carrying – my book!  I mean the one I wrote – Supporting Player – and I could not contain myself.  "I wrote that!", I said, losing all professional aplomb. He asked me to sign it, and promised to email me with his personal review once he'd read it. Well, needless to say, I did enjoy that. Forgive me for indulging myself, but I had to tell you about it, as I am new to this book business, and it gave me a huge charge. Mr. Nelligan told me I brought them luck as he must have sold about £400 worth of merchandise while we talked. If things get rough over here, I may have to go back. If you visit London, be certain to drop in at Dress Circle. They have a way of making you feel right at home.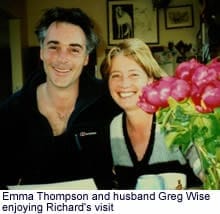 Finally, a tube trip to West Hampstead on the Jubilee line to visit Emma Thompson, her delightful husband Greg Wise and their adorable daughter Gaia. I've known this gracious lady since she was sixteen through her late father Eric Thompson, a fine director and a good friend. I had me an afternoon in their kitchen and garden overlooking a tennis court and verdant school soccer field. Thompson brewed me coffee, served me a delicious crumb tart, and was last seen by me as she started to paint a jar full of luscious red peonies in full bloom. West Hampstead is all of five or six tube stops from the bustling West End, yet the only sound I heard in the Thompson/Wise garden was the chirping of birds. Ah, to be in England now that April's there. Mr. Browning was right. It was bloomin' luverly.
The very next day it was back to Heathrow and Delta's #2 flight to JFK. I can't remember a more nourishing week in London, and I've been there at least two dozen times since 1960! In this insanely ever changing world, it's a comfort to know that some old world traditions, like dear old London Town, retain their charm and personality even as they keep up with the times. But hey, I'm back in the city that never sleeps, and that's a bit of all right too.
Richard Seff is author of Supporting Player: My Life Upon the Wicked Stage , celebrating his lifetime on stage and behind the scenes, available through online booksellers, including Amazon.com.