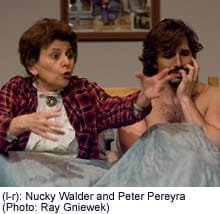 Volvió una Noche, She Returned One Night
by Eduardo Rovner

Directed by Mario Marcel                                     

Produced by Teatro de la Luna

Reviewed by Rosalind Lacy   
One reason I love to see plays at Washington D.C.'s Hispanic theaters is that I emerge renewed, as if I've traveled through a parallel universe.  Meet Eduardo Rovner, a multi-prize-winning Argentine playwright, whose 35 plays have been translated into many languages and produced internationally.  Thanks to Teatro de la Luna's artistic director Mario Marcel we can experience the delicate balance between the real and the magical world of one of Rovner's wonderful farces. Marcel's passion for drawing out the best in his inspired and gifted performers has more than succeeded in bringing this comedy about a mother-son relationship to life.  She Returned One Night is so believable you'll laugh your heart out and be filled with wonder. 
Nothing is sacred in Rovner's world, which turns our expectations upside down. It helps to know that "The Day of the Dead," although synchronized with Halloween, is an Aztec/Hispanic festival that takes a different view of death. Rather than a day of dread, the Day of the Dead is a celebration of the memories of those who have died; it's a party-time to welcome departed spirits home as actualized presences. During a weekly visit to his mother's graveside, Manny, (Peter Pereyra) talks out loud to the air about his daily life. But when he announces he's getting married on Thursday, that's enough to raise his Hispanic Jewish mother Fanny (Nucky Walder) from the dead to size up his fiancé Dolly (Anabel Marcano). The problem is only Manny can see her, alienating his gullible friends  Julio (Gerald Montoya) and Anibal (Alex Alburqueque), who become convinced Manny is either deep into spiritualism or gone mad. That's when chaos unwinds with one surprise after another aided by Rovner's catchy dialogue.
Nucky Walder, a joy to watch, builds an impressive, multi-leveled performance. Her portrayal of Fanny is filled with impish charm, whether she's cranky and kvetching with disappointment or scolding and scalding her son with love as she slowly discovers to her horror that her son has been lying to her. He's not a classical musician on the concert stage in the ranks with Heifetz; he's a violinist in a nightclub tango band. Oyvey! What's worse, he's a pedicurist; not a podiatrist or a surgeon. "I wanted the world at your feet, not you at the feet of the world," says this paragon of a Jewish Mother. But she can be manipulative as well, hinting at the clash of generations, the Old World versus the New, themes often hit on in Argentinean plays. After all, 1,000 years of tradition and survival cannot be ignored, she tells Manny.
Well-cast as Manny, the versatile Peter Pereyra, who was courageous enough to play Diego Rivera in Frida Kahlo, the Passion last winter, now convinces us utterly as the dominated son on the brink of rebellion. Manny needs a mother; even a dead one who buys fabric for his wedding suit or who pops out of closets or walks in without knocking-that is, until smother mother threatens his love life.
Anabel Marcano, stunning as Frida Kahlo last February, here is Dolly, who loves Manny for what he is, shortcomings and all. Not only does she bake knishes with hot peppers, she's a Catholic. Double oyvey! 
Marcela Ferlito, equally adept as translator or backstage techie, adds spirited swordplay as the helmeted Catholic Archangel Lito, who lands confused in a Jewish graveyard ready to do battle for moral values. Fanny's lively graveyard companions, Perla (Cynthia Urrunaga) and Salo (Alex Lopez-Montanez), kick up the dirt in a high-stepping, riotous Hora. Alex Alburqueque, who plays more than one role, doubles as Jeremias, and uses his mellow baritone voice for joyous effect.
Walder just lets Fanny grow into a beatific vision at the end, that flows naturally into an on-the-brink-of-absurd but completely believable moment, beautifully lit by Ayun Fedorcha, Teatro's Resident Lighting Designer.
Mothers, arise and see this play. Mothers are here to stay. Fanny is not exiled back to the land of the dead. She becomes a permanent implant. Even if you aren't a mother, you'll laugh out loud and smile all the way home. She Returned One Night is just so filled with the joy of life here and now. I haven't had this good a laugh in a long time.  Put Teatro de la Luna on your calendar before May 31st.
Mention must be made of the translation by David Bradley, for its clarity and well-paced sur-titles. English-only speakers will be directed to the last two rows for reading range.
Running Time: 2:10 with one ten-minute intermission.

When: Thurs., Fri., and Sat. 8 p.m.; Mat. Sat. 3 p.m. Through May 31

Where: Gunston Arts Center-Theatre Two, 2700 South Lang Street, Arlington VA 22206. Free Parking.

Tickets: $20-$30, depending on day and time. Thurs. 8 p.m. and Sat. mat. 3 p.m. $25; Students/Seniors $20; Fri. and Sat. 8 p.m. $30; Students/Seniors $25.  Discounts available for groups, seniors and students.Childcare Sat. mat. (24 hour reservation) Post-show discussion every Friday. Free parking.

Info and Reservations:

703-548-3092. Consult

website

.