Love and Love Alone: A Conversation with Chita Rivera and her long-time friend Richard Seff

Recorded by Joel Markowitz
As wistful and winning as the best Kander and Ebb songs themselves, this two part look at Chita Rivera and her latest show, Kander and Ebb's The Visit, is all about the love she and Richard Seff hold for the theatre world, for each other and especially for Kander and Ebb.
Richard Seff on Chita Rivera

Interviewed by Joel Markowitz

To listen, click

here.
Budding agent Dick Seff saw the young Chita O'Hara dancing a number called 'Garbage' in the Off-Off Broadway The Shoestring Review over fifty years ago. "She simply knocked me off my feet." Seff became Chita Rivera's agent, and guided her career for nearly 20 years before he himself returned to the stage. "She had star quality, as Noel Coward would put it, and presence."
Richard remembers it all: the hits, the bombs, the in-between jobs she did for the work. He remembers how Chita had to convince Gower Champion that she was right for the role of Rosie in Bye Bye Birdie, to show him she could be "tender instead of bombastic" as she was as Anita in West Side Story. "I remember she sang a few bars of 'Little Girl Blue.' That was all it took, and was probably the last time Chita Rivera ever had to audition.
"And how did Chita's long relationship with Kander and Ebb begin? "Once they had her in Chicago, they fell in love." 
Richard knows The Visit as well as anyone. . He was there in 1959 when the play opened the Lunt-Fontanne Theatre in New York with Lynne Fontanne and Alfred Lunt in the leading roles. He was there again when the musical opened in 2001 at the Goodman Theatre in Chicago with Chita Rivera . "I found it very moving … and very close to the original."
What does he attribute Chita's long career and success to? "Discipline and hard work. She is in incredible condition. She tells her body, "We did it yesterday, and we can do it today."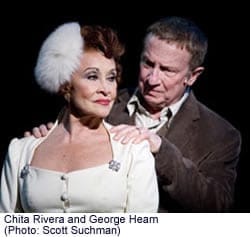 Chita Rivera

Interviewed by Richard Seff with Joel Markowitz

To listen, click

here.
These two friends re-visit Chita's career from the earliest days (Seeing her perform 'the first impression of Marilyn Monroe ever' in The Shoestring Review, Richard spotted her talent immediately and quickly became her agent) through to The Visit at Signature Theatre.
How is the 2001 Chicago production different from the one now onstage at Signature? "The story is exactly the same," she tells us, "… we've had more time with the script and Frank Galati's direction is different." And she has a new leading man in Broadway great George Hearn. "Jerry Herman always wanted us to play together." Dick and Chita both thank God that George didn't leave theatre to grow tomatoes because he is "brilliant" in The Visit. 
 "It's a love story, you know." she tells us, explaining some of the depth to the Terrance McNally book. "…dark and complex." Lyricist Fred Ebb, who passed away in 2004, is greatly missed. You can hear how this chance to work on The Visit at Signature adds sweetness to the sadness they both feel for the loss of their friend.
 And how will Kander and Ebb be remembered? "Two of the greatest writers we've had in musical theatre." Chita continues, "Without them, I wouldn't be here." And with that, she leaves to get ready to play Claire Zachanassian, the richest woman in the world.