Wrapping Up the Season
Macbeth, Boeing Boeing, Top Girls, Cry-Baby, Hot 'n Cole
and the Awards: Richard Seff, Theatre World, and the Tonys
By Richard Seff
The 2007-08 season in New York is now history and considering the deplorable condition in which the world outside finds itself, it was a remarkably healthy one. The numbers were good, the number of new plays was outstanding, the quality of musical revivals was remarkable, the quality of new musicals not so hot. But all of the entries offered roles to the multi-talented folk who perform and do other creative things to make audiences happy. I've seen a lot (I mean a lot) since we last connected, so I'll be brief in each case.
Macbeth (I can say it; I'm no longer acting) is what might in this case be called "a vehicle," for the one memorable thing about it is Patrick Stewart, who takes big bites out of the Thane of Cawdor, chews him and spits him out.
His Lady is Kate Fleetwood, also visiting from Britain, and though she has great power, for me she's too young, too slim, too like a Warner Brothers starlet – remember Brenda Marshall in the 1940s? The lady has acting chops, but no one is right  for every role, and Brenda Marshall, who married William Holden and wisely retired from the screen, as Lady Macbeth is not in my opinion up there with Judi Dench, Coral Browne and Judith Anderson among many others. Rupert Goold has staged this Chichester Festival Theatre production with panache and though it looks like it takes place in Cleveland in a very unsanitary hospital in an unfashionable part town, it's film noir to the core, and some of its images are potent. Mr. Stewart reminds us that television, where he's spent many recent years, does not necessarily turn the acting muscles to pulp. By the time you read this, we'll know if he won the Tony for best actor in a play, but I'm rooting for another Brit, Mark Rylance for his incredible stretch as a farceur in Boeing, Boeing.
Speaking of Boeing, Boeing, again my admiration for actors, for the cast of this lame British farce, which lasted a minute on Broadway in its first outing in the 1980s, pumps life into almost every minute. Even miscast Christine Baranski (who seems as though she did the director a favor when the original actress conked out at the last minute) is hilarious with a bogus French accent, wig, Harold Lloyd glasses and sneakers as the maid who knows everything and sees nothing (second cousin to the Irish maid in No,No Nanette.) Bradley Whitford in what is called the workhorse part (most of the lines and least of the laughs) manages to get the laughs on his own steam, with or without help from the dialogue. And the three stewardesses (it's set in 1960 so they're not "flight attendants" yet), American Gloria, Italian Gabriella and German Gretchen make the Pigeon Sisters in The Odd Couple tame by comparison.  You want to forget your troubles come on get happy? Drop in this summer to the beautifully refurbished Longacre Theatre and have a solid giggle.
Top Girls, Manhattan Theatre Club's revival of Caryl Churchill's 1982 entry, left me cold. I know the critics' circle would boot me out for such a remark, but I just can't join most of them in their praise, for I found it more of a political or feminist tract than a play. No one's been able to convince me that the first act, which involves a dinner party in modern London for the sex and the city girls of various centuries (Pope Joan, Lady Nijo of Japan, Marlene the hostess from the present time, Isabella Bird from the 19th century – quite a gathering) has to do with the final two acts, which involve only modern day women in Suffolk and London in a back yard, an employment agency and a kitchen. The actors were fine, and it was good to have the likes of Martha Plimpton (in her third appearance in two seasons), Marisa Tomei, Mary Beth Hurt and especially the aptly named Elizabeth Marvel all up there together. But I was never engaged until the third act, and then yes, Ms. Churchill reminded me that she can construct a scene of enormous power.  I know. I'm a small voice in the wilderness, but I'll betcha the public is with me, for a number of my fellow attendees headed for the hills long before that penultimate scene.
I think Cry-Baby requires you be a tween (or maybe a teen) to enjoy it. Rob Ashford, its choreographer, is the one contributor who knows how to make a musical look like the best of  Broadway.
Again and again he has his ensemble knock itself out with all of the bizazz of the works of Bob Fosse, Ron Field, Tommy Tune, Susan Stroman and when he's at it, even this minor musical is big time. For the rest, to me it's more Saturday night at Green Mansions (the Catskills hotel where young writers wrote a musical and put it on in a week!) than Broadway. Though veteran Thomas Meehan joined Mark O'Donnell (whose solo works include the not so venerable That's It, Folks!, Fables for Friends and The Nice and the Nasty) on book, it's all  much ado about nothin'.  The score didn't do it for me, either. I'm just used to better than "Girl Can I Kiss You (on the Lips)?" and "Baby,Baby, Baby, Baby, Baby." And "Watch Your Ass" is not going to win a Fred Ebb Award. The eccentric and always funny Harriet Harris would have been less wasted in another play – picture her as Lorraine Sheldon in The Man Who Came To Dinner or Vera Charles in Mame. Here she does her best to pump some laughs into the silly story of "Cry-Baby", the teenage heartthrob who's got "Allison" all hot and bothered enough for her to sing "Do That Again" with him just before final curtain.  Baby sister to Hairspray (out of the same gene pool), this one ain't gonna make it. Once again bad sound – and the booby prize for sound goes to Peter Hylenski, who designed it, for employing the lyric-destroyer that is all over-amplification. In future, I think all theatres housing musicals should offer ear plugs to theatergoers over 50 (like me) who were weaned on non-amplified musicals of the 40s, 50s, 60s, 70s and even occasionally the 80s, who cannot bear the phony sound, the tinny and distorted sound, of today. It should not be necessary for us to check the decibel level of a show before plunking down the $100 plus for one seat. But it is.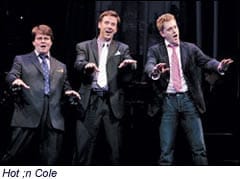 Not exactly "New York Buzz", but a trip to the recently refurbished and magnificent Westport Country Playhouse in Connecticut offered a surprise treat in the form of Hot 'n Cole, a revue using 48 of Cole Porter's classiest songs, performed by 6 'bright young things' who seemed to the manner born.Under James Naughton's stylish direction and Lisa Shriver's zippy choreography, we all felt we'd been invited to a marvelous Park Avenue party, circa now. Everything seemed fresh, whether new to our ears or old friends. With talents like Lewis Cleale, Whitney Bashor, Donna Lynne Champlin, Andrea Dor, Peter Reardon and Shonn Wiley, it was like having six sexy seasonings which, when properly mixed, could serve up everything from a soufflé to a nourishing entrée to a mouth watering dessert. Porter's range is evident in this mélange for it covers everything from the frivolous ("Anything Goes") to the moodily romantic ("In the Still of the Night") to the openly sentimental but never sticky ("I Happen to Like New York") to the veddy veddy high society ("Well, Did Ya Evah?") to real jazz ("Now You Has Jazz") and on and on. Each number has a fresh attack, an odd combination of singers, remarkable and quite thrilling harmonic variations, and six performers up to all the many demands put upon them. This sparkling revue runs till June 28th so if you find yourself in the New England area, put Westport on your itinerary, for here's a treat for you – with restaurants to match all around the theatre (one of them is actually on the theatre grounds). For New Yorkers, like me, a refreshing night out in the country with a show right up there with the best we have at home.
THE AWARDS
On June 10th, the hottest in decades, I started the day at Actors' Equity, where my own annual award, The Richard Seff Award, was bestowed upon Hallie Foote and David Rasche, about which you might have read on this page.
Then over to the Helen Hayes Theatre to catch the last half of the Theatre World Awards. These were the 64th annual awards from this board of directors, to honor twelve men and women who made outstanding Broadway or Off-Broadway debuts in the season just ending.
The presenters are ex-winners, and included Alec Baldwin, Len Cariou, Griffin Dunne, Laura Linney, Andrea Martin, Rosie Perez, B.D. Wong and last year's winner Lin-Manuel Miranda (In The Heights.) Ms. Perez, in introducing De'Adre Aziza of Passing Strange, noted something she'd heard years ago; that "the talented must be helped; the untalented will always find their way to the stage."  Hoon Lee, who won for his work in Yellow Face, was relaxed and charming in his acceptance speech, telling us "it's not surprising I became an actor for everyone else in my family is a macro-biologist." Loretta Able Sayre, who plays Bloody Mary in the current South Pacific, told us how, at 50, this entire experience was beyond her wildest dreams. "All my life I've been a chick singer in Hawaii who'd sing any time, anywhere, in any dress you want." She felt blessed that the folks casting her show, after searching for months for a Bloody Mary, finally took someone's advice to look in the south Pacific for a suitable performer. And they did!
Other honorees included Jenna Russell of Sunday in the Park With George, Paulo Szot, leading man of South Pacific (who is a combination of the late great Alfred Drake and any movie star who makes your heart beat faster), Mark Rylance (the genius appearing in Boeing, Boeing,)  Deanna Dunagan, a lady who's been dazzling Chicago for years, but now has Broadway in the palm of her hand in August; Osage County. Jimmi Simpson from The Farnsworth Invention, was another winner. A heady afternoon, a great relief from the heat, and a meaningful tribute to the 12 winners.
And of course, a word or two about the real closing number of any season, the Tony Awards on June 15th. I thought it was the liveliest broadcast of the last several outings, sparked by the madcap presence of Ms. Whoopi Goldberg who showed up as hostess as well as King Arthur, Mary Poppins and half a dozen other characters from the Broadway crop of musicals. By presenting the less glamourous awards in a pre-taped hour, time was left for additional production numbers from past shows like Rent and non-nominated musicals like A Catered Affair and of course that made for better television. It must have been rough for Kelli O'Hara of South Pacific to lose to Pati LuPone of Gypsy as best actress in a musical, particularly because O'Hara's leading man Paulo Szot won as best actor, but no one could deny that LuPone's "Rose" was the most demanding characterization of the musical season. I was particularly happy to see Mark Rylance walk off with the best actor in a play award, for his work in Boeing, Boeing is so masterful it tended to wipe out the favorite in this category, Patrick Stewart as Macbeth.  It reminded us once again that "dying is easy, comedy is hard."  Though I'm told that Passing Strange is a worthy entry (I haven't seen it yet), I was happy that In The Heights defeated it as best musical, only because I'm one who does not want to see rock 'n roll take over Broadway. It's ok now and then, Hair and Rent and certainly anything as artful as Passing Strange will always be welcome; unfortunately we get a lot of  "Sons of …" on the level of Dude and Wanted and Via Galactica and I'm sorry folks, I just don't see those as Broadway (or even Off/Broadway) entries. I'm not looking for a continuation of the Rodgers and Hammerstein tradition or the Jerry Herman or Kander and Ebb traditions. But the hand mics and "telephone operator" gadgets that rock requires will always remove from the Broadway musical its uniqueness, it's "live" quality and I can't "go quietly into the good night."  I've said it before, and I probably am becoming a bit of a bore about it, but until I see a trend away from overamplification, fair warning: I shall continue to fight back.
One encouraging sign is that Scott Lehrer won the Tony for best sound design of a musical for South Pacific and that is one show that is beautifully augmented but not distorted. Hooray, Mr. Lehrer, you give me renewed hope for the future of musical theatre.
That's it. No more till next season. Though I'm sure I'll be dropping in somewhere between now and then, and where I go – you go. So wherever that is, let's see a show or two, let's have fun, let's get ready for another season filled with hope and promise.