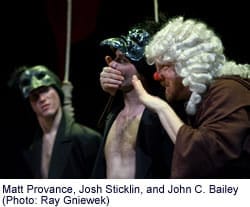 Red Noses
By Peter Barnes
Produced by the Washington Shakespeare Company
Directed by Jay Hardee and John Geoffrion
Reviewed by Tim Treanor
Red Noses is a deadly earnest meditation on the redemptive power of laughter, a soggy, self-sabotaging pudding of a play not advanced by the Washington Shakespeare Company's strident production of it. Imagine the work of the great George Carlin
edited, with explanatory footnotes, by a theologian, and then bellowed by an opera company, and you have a picture of what is now playing at the Clark Street Playhouse.
Or…maybe not even, since Carlin's material was actually funny, while Barnes' stuff is decidedly not so. Red Noses, for example, features a lusty nun (Heather Haney) who expresses irritation when her rape is interrupted. While the humor is otherwise inoffensive, it is generally as hackneyed as the horny-nun stuff. It is a play about humor in which nobody laughs.
In the midst of the Black Death, a priest (John C. Bailey) receives orders from God (apparently in the form of a minor seizure) to begin a mission of laughter in the face of pestilence. For help, he is given a mime, (Melissa Marie Hmelnicky), who communicates in a series of graceful dance steps. In obedience both to the God within him and the rules of the Church outside of him, Father Flote seeks the sanction of the plague-terrified Archbishop (Joe Palka), who assigns Mother Toulon (Emily Webbe), howling in protest, to go with him. They all don the red clown noses of the title. Eventually they are joined by a blind juggler (Brian Crane) and his assistant (Thomas Wood); a stuttering comedian (Evan Crump) and a one-legged ballerina (Caitlin Smith).
Barnes sets up opposing sides quickly: these fools for God – Barnes calls them "Floties" – stand for courage, freedom, and joy whereas the forces of authority, including the Archbishop and Pope Clement VI (Christopher Henley) stand for cant, reaction and oppression. "Flote, you're preaching vile equality and love again," the rapacious Mother Toulon observes. "How do you know God is interested in our laughter and joy?… I know He wants our tears and suffering." She sums up her theology in four sentences: "Our task shouldn't be to make them smile, make them sleep easier in their beds, but to make them tremble. The link between God and man, man and man, is fear. God wants to be feared, not loved. Make them bow down and tremble."
Barnes draws this comparison with sledgehammer subtlety. His language is extraordinarily poetic – which would have been great were Red Noses a poem. It does not, however, serve a theater audience, which is obliged to decipher his metaphors as the narrative moves on. The language also tempts the cast to theatricality, and I'm sorry to report that many of the cast surrender to the temptation. One might think that theatricality would be good in a theater, but trust me when I say that it is not. It slows down the already-long show and calls attention to itself. It is much better for actors to deliver lines as though they were the human beings whose identities they wear for the play's duration, as Bailey, Haney, Henley and some others do. Co-director Geoffrion, as the traitor Rochfort, is slimy without being a caricature. I wish he had taught his technique to his cast.
For all his grim relentlessness, Barnes appears to sometimes invert his narrative and do violence to his points. Early on in the play, plague sufferers who are told a joke generally respond by dying – which is usually not what we mean by "the healing power of laughter". At the play's climax, Father Flote pronounces his labor for the cause of laughter to be a mistake, the enshrinement of a distraction when the real mission should have been whacking around bad guys, like the Pope. If we are to take Father Flote seriously – and why not? – this means that those of us who have been cheering him and his motley band throughout the lengthy play were wrong, and are tools of the oppressors to boot.
The ending – and unless you know an order of comic priests, I think you can guess what it is – is genuinely moving, and would have been much more so if it had not been preceded by all this high-decibel hoo-hah. The frustrating thing is that there is a good play in here somewhere, and the production has some elements which are excellent. Many of the principals, as aforesaid, do good work, and some of the ensemble work – I'm thinking of Kevin Finkelstein and Ellie Nicoll in particular – is spot-on. The costumes (Jennifer Tardiff) are brilliant, and the choreography (Haney, Bailey, and Wood) is excellent. But the play itself is staggeringly repetitious. Some of the acting is alternately stagy and screechy. For reasons I can't begin to imagine, recorded sounds from the dressing room – "I need five plague victims on stage!" – drift out on loudspeakers pre-show and at intermission. And the play is long – over one hundred fifty minutes, not a good match for the Clark Street Playhouse in summer.
Finally, I should note that Barnes won an Olivier award for this play, and that it ran for eight years in London. I know it has its supporters, some of whom I hope will weigh in with their own views in the comments section. I'm just not one of them. In the words of another member of the comic confraternity, "'t'aint funny, Magee."
Running Time: 2:35, including one intermission.
When: Thursdays through Saturdays at 8 p.m. and Saturdays and Sundays at 2 p.m. until July 20. No show July 4.
Where: Clark Street Playhouse, 601 S. Clark Street, Arlington, VA.
Tickets: Thursday $25; Friday and Sunday $30; Saturday evening $35; Saturday matinee pay what you can. Call 1.800.494.8497 (TIXS) or order online through the website.