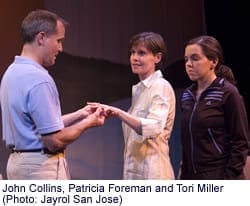 A Body of Water
by Lee Blessing                            
Directed by Michael Ryan Fernandez
Produced by Firebelly Productions
Reviewed by Rosalind Lacy
After seeing Firebelly's spellbinding, well-polished production of Lee Blessing's poetic play A Body of Water, I felt a hunger for human interaction. The edge-of-seat suspense kept me holding my breath until the last revelation. Other opening night audience members, who exited the theater
fired up on opening night asked each other "What's all this about?"
The title works like an extended metaphor about memory loss. Literally, we are body bags of 94% water. Figuratively, our memories are fluid. If our experiences slip through our minds and into oblivion and we don't remember what happened, did the event, then,  ever occur?  Even a journal can be a distorted, unreliable source. What's real? Death is. But Blessing wants us to explore the intense present and the mystery between what we remember and our identity.
Who the hell are we? Did we ever exist? That's the question Avis (Patricia Foreman) and Moss (John Collins), two people in their fifties, face when they wake up in a mountaintop house surrounded by water, with no idea where they are or why they are there. Avis and Moss spar playfully, almost childishly and ask each other: Did we sleep together last night and are we married? When a mysterious young woman, Wren (Tori Miller), dressed in jogging outfit, tells them they've bludgeoned their 11-year-old daughter to death, all innocence vanishes. But Wren contradicts herself and tells three different stories of what really happened.  So does one story cancel out the other? What's real? In razor sharp repartee, the characters Avis and Moss seem to be asking each other: Who are we if our memory is wiped clean?
Director Michael Ryan Fernandez, who launches his professional directing debut here, sorts out the pieces and fits the puzzle together with a light hand. He aims at highlighting the comic moments in a straight-ahead, well-paced manner that lets the mystery unreel before our eyes. The images from the dialogue come at us like a photo montage or an abstract painting. We decide what's real. We are free to paste together the meaning.
What is funny is subtle. Attention must be paid to the way the players make us feel their pain when they seem at the mercy of uncontrollable forces, like accidents, or accusations of murder. John Collins, last seen as James Tyrone in Firebelly's Long Day's Journey into Night, plays Moss, allegedly a judge, as non-judgmental and intimidated. Collins builds a beautifully sensitive, understated performance that lets us believe in his character's name: a rolling stone gathers no moss. He remembers short-term but not long-term. It's in this fine actor's body language and quiet reactions that Collins projects quiet desperation that builds to highly charged panic.
Like a child fearful of staying in a dark room alone, Patricia Foreman, who played Mary Tyrone in Long Day's Journey, humanizes Avis' isolation so that we can empathize with her growing fear of losing her bearings. Half way through the play, Avis looking through a family album, remembers her flowers, "…..like a beautiful wedding veil all around the yard." But she can't enjoy this moment because she can't remember where and when these flowers existed. It's a strange highpoint of exquisite horror.
An edgy performance, delivered with an intermittent facial twitch by Tori Miller as Wren, is stridently harsh and cynical to the point of cruelty. Wren, based on a loud, raucous bird that scolds people, justifies her behavior as shock treatment to jar the couple out of their amnesia or to "recontextualize" them. But is she a daughter, a caregiver, a lawyer or a grand inquisitor from the CIA?  
Production values support the challenges raised. The set conceived by Andrew J. Berry, suggests a disjointed, fractured reality. The broken pieces of scenery don't fit. Original music by Michael Good fills in scene transitions. Lighting designer Nick Rychert weaves in waves of light, from warm gold to blood-like crimson, to match the changing dynamics in the dialogue.
Blessing who wrote this play several decades back after he went through a divorce, insists A Body of Water is not about Alzheimer's disease or dementia. Instead, it's allegorical about the agony of existence in a modern world of hellish, personal isolation. The play is reminiscent of Sartre's No Exit or Ionesco's The Chairs, in which a couple are imprisoned in a tower on an island surrounded by water. But Blessing's landscape turns inward to psychological states of mind. His other plays stand as evidence: his poetic Eleemosynary, about the need for the charity of shared information between three generations of women; a baseball giant, Ty Cobb, is shown at three different ages in Cobb; or the arms race is dissected in A Walk in the Woods. It's rich material in that the mystery of the human mind is an infinite, vast canvas, well worth exploring.  
Running Time: about 1:30 plus one 10-minute intermission.
When: Thursdays through Saturdays, 8 p.m. and Sundays at 2 p.m. until Sunday, July 20, 2008. Saturday, July 19 at 2 p.m. No performance Friday, July 4.
Where: Theatre on the Run, 3700 South Four Mile Run Drive, Arlington, VA 22205. Free parking in limited space lot and on the street.
Tickets: $15 adults; $12 students/seniors 65+; Special $5 for seniors on Sundays. Group rates available. Call box office at 703-409-2372.
Info: Tickets online via instantseats; or call 703-409-2372.