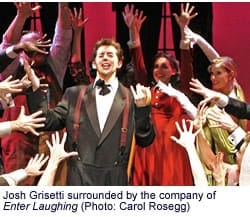 Enter Laughing, What's That Smell: The Music of Jacob Sterling and A Tale of Two Cities
by Richard Seff
Oh rapture, oh joy! It is a pleasure to be able to report that, very early in the new season, New York has a genuine hit. What's even more fun is that the source of this delight is what was once a genuine flop, first presented in 1976 on Broadway for 16 performances. Under the title So Long, 174th Street, a miscast Robert Morse was at the root of the problem, for he was 45 at the time, playing "David Kolowitz" who is maybe 21.  Robert Morse, in the right role (i.e."J.Pierepont Finch" in How to Succeed…) was a star. As "David Kolowitz"  he was a flop.  It's odd too, because Burt Shevelove and Alan Johnson who directed and choreographed the earlier production, and Frederick Brisson who produced it, were accomplished and successful, but some early errors are uncorrectable.
In any case, the York Theatre Company, operating out of its home base in a small off/Broadway theatre, has exhumed the musical with a book by the venerable Joseph Stein, and a score by Stan Daniels, placed it in the capable hands of Stuart Ross as director/choreographer (Ross is best known as the director of the long running Forever Plaid, but he has staged many of the "Musicals In Mufti" at the York, and come up with a cast that could not be bettered.
Enter Laughing does not take the musical theatre into any new dimension, but it is a prime example of what used to be called a "musical comedy," and it is loaded with very clever material, and hilarious block comedy book scenes. It's familiar territory, the story of David Kolowitz, who was supposed to do the right thing by his Jewish Mom and Pop in the Bronx (isn't that where 174th Street is?) and turn into a respectable pharmacist.  But David is determined to become a star on Broadway, and as played by the gifted Josh Grisetti, I was totally convinced he would do just that. From the opening number, "David Kolowitz, The Actor", led by David and supported by the entire cast of  14, we knew we were in good hands. Though Stan Daniels' score is rooted in the Broadway of the mid-twentieth century, it is now so old fashioned it seems avant garde. Songs like "It's Like", "I'm Undressing Girls With My Eyes", "The Man I Can Love", "My Son The Druggist". "Boy, Oh Boy" and a dozen others, get plenty of well deserved laughs benefiting from a refreshing combination of clever lyrics, performance and staging .
Now to the cast. Josh Grisetti is a young actor to reckon with. His bio tells us he's "played in many skits off-Broadway and across the country."  He's still very young, but when he takes the stage, he owns it. Think a young Ray Bolger one minute, a young Danny Kaye the next, then throw in a tablespoon of young Jack Lemmon if Jack Lemmon could sing. The word "engaging" comes to mind. So does the phrase "Star Quality." This kid knows how to listen, he's a whiz at the fast take, he can play the clumsy oaf one minute and the Astaire-like debonair leading man the next. With no amplification, he makes every lyric count, delivered with nuance and panache. Surrounded as he is by a cast of first rate character people, he never loses his place at the center of this frothy entertainment. 
George S. Irving, who played his current roles in the original production thirty two years ago (!), is now 86 years old, and one would forgive him if he had chosen to sit  on a porch somewhere in a rocking chair admiring the view. But Mr. Irving doesn't believe in that. No, he's joined Angela Lansbury, Marian Seldes, Arthur Laurents, Hal Prince and a few other octo and nonogenarians who simply will not (thank God) stop doing what they do best. So he  has returned to play with all the comic skill he's gathered in a career that started 67 years ago in Broadway musicals  like The Student Prince, Call Me Mister and Oklahoma!  His big number in the second act is a genuine show stopper. But watch him in the book scenes, and see how a supporting player at the top of his form delivers a truly brilliant comic performance.
Janine LaManna, recently of The Drowsy Chaperone, plays Irving's daughter, an actress of a certain age, who has designs on young David Kolowitz. Her big number is "The Man I Can Love" which she sings near, on, around, and under a piano. It's a very good piece of comic material, and Ms. LaManna delivers it on a silver platter.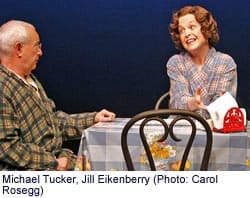 Right behind is Jill Eikenberry, remembered by many as the beautiful Ann Kelsey on "L.A. Law", here delivering a delicious comic turn as  a Jewish Mama, complete with housedress, sensible shoes, and a comic persona that had to require of this gorgeous WASP lady a great deal of research. I think what she's doing up there is called "acting" and it's delicious, for it's subtle and original and very funny.
Running right behind her is her real life husband, Michael Tucker, who played Kelsey's husband Stu Markowitz on the tv series. Tucker is not a singer or dancer, but he's such a fine character actor that he can take a song and dance called "Hot Cha Cha" (along with his able partner in the number, Ray DeMattis as David's boss Mr. Forman) and knock it out of the park. It's reminiscent of  the duet between Harvey Fierstein and Dick Latessa ("Edna and Wilber Turnblad") in Hairspray, and does as much to keep us all happy.
I must give a hand to Jim Morgan the affable artistic director and sometime designer of the York Theatre Company for digging up this show for his "Musicals In Mufti" season last year, then acting on the response of its audiences by mounting a full production now. It was good visiting briefly with Joseph Stein, the bookwriter who, at 96 (!) was very much in attendance at the performance I saw. How lovely that he was there to share the audience's joy with them.  I don't know what the future holds for this production, but I can only hope that somehow it finds the much larger life it so richly deserves. And casting directors, get to the York fast so you can come up with a brilliant idea for Josh Grisetti. He is so ready to move beyond "many skits off Broadway". In the golden age, writers would be creating something for him. But for now, how about another look at Where's Charley or By Jupiter, two Ray Bolger vehicles in which he could soar? And oh yes, most of this cast should go along with him, for there are swell roles in both shows for all of them.
–  Enter Laughing is scheduled to run from Sept 3 – October 12th.
                                                                     —————
Two hits in a row is too much, but if you're wondering What's That Smell?, it's the sweet smell of success for Atlantic Theatre Company's small production at its second stage at 330 West 16th Street. Subtitled "The Music of Jacob Sterling", this gem is from the pen of David Pittu, book and lyrics, with music by Randy Redd  I don't know  Mr. Redd's work, but in this instance he plays second fiddle to the brilliant Pittu, whose book and lyrics are side splittingly irreverent, clever, hilarious and even sometimes touching . The simple premise is that Mr. Jacob Sterling is appearing on a talk show celebrating Musical Theatre, compèred by Leonard (his last name isn't mentioned in the program) as performed by Peter Bartlett. The two of them must never be separated. Leonard is clinging desperately to the last shred of interest in the Broadway Musical, and Sterling is doing his best to keep that interest afloat. He's been doing that for the past twenty years, and he's yet to have a first night on the main stem. He's come close. One of his musicals was on its way out of town for a tryout when 9/11 came along which made its central theme inappropriate. But Sterling is back (for the umpteenth time) this time with a show for the shopping malls of America, "Shopping Out Loud", which celebrates America's passion for spending a buck at the mall. Poor Sterling (who changed his name on the advice of Barbara Eden) has finally given up trying to move musical theatre forward with songs like "Let Me Taste the World" and "The Sound of Loving", and he's now ready to sell out by writing a show that will be played from 11AM to 11PM daily with a top ticket of 75 cents, which includes a discount coupon to your favorite shop.
David Pittu could convince me he was a tall blonde woman if he wanted to. He's a short brunette man to be sure, but in last season's Is He Dead? he played three characters, and it took moments before the audience even knew it was he as the third of these. In this one, he's just sad old David Sterling, but he's managed to create a fully dimensional character, with touches of sadness, joy, great rage, gratitude for any word of praise, and great pride in the achievements he believes he is making with his motley group of students (played by Brandon Goodman, Matt Schock and Helene Yorke). Peter Bartlett's unalloyed reverence for Pittu's character is visible in his every glance, gesture and statement. He's the perfect foil, and the two of them are the 21st Century version of Gallagher and Sheehan, Laurel and Hardy, Wheeler and Woolsey and Martin and Lewis.  Noel Coward once wrote a song called "Ninety Minutes is a Long Long Time" to open his tv special with Mary Martin.   Not true with this show.  If you want ninety minutes of mirth in which pot shots are taken at just about all the current sacred cows except. Sarah Palin, get thee to West 16th Street, and have yourself a fine time with the little show with the most unappealing title since Urinetown.
What's That Smell: The Music of Jacob Sterling is scheduled to run Sept 2 – 28.
                                                                              —————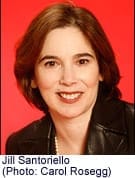 You have to give Jill Santoriello credit. She is the author of book, music and lyrics for  the new Broadway musical A Tale Of Two Cities, and the credit goes for sincerity, devotion, research, patience, and hard work. Alas and alack though, she does not bring to Dickens' best seller anything that adds to what he put between covers. It's all there in this sweeping musical epic – from the rescue of Dr. Mannette from prison after 17 years to the "it's a far far better thing I do.." soliloquy from Sydney Carton many years later as he heads up that stairway to paradise, sacrificing himself in the first act of nobility in his until then wasted life. Little Lucie grows up into Lucie Mannette, and Charles Darnay (nee Evremonde) arrives to capture her heart. The evil John Barsad pops in and out, as does Miss Pross and Mr. Jarvis Lorry. Madame Defarge is there with her knitting needles, knitting into scarves the names of those she plans to have beheaded, once she can kickstart the French Revolution.  As beautifully cast by Barry Moss and Bob Kale, the actors bring life and theatrical vitality to these marvelous Dickens characters. They are gowned, coiffed, lit in settings by the finest of Broadway's design team. No expense was spared to make this musical look tasty like its older siblings Les Miz and Phantom Of The Opera. All words are crystal clear as they pour out of the mouths and throats of its gifted players, though the sound design by Carl Casella and Dominic Sack lends a monotonous sameness  to all, robbing us of any nuance. Yes, it's good to hear each word, each lyric, but the cost is high. Two of the best of the company, James Barbour and Nick Wyman (as Carton and Barsad) have a number called "The Bluff", a blistering argument beautifully played, but muted in effect by the piercing flatness of the sound system. There are some marvelously subtle comic touches in the number too, from both players, but many are lost in the flatness of the sound. Not good, and not necessary.
The score includes at least 26 numbers plus reprises, and they come at you with precision and alacrity. Warren Carlyle has staged the musical within an inch of its life, making full use of Tony Walton's adroit skeletal set, which serves everything from the streets of Paris to the mansion of the Marquis St. Evremonde to the Paris square that houses the guillotine. There are so many characters, and so much plot, that people talking to each other always begin by letting us know to whom they are speaking. "Marquis, you are so wrong", or "My dear Defarge, your wife must stop all this knitting, we are running out of wool." I think what I am trying to convey to you is that there simply was no reason to add music and lyrics to this tale of two cities. Dickens himself created a musical in a sense, and Ms. Santoriello has simply not added any dimension that gives the novel added dimension.
It's a pity, because there are some marvelous performances on the stage of the Hirschfeld Theatre. James Barbour manages to make the drunken and dissolute Sydney Carton a man of great complexity and he wins our empathy totally. His pain is always evident, and his voice brings all sorts of colors to his characterization. He engages us, and we are moved by his emergence as a mature and heroic figure. Greg Edelman, last seen on Broadway as the attractive young leading man in Wonderful Town is now playing the elderly and addled Dr. Mannette, and his performance is layered and textured and complements the marvelous makeup that first presents him to us as someone who has not seen the light of day in seventeen years. Later, groomed and cleaned up, he is a distinguished gent, an imposing father figure. Natalie Toro sinks her teeth into Madame Defarge and is always a major presence, even when she is in the background. But her big number, "Out of Sight, Out of Mind", ends in a shrill shriek that causes frenzy in some, but only forces my fingers into my ears to ease the pain. Brandi Burkhardt and Aaron Lazar as Lucie and Darnay, the lovers, are attractive and totally committed to the style and attitude of l8th Century Europe. Each has a mellow voice, each uses it well, and the love songs work. But the music and lyrics are so generic that some of them (i.e."Out of Sight, Out of Mind", "If Dreams Came True", "The Way It Ought To Be") move about from character to character, allowing for endless reprises without changing any of the words.
This "Tale" will always resonate with audiences. Broadway has so changed in the last ten years or so that the performance I attended was greeted with what is now the universal standing ovation. And there is effect in the sight of a man going to the guillotine in the brilliant light, with the music swelling and the stars appearing in the night sky. If The Scarlet Pimpernel, the recent British Martin Guerre and Gone With The Wind are your cup of tea, you'll have a fine time at Ms. Santoriello's effort.  But I'm sorry to report that she's just not up there with the true musical theatre artists who've brought something new to the works onto which they've imposed their own material. This is not My Fair Lady, Oklahoma!, Cabaret, Gypsy, all musicals based on source material, in which music, lyrics, dance have added to or illuminated the material from which they sprang.  It is not enough to have respect for your source, as Ms. Santoriello does, it is not enough to have a dream and  to stick with it until you see it fulfilled. This work, which was very well received at the Asolo Repertory Theatre in Sarasota, does offer a sort of cribnote accessibility to Dickens' book, but except for the artistry of its excellent cast and designers, the highest compliment I can pay it is to say that it is respectable, earnest and one can feel its author's passion in creating it. Passion alone though, admirable as it is, is not enough.                          
A Tale of Two Cities opened September 18th. Tickets are on sale through March 1, 2009.
Richard Seff is author of Supporting Player: My Life Upon the Wicked Stage, celebrating his lifetime on stage and behind the scenes, available through online booksellers, including Amazon.com.