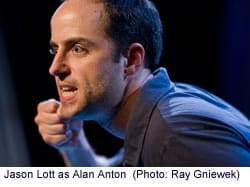 This Perfect World
by Chris Stezin
directed by John Vreeke
produced by Charter Theatre
reviewed by Tim Treanor
Stay with me here. This is a difficult concept, and I'm not sure I have it right. But is it not possible that there is something in this world called pain envy, being the jealousy that those of us whose lives have been rides on moving sidewalks feel for those who have triumphed through adversity? Extraordinary pain, after all, can help to create extraordinary people. I am not just thinking of folks like former Senator Bob Kerry (D-Neb.) or Senator John McCain (R.-Ariz.), both of whom suffered horribly in Viet Nam. I am thinking perhaps about the person who delivers your mail, or the homemaker down your street, both of whom radiate a sort of preternatural serenity and kindness. They have met the devil and stared him down, and they know who they are.
Even when pain breaks a person, and causes him to commit unforgivable sins, the pain makes him comprehensible to us. The boozehound, the pursuer of empty sex, the neighbor with bad personal hygiene and an unkempt yard – if there is great pain in their backgrounds, we understand even as we wrinkle up our noses. Would be it that there was such an excuse for our sins!
Now consider the case of Alan Anton (Jason Lott), bigot. Alan, employed by Erie Insurance and living on the shores of Lake Erie in Erie, Pennsylvania, has lost his job and gotten himself arrested after harassing a second-generation Iraqi-American for doing nothing more than filming the Erie Insurance building.  Here is his background, which we may take as an explanation: he lost two people very important to him in the explosive aftermath of 9-11.
Pain defines Alan Anton, who every day puts on a suit of anger and greets the world. Without his bubbling rage, he is a sad and lonely fellow – a 39-year-old man who lives alone on the shores of the least Great Lake, and works – or worked – for an insurance company.  One day he gets a drunken phone call from a woman who thinks she has dialed Alcoholics Anonymous. He is uncharacteristically patient with her, and soon she is showing up on his doorstep, with wine and chocolate chip cookies. One day he sees an Arabian-looking fellow filming the Erie Insurance building, and he goes down and takes the camera away. One day his sister, a hyper-effective lawyer with polished annoyance skills, shows up to challenge some of his basic assumptions. One day the waters of Lake Erie overflow its banks all the way to his living room, floating him and his improbable girlfriend to the diner on Route 20 (called "the Route 20 Diner") where he eats pancakes and eggs and three kinds of breakfast meats (including scrapple) and contemplates the aftermath of his life so far. All of this happens pretty much simultaneously, and Alan tells it to us, in bite-size parcels, slipping seamlessly from one story to the next.
Playwright Stezin is on to something here. I cannot limn out the plot in more detail without ruining it for you, but take it from me, he lays out narrative questions like open handbags full of gold coins, and after fully mining them, closes each one with a satisfying click.
A one-actor play which explores the desperate upside of pain with four characters, two of whom are women and one of whom speaks in dialect, must be flawless in its execution, or face being shipwrecked before it sets sail. Fortunately, Charter has enlisted John Vreeke to direct and Jason Lott to be Alan Anton, as well as all the people who make his life what it is. Vreeke, who directed two of last year's best shows, The Last Days of Judas Iscariot and The K of D, lends his characteristic interpretive grace to the production. Although the technical elements are as primitive as possible (the set has no discernable meaning and can be eliminated entirely, to advantage), Vreeke, and Lott, manage to fill the evening with meaning through spot-on line readings. As for Lott, coming off a fine performance in Longacre Lea's Theories of the Sun, with this play he solidifies his reputation as an actor who can carry a show by himself. Lott's Alan Anton is Everyman, if Everyman had a large poisonous snake in the corner of the room that he thinks is asleep but isn't quite sure about.
I am sure, however, about This Perfect World, which may not be perfect but is honest and true. Stezin, whose work is beginning to get the recognition it deserves (he is working on a commission from the Guthrie Theater in Minneapolis), writes with all cylinders firing here, and I'm glad I saw it.
Running Time: 1:10 (no intermission).
When: Thursdays through Sundays through October 12. Thursday through Saturday at 8; Sunday at 3.
Where: Theatre on the Run, 3700 South Four Mile Run Drive, Arlington, VA.
Tickets: $28 Friday and Saturday nights, $25 otherwise, available on the website.