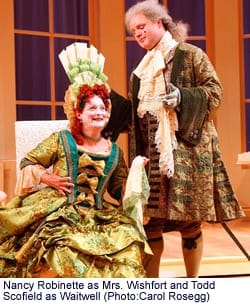 The Way of the World
by William Congreve
directed by Michael Kahn
produced by Shakespeare Theatre Company
reviewed by Tim Treanor
Let me lay this on the table at the outset: this plot-thick, character-heavy Restoration comedy, a paean to the benefits of estate planning, is not for everyone. To enjoy it, we must be willing to look at human nature at its most puerile.  We must be willing, not just to laugh at ourselves, but to laugh at the worst part of ourselves. If we have the stomach for it, there is a satisfying evening of theater waiting for us.
The challenge is not simply that the language is unfamiliar or frame of reference different than our own. We go to the Shakespeare for new experiences, drawn from olden times. It is, rather, that after forty years of restoration, England had become an emotionally and spiritually barren place, its denizens exhausted and insensible. We may think of ourselves as cynical. We don't know what cynical is.
Here's cynical: Fainall (Andrew Long) is married to the daughter (Barbara Garrick) of Lady Wishfort (Nancy Robinette), a woman of considerable wealth. Mrs. Fainall professes to her friend, Mrs. Marwood (Deanne Lorette), that she hates her husband. But this is no moment to Fainall who, though he married for money, truly loves the duplicitous Mrs. Marwood. In the meantime, Mirabell (Christopher Innvar), who believes himself to be Fainall's friend, is passionate to marry Mrs. Millamant (Veanne Cox), whose aunt is – Lady Wishfort. Unfortunately, Lady Wishfort hates Mirabell, as Mirabell once played fast and loose with Lady Wishfort herself.
Mirabell has a plan to win Lady Wishfort's favor. He will send a servant of his (Todd Scofield) to court Lady Wishfort in the guise of a gentleman; when they are married Mirabell will suddenly appear with evidence of the suitor's true identity, and save Lady Wishfort from a disastrous marriage by producing proof that the ersatz gentleman is already married, to Lady Wishfort's servant Foible (Colleen Delaney). Fainall, on the other hand, has an interest in making sure that Mirabell marries Mrs. Millament without Lady Wishfort's consent, as it will surely enrage the old bat and cause her to settle Mrs. Millament's 6,000 pounds on Mrs. Fainall instead. Thus, when Mrs. Marwood overhears Foible describe Mirabell's plot to Mrs. Fainall, she resolves to torpedo it. Got all that?  Oh – and Mrs. Millamant has two additional desultory suitors: Anthony Witwoud (Floyd King) and Petulant (J. Fred Shiffman), and Lady Wishfort thereafter recruits another: the bumptious bumpkin Wilfull Witwoud (Doug Rees).
Keep in mind that the "restoration" in Restoration Comedy refers to the resumption, in the person of Charles II, of the throne of England after an interregnum in which Parliament, and the Puritans, held sway. The cheerfully amoral Charles grew up in France while Cromwell and his minions closed theaters, banned mirth, and soberly assured the primacy of work and Church. Once restored, Charles introduced England to the French way, in culture, dress and matters of amour. By the time this play was written, forty years later, England had developed a whole class of useless aristocrats, who had nothing to do but dress beautifully and scheme for each other's fortunes. These are the characters of our play.
It is hard for an actor to find the truth of a scene in which everyone is behaving so falsely, and the authenticity which this cast brings to these goings-on is remarkable. In such a society deception, self- and otherwise, is the only reality. The great Robinette is never better than at the top of the Second Act, where Lady Wishfort rehearses the correct pose with which to receive a possible suitor as Foible watches. Shall she be reclining on the fainting couch? Or – no – she will rest on one side, coyly showing an ankle, and when her suitor arrives she will act surprised and blush prettily, all disorder and vulnerability. On and on she prates, oblivious to the fact that at this point she cannot seduce with anything but her money, or that her "suitor" is in fact Mirabell's servant, masquerading as a gentleman, or that the woman to whom she is prating is in fact the servant's wife and co-conspiritor.
In fact, the story of this production is that some of the best actors in Washington – Long, Robinette, Shiffman, King, Delaney and the rest – find not only the truth but the wit of this material. A couple of performances deserve particular attention. Ancient plays – this one is over three hundred years old – present a sort of masculine imperative: real men, whether in matters of business or love, get what they want. It could be through means villainous, or means heroic, but they will get it, or be utterly defeated in the attempt. Innvar somehow manages to embrace this masculine imperative without giving offense in our more egalitarian age. His canny, powerful Mirabell recalls his Petruchio in last year's Taming of the Shrew, as modified by a hundred years of good manners, and gives us the closest thing we have to a hero in this manor-house of fools.
Cox, as Mrs. Millamant, is his Kate – if Kate had been written for Gracie Allen. All attention deficit and loose association, Mrs. Millamant has some of the best lines in the play, and Cox – whose English drawl takes some getting used to – does them all justice.
Negotiating marriage with Mirabell, she warns "I won't be called names." "Names!" Mirabell exclaims. "Ay." She fixes him in a deadly gaze as the seconds tick. "As wife, spouse, my dear, joy, jewel, love, sweet-heart, and the rest of that nauseous cant…" Of course, in a society which has enthroned falseness, the only real perversion is to love one's spouse.
In pointing out Innvar's and Cox's excellence I am not short-changing the rest of this cast, and in particular King and Shiffman, who play two characters in which the masculine imperative is, shall we say, subdued. Shiffman, by the way, is one of the all-time great stage drunks in history, and we see it here. Long is his customary fearsome self, and Rees, as a man of country manners, is as refreshing as a boxing match after high tea. Director Kahn maximizes these high skills, and minimizes, through expert pacing and movement, the effect of the most dialogue-heavy scenes.
Costume designer Jane Greenwood matches the mood of moral insincerity by creating a series of preposterous costumes, capturing every shade of green visible to the naked eye. I say "preposterous" but I have no doubt that they are authentic, as she is costuming for a preposterous era in our history. One can almost hear the fashion arbiters of the day decreeing that green would be the color of the season, and this gaggle of titled rich immediately instructing their tailors to construct a green wardrobe.
Congreve was twenty-nine when he wrote this. It struck a little too close to the bone, and was not well received. He never wrote another play. It did not matter; art at the dawn of the eighteenth century was mostly decoration. In these sobering times, when much of our commerce is also decoration and self-indulgence, it may be a measure of our ability to recover whether we can see the folly of The Way of the World.
Running Time: Two hours thirty minutes, including one intermission.
Where: Harman Center for the Arts at Landsburgh Theatre, 450 7th Street NW, Washington, DC.
When: Tuesdays through Sundays until November 16. Tuesdays, Wednesdays and Sundays at 7.30 p.m.; all other evening shows at 8. Saturday and Sunday matinees at 2 p.m. Additional noon matinee on Wednesday, November 5. No shows on Tuesday, October 7 or November 4.
Tickets: $23.50 to $79.75. Call 202.547.1122 or 877.487.8849, or go to the website.