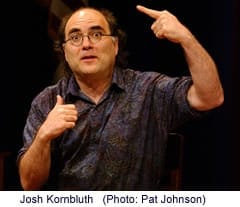 Citizen Josh
written and performed by Josh Korbluth
directed by David Dower
produced by Jonathan Reinis at Arena Stage
reviewed by Tim Treanor
Before I attempt a neutral observation of monologist Josh Kornbluth's political meditation, Citizen Josh, I must lay a barrier upon the table: Kornbluth and I are not, shall we say, of the same political practice. It's not that we are in different pews; it is that we are in different churches, and his church is on Mercury while mine is on Pluto.
Thus I anticipated, with some dread, a two-hour screed, or a standup hate crime in the style of Sandra Bernhardt. This is, after all, the season of our most spectacular discontent, and the streets are everywhere slicked with blood and venom. My misgivings were not allayed by a survey handed out to the audience at the outset of the show. "Global warming caused by human activities is a grave threat to our planet – agree or disagree?" it trumpeted. "Agree or disagree – Government should regulate corporate behavior."
Kornbluth has done his show, and I have observed. Here is my report:
It is wonderful.
Kornbluth, like every good monologist, tracks the mighty challenges of his time through the lens of his own experience.  In his struggle to become a vigorous, if belated, participant in American Democracy he identifies one of its great modern weaknesses – the rise of the priesthood of experts, whose reign over increasingly complicated matters drains our involvement of energy. ("Agree or disagree – I am qualified to evaluate the appropriateness of the bailout legislation that was recently signed into law," the survey asks.) Kornbluth tells an astonishing story about his father's non-expert reaction to a doctor's professional judgment, and uses this story to illuminate what his mentor at Princeton, political theorist Sheldon Wolin, describes as the liberating energy of democracy.
Lest you think that Kornbluth is some tweedy-jacketed academic, though, be reassured that he tells this story with the sort of cheery, nebbishy humility with which he tells all of his stories. While Kornbluth obviously admires Wolin, who is unquestionably a leading political thinker, he is not carrying water for any analytical camp. He is instead a storyteller. His principal academic concern is for his senior thesis, which is overdue. He was supposed to have it done by June.  Of 1980.
Like any good participant in democracy, Kornbluth, though drawn to grand gestures (he participated in a spectacularly unsuccessful attempt to get Princeton to divest in corporations which did business in apartheid South Africa) makes his initial stand in the immediate and the particular: an effort to get playground equipment into the local playground. (Opponents were afraid that kids might follow). Almost instantly once he became involved, he gave vent to his accusatory side, and to the great howling impulse that characterizes much of our political discourse. And through that experience he, and we, learn another great lesson of democracy: it rewards civility.
And on and on the monologue goes, funny, and moving, and full of wisdom, and foolishness. To get an idea of Josh Kornbluth, consider the child in Harold and the Purple Crayon, moonfaced and determined, creating a universe with his crayon and imagination.  Then think of what that young fella might be, at age fifty. That's Josh Kornbluth, creating a universe with his pen and imagination – or, better yet, illuminating our own.
Running Time: 1:45, without intermission.
When: Tuesdays through Sundays until October 26. Thursdays through Saturdays are at 8; all other evening shows are at 7.30. There are also Saturday and Sunday matinees at 2, except for October 26.
Where: Arena Stage Crystal City, 1800 S. Bell Street, Arlington, VA.
Tickets: $30-$35. Call 202.488.3300 or go to the website.