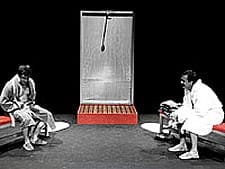 The Hand (La Mano)
by playwright German Madrid
directed by Antonia Castillo
produced by Carro de Baco, Barcelona, Spain, and Teatro De La Luna
reviewed by Rosalind Lacy
The Hand (La Mano), by German Madrid, Spain's gift to Teatro de la Luna's Eleventh International Festival of Hispanic Theater is a mordantly witty puzzler, the kind of breathtaking one-act that's simply ingenious. All the ingredients for truly fine theater art are there: over-the-top acting of relevant, ethical issues with political overtones, good visual and musical effects, dynamic lighting contrasts,under a superb young director, named Antonia Castillo.
Lights come up on a symmetrical set that could have been designed by the Belgian artist Rene Magritte or Spanish surrealist Salvador Dali, balanced by two benches with a white shower stall that doubles as a video screen upstage center for the visuals. Immediately we are mystified by a video of a doll's face with big blue, staring and blinking eyes. When the doll speaks, telling us Fate wanted what we are about to see happen, weird feelings creep up our spines as we are cast into an atmosphere of magical realism.
Castillo is a talent to emblazon among the most promising. It's as if she spins the wheel of Fortune and directs with an assured fatalism and pacing that just whizzes by and doesn't let our attention flag for a second. She knows what she wants and the actors, who exchange stage positions as if placed on a chess board, deliver clear, emphatic performances.
Actor Vicenc Miralles plays the rich man in a size 40, white bathrobe who discovers a stranger in his bathroom. Miralles accuses the stranger, played by German Madrid, of wearing his size 40, dark bathrobe. "They're all mine, the robe, the slippers and sandals, everything in this place," the rich man says, referring to the bathroom, the house, his wife, and his personal property. Like an intricate philosophical riddle unraveling piece by piece, we discover that the rich man, who has lots of material things, lost his left hand in an automobile accident, went to a black market, donor bank and bought a new one. Now the stranger, who was the starving donor at the time, has returned to reclaim the limb he sold. But the rich man won't budge: "I own everything except your person," and enough money to buy 50 other hands. But he also owns the only left hand he now wants. The hand may be "genetically yours but from a contractual point of view, it's mine."
From this point on, the play takes wing, moves beyond contract law and into the realm of morality and ethics. Was a crime really committed? After all, the poor man, clearly enacted by German, who occasionally whistles "If I Were a Rich Man" from Fiddler on the Roof made the choice, with his own free will, to sell his hand for money. But still, he seems to feel his identity has been stolen. "I want my hand back," he says over and over like a refrain. In light of modern medicine and organ transplants, how is this dilemma to be resolved?
From there, the conflict between the man-who-has everything and the man-who-has-not launch into a dialectic of who owns what and why. When the haggling settles on the benefits derived from having two hands, the poor stranger (Madrid) shouts angrily that he expects the rich man (Miralles), who has material wealth, to share: "I want one-half the benefits you've received from my hand." The contenders continue until they fight on the floor, like two animals.
Disturbing issues are raised. Whose brain really controls the hand? Can a body part really ever be owned or possessed by another human being? What is a human being anyway?  What's the difference between body, mind and spirit?  In this way, Aristotle's wisdom, who is quoted in the program notes and in the dialogue, echoes throughout: "One never reaches pure truth, nor is one totally removed from it." And you can make this play as deep as you want.
The play is a tour-de-force vehicle for the two actors, Madrid (who also wrote the piece) and Miralles, that builds from one climactic scene to another until the situation reverses itself. The actors are devastatingly good, polished and crisp in their timing, beyond the call required to convince us we could be asked to make their sacrifice for survival. They once or twice use the aisles as stage area to bring us into the action. The English translators, Oscar Ceville and Jaime Albarracin, from headsets, are precise and right on cue. The photo stills used as visuals of hands in various gestures, from prayer to a hand reaching for the sky are highly effective, as is the liturgical music injected at one violent highpoint.
Only a minor technical detail was overlooked. Whereas we see the stumps of amputated arms, we see no stitches or scars to indicate when a hand has been exchanged and reattached, but the well-choreographed acting covers all that and creates the illusion nicely. Near the end, as if reality is almost too painful to bear, there's a wonderful whimsical moment. Both characters wonder:  Has the stage action all been a hoax? Is this really happening? Or are the characters dreaming these events?  The great Spanish playwright Garcia Lorca would have loved this moment.
For ages 15 and up)
Running Time: 1:10. No intermission.
When: Thurs., Oct. 23; Fri., Oct. 24, 8:00 p.m.; Sat. Oct. 25, 3:00 p.m. and 8 p.m. through Oct. 25th; but the Festival continues through November 15, 2008. Next week: entries from Uruguay, starting on Thurs., Oct 30, and Fri., Oct. 31; Sat. Nov. 1, 3:00 p.m. and 8 p.m.; followed by Argentina, Venezuela, and Paraguay; until the festival ends on November 15, 2008. See:
www.teatrodelaluna.org for details.
Where: Gunston Arts Center-Theatre Two, 2700 South Lang Street, Arlington VA 22206. Free Parking.
Tickets: $30, regular admission; Students and Seniors over 60, $25. $10 discount if buy on line. $10 discount when buying 3 tickets for three different plays (ask for 3-Ticket Pass). Save up to $60 when buying 7 tickets for seven different plays (Full Festival Pass).
Theater for children tickets: Adults $10; children 4 and under, free. No live English dubbing for children's shows. See web site.
Childcare provided during Sat. matinees, 24 hour notice required, $10 per child.
Info and Reservations: 703-548-3092. Consult website: www.teatrodelaluna.org
.