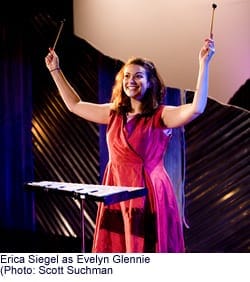 Playing from the Heart
By Charles Way
Directed by Janet Stanford
Produced by Imagination Stage
Reviewed by Leslie Weisman
What do you get when you take an almost bare-bones set, a heroine who can't hear but who won't hear of not making music, an orchestra of ideophones evoked by sticks, boards, panes and chimes and an indefatigable determination to do what those who love you, those who laugh at you, those who doubt you and those who deny you, say just can't be done?
If it's Charles Way's innovative and inspirational Playing from the Heart, you get an absorbing and evocative biographical drama about a young woman both from and of the sticks who proved them all wrong to become the premier percussion artist of her generation.
Evelyn Glennie has become known to the world as much for her inspiring story as through her music.  Born in on a farm in rural Scotland and losing her hearing in early childhood, she would become a symbol of astonishing fortitude in the face of seemingly insurmountable odds, and a role model for women and girls everywhere who have ever hesitated pursuing a dream because of their gender.  (Yes, even in these enlightened times it still happens, although perhaps less frequently – and surely more subtly – than in previous generations.)
Erica Siegel is an ideal Evelyn, both emotionally and musically, able to evoke with extraordinary naturalness the sweet but determined little girl who knows what she wants and what she'll have to do to get it.  With a child's natural confidence as her hearing increasingly attenuates, Evelyn, encouraged by her school music teacher (Joe Brack, who also applies his skillful Scottish brogue in the role of Evelyn's brother Colin), tries out each of the percussion instruments offered her as eagerly as if they were flavors of ice cream.  The audience at the show I attended, including scores of children – the play is recommended for ages 6 and older – was completely caught up in Siegel's intense, rhythmic pantomime, sonically matched by percussionists behind a fence-like structure, who remain all but invisible to the audience.
Glennie's parents (Eric Messner, who also doubles as a newspaper editor, and Misty Demory, also seen as a hearing tester who hears little) are deeply concerned by what they see unfolding before them and its implications. We watch as they slowly come to terms with their daughter's hearing loss.  Both Messner and Demory are convincing as concerned parents and sympathetic listeners who want what's best for their daughter, reluctant to let her to reach too far for fear of what awaits her in an indifferent world and ultimately unable to resist her almost preternaturally forceful self-confidence.  Messner is especially effective in moments of gentle humor. His brogue is pitch-perfect and musical to boot, while Demory segways between her two completely antithetical roles with ease and conviction.
Siegel manages to make Evelyn at once lovable, admirable, and heartbreakingly invincible. Evelyn is convinced that her drum playing is utterly in synch with the school band, and throws down the sticks in outraged frustration when told otherwise.  We understand her anguish as Way shows us the contradictions that define her life, and her life experience:  Although profoundly deaf, she can still sense differences in pitch – yet cannot sing even remotely in tune.
As their initial distress grows into acceptance,  the mother blames herself for all sorts of real or imagined parental missteps, such as allowing Evelyn to ride her bike in the cold or to swim in cold water. Glennie's parents form an invaluable backstop for their headstrong daughter, who wants the world to hear her sounds and will not be put off by practical, but to her inarguably minor, matters, such as her inability to hear them.  She refuses to participate in a drum marathon, protesting the implied insignificance of being just one in a large group, determined to play solo.  Told by her amused but sensible and supportive father that there are no works written for solo percussionist, the resolute Evelyn, matching (if not one-upping) him in matter-of-factness, replies: "Then I'll write them!"
And write them she would, going on to compose theme music for Mazda and songs for Bjork, and to perform her singularly personal repertoire at concert halls throughout the world.  At the play's stirring conclusion, we learn that she has been accepted at the highly selective Royal Academy of Music.  If the play plays in Germany, the audience will cheer by stamping their feet – a marvelously congruous compliment to what they will have just seen and heard.
Imagination Stage has a reputation for bringing diverse communities together with intuitive, inclusive, effective productions.  Playing from the Heart, which is having its American premiere here, is no exception.  The theatre was chosen by playwright Charles Way not only for its tangible assets (the larger Annette M. and Theodore N. Lerner Family Theatre seats 360; the Christopher and Dana Reeve Studio Theatre, where Playing from the Heart is being shown, seats 140), but in recognition of the theatre's work with deaf students in its Deaf Access program.  To serve the hearing-impaired (and to the pleasure of those of us who are also unapologetically inveterate readers), the show includes "open captions" – supertitles – suspended on a huge circular screen, easily visible to the entire audience.
The audience was close to capacity for the show I saw, and there's every reason to believe it will be that way throughout the show's run.  If you haven't already seen it, or ordered your tickets, start making some percussive taps on your keyboard or clicks with your mouse – and don't forget to bring the kids!   Before you go, check out this excerpt from Janet Stanford's interview with Glennie.
Playing from the Heart
Running Time: 1:15 (with one intermission)
When: November 2-30.  Friday at 7:30 p.m. (also 11:00 a.m. on Nov. 28), Saturday at 4:00 p.m. and 7:30 p.m. (no matinee on Nov. 8), Sunday at 4:00 p.m.  Also Tuesday, Nov. 4 at 10:30 a.m. and Wednesday, Nov. 26 at 2:00 p.m.
Where: Imagination Stage, Christopher and Dana Reeve Studio Theatre, 4908 Auburn Avenue, Bethesda, MD 20814
Tickets: $18.50. Call 301-280-1660 or order online.