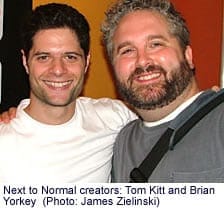 Feeling Electric!
Lyricist and book writer Brian Yorkey and composer Tom Kitt on Arena Stage's new production of Next to Normal
By Joel Markowitz
There are musicals that have become cult favorites, and one of my favorite Broadway musical performers – Alice Ripley – has starred in four of them: Side Show, Rocky Horror Picture Show, Tommy and Next to Normal.
I was so lucky to catch the final performance of Next to Normal at Second Stage on March 16th of this year. We are fortunate to have Michael Greif (Rent and Grey Gardens) direct a new version of this very unique musical at Arena Stage's Crystal City location, and to have Alice Ripley here recreating her tour-de-force and critically acclaimed performance of Diana!
Before the show opened, I asked book writer and lyricist Brian Yorkey and composer Tom Kitt about what we will be seeing in the Arena Stage version of Next to Normal.
Joel:  Thanks so much for allowing DC audiences to see this powerful musical, and for bringing so many of the original Second Stage cast with you to Arena Stage.  I  see that Washington is your first stop outside of NYC.
What did you think attracted Molly Smith to the show?
Brian and Tom:  You'd have to ask Molly. We've always admired Arena Stage, and Molly's excellent taste, so we're honored to be a part of that. Whatever the reasons, we're just so thrilled that she asked us here. It's a fantastic institution with a smart, warm, supportive staff and a great audience.
Joel:  For our readers who may not know the show, what are they going to see?
Brian and Tom: Next to Normal is a contemporary musical about a suburban mother and her family, and how her struggles with depression affect them all and force them to come to terms with their past and face their future.  It's mostly through-composed, with some dialogue.  The music is a mix of different styles which help the heightened and very theatrical human story at the core of this musical.
Joel:  Are any of the characters based on family members, or friends?
Brian and Tom: We've both known and loved people who have struggled with depression-as so many people have. The show is informed by many of these experiences, and also by a great deal of research and reading of other first-person accounts. It's not based on any specific person or persons. And neither of our mothers is crazy. At least not clinically.
Joel:  How is the Arena Stage production going to be different? So much was going on in the NYC production, that I had a hard time absorbing everything in one sitting. Have you simplified the plot any?
Brian and Tom: Well, I hope we've learned more about what needed to be clarified and simplified. It's still a lot. You'll have to tell us what you think. We've made quite a few changes, responding to what we learned from our run at Second Stage. There are five new songs, four of them replacing songs in the Second Stage version, and two more songs that have been cut altogether. We've made some small but (hopefully) significant tweaks to the book and lyrics. We're really excited about this latest evolution of the show. We're also excited by what hasn't changed: Alice Ripley returns as Diana, Aaron Tveit as Gabe, Jennifer Damiano as Natalie, and Adam Chanler-Berat as Henry. J. Robert Spencer joins the cast as Dan, and Louis Hobson as Doctor Madden. The physical production is essentially the same, with a few tweaks.
Joel:  What were the audience reactions like in NYC?
Brian and Tom: Many in the audience responded with great enthusiasm. We received some very moving letters from people who felt we conveyed the emotional experiences truthfully, and who were grateful to us for bringing these stories into the light.
Joel:  Have you ever worked together before writing Next to Normal?
Brian and Tom:  Yup. We've been writing shows together since we met at Columbia College when we were undergrads.
(Joel's Note: Last month I saw Tom conduct and play keyboards for 13, and I love his  score for High Fidelity, which he wrote with Amanda Green. I have seen and heard Tom's great contributions as an arranger, orchestrator, musical director, musician and conductor on Broadway's Laugh Whore, Urban Cowboy and  Debbie Does Dallas.)  
Joel:  Tom, how does your score reflect the "ups and downs and crashing" of manic depression?
Tom: The score never stays in one place, in terms of harmony, rhythm, orchestration, and style.  Putting music to this type of condition presents an enormous challenge, but also, an enormous opportunity to be creative and unpredictable.  However, I always wanted the score to be tuneful because for me, the way into serious human emotion is through strong melody.
Joel:  What was the most difficult song to write, and what is your favorite song in the show?
Tom: I think the most difficult moment we have had to write for is the final moment between Natalie and Diana towards the end of the play.  We did many different versions before we found something we really liked.  Because of how important the moment is, and the need for it to be free of any cliché or predictability, it took Brian and me a while to get it right, but we feel great about the version we have now.  I think my favorite song(s) in the show are the "Hays."  There is something about those songs that I find really sweet and poignant, and there is a beautiful and hopeful story in that sequence between Natalie and Henry.  Every time I hear them they make me very proud.
Joel:  Have you written or taken out any songs for the Arena Stage production?
Tom: We have made a number of changes in the score.  We have written five new songs, we have cut two, and have made changes to a handful of others.  It has been  a great process for Brian and I, and I think the show is in better shape than it's ever been.  We couldn't be happier to be here at the Arena and to have this opportunity to continue working on the show.
Joel:  Brian – how do your lyrics and book reflect the "ups and downs and crashing" that manic depression inflicts?
Brian: Well, I hope that we've found a theatrical way to represent what that condition is like. It's always been our goal to bring audiences into the mind and emotions of Diana, to try to empathize with what she's going through rather than just witness it. Some moments try to reflect the chaos and hyperreality of manic thought, others the despair of depressive episodes. I hope the lyrics help carry the contrast-IT'S GONNA BE GOOD versus YOU DON'T KNOW, for instance.
Joel: What was the most difficult scene to write, and why?
Brian: The last moment between mother and daughter. The song we put in for the Arena Stage production is something like our fifth or sixth try at this moment. Why was it so hard? Lots of reasons, I guess. There are many different ways it could go-lots of different things they could say to each other-so it's been a process to find the thing that makes the most sense and really matters.
Joel: Which comes first when you work together – the music or the lyrics?
Brian and Tom: We work all different ways. Usually, if a song is very book-oriented, or needs to communicate very specific textual information, lyrics will come first. If emotion is more paramount, or the feel of the moment needs to be nailed just right, Tom will write the music first. Often we do half and half-I'll write a chorus, for example, and Tom will set it and build a tune around it.
Joel:  I'm sure finding the right actor to replace Brian D'arcy James was a difficult challenge.Why is J. Robert Spencer so perfect for the role of Dan?
Brian and Tom:  Bobby had done an earlier reading, as the doctor, so he knew the piece and we knew him. We were thrilled he agreed to step in-he has a real truthfulness and innate decency in everything he does, very much like Dan. And he sings it beautifully.
[Joel's Note: Brian is now playing a very green Shrek -in Disney's new Shrek – The Musical. Richard Seff and I will be recording an interview with Brian and Richar Seff in January for DCTS,. I will be asking Brian about his Next To Normal experience].
Joel:  I think (and many of my fellow theatre goers and critics agree with me) that Alice Ripley gives one of the greatest performances ever seen on the stage.How has Alice's performance grown since she first played Diana at the Second Stage Theatre NYMF workshop in 2006?
Brian and Tom: It's been exciting to watch Alice in this role. She was incredible from the first reading, and each time through she finds more and more in it-and she flat-out owns it now. She hit the ground running this time around, and we were all blown away.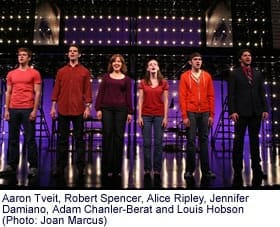 Joel:  It's very rare when members of the original NYC cast travel on the road with a show, or stay with the same show for a long time.
Please introduce us to these 4 members of the NYC cast that will be part of the Arena Stage production, and what motivated them to come to DC?
Brian and Tom:  Well, Alice Ripley we discussed above. She plays Diana. She was in the original casts of Tommy and Side Show and The Dead and the Rocky Horror revival and a bunch of other stuff. She's a freakin' legend. Aaron Tveit, who plays Gabe, took time off from playing Fiyero in Wicked on Broadway to be with us again; he was also in Hairspray and Saved at Playwright's Horizons. Adam Chanler-Berat and Jennifer Damiano play our young lovers; Adam was in the Les Miserables revival and Jenn was in the original cast of Spring Awakening. Jeez, they're all much fancier than I am. What's their motivation for coming? You'd have to ask them. I don't think musical theatre actors get to do pieces like this one all that often.
Joel:  Is a cast recording in the works?
Brian and Tom:  I hope so. They don't tend to tell me these things. I'm the last to find out.
Joel:  Where would you like the show to go next?
Brian and Tom: Every production or reading of this (unusual) show has been a blessing. Our experience at Second Stage was so rewarding, and to be able to continue the work at Arena Stage, with the amazing staff here, was an absolute gift. If this show continues to find life, and people interested in doing it and seeing it, I'll be amazed and gratified. Whatever happens from here on, we've had an amazing run.
————
It's 1 AM on December 11th and I have just returned from opening night of the new improved Next To Normal, and it is better than what I saw in NYC at 2nd Stage. I spoke to Brian and Tom, who were ecstatic about tonight's performance. I told them that the new changes in the score have made the Arena Stage production more focused and easier to understand. They were quite happy to hear that, because it was something they had worked on during the long preview period at Arena Stage.
The cast – Adam, Jennifer, Louis, Alice, J. Robert and Aaron – were simply brilliant tonight. You must go see Alice Ripley's remarkable performance. You'll never forget it. When Alice sang "I Miss The Mountains," I had chills up and down my spine. My favorites? "You Don't Know," I'm Alive" and "Maybe," all beautifully sung.
Now, the Next to Normal team is keeping their fingers crossed and praying, as they await the verdict of our local critics. As for me, I am still on a manic high
I will be sitting down with Alice Ripley next Tuesday, December 16th. This Alice Ripley fan is very thrilled! So listen for that podcast coming soon.