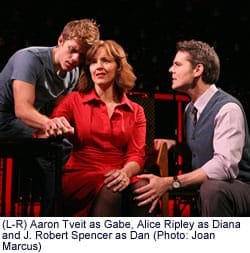 Next To Normal
Music Tom Kitt
Book and lyrics Brian Yorkey
Directed by Michael Greif
Produced by Arena Stage
Reviewed by Gary McMillan
Arena Stage is sponsoring the DC regional premiere of the much heralded Off-Broadway musical Next to Normal. No doubt local audiences would have been pleased to see a reprise of the Second Stage production which enjoyed an extended, sold-out run, but Arena has given the creative team an opportunity to rework areas of the show which they felt could be improved. What they have achieved is a fiercely unsentimental examination of the impact of chronic mental illness on a seemly typical all-American suburban family.
Its rock-flavored score by Tom Kitt, reminiscent of the work of Jonathan Larson or Jason Robert Brown, conveys a considerable range of emotions and ideas to complement Brian Yorkey's informed book and intelligent and really witty lyrics. The humor laced throughout the show is a key to its success; neither condescending nor derogatory, the humor is found in the characters' self-understanding.  It is a perfect antidote to the stigma which often accompanies the depiction of mental illness and provides the audience with a much need release of tension throughout.
The story centers on housewife Diana Goodman, who has struggled for roughly two decades with bipolar disorder, bouts of major depression and perhaps schizophrenia (there are several allusions to the possibility of a genetic marker being transmitted down the generations of females in the family), as she takes us on a journey into her broken heart and troubled mind. It's a rip-roaring excursion into rapid cycling, hallucinations, and mood swings, punctuated by the ordinary, every day activities of daily life. It's a meaty role that absolutely requires an actor of the caliber of Alice Ripley (Broadway's Side Show, Sunset Boulevard, Rocky Horror, and The Who's Tommy as well as Tell Me on a Sunday at the Kennedy Center). Ripley's performance as runaway bride Amy in the Kennedy Center's production of Company was a perfect prelude to Next to Normal. She can take an audience out to the razor's edge of an emotion and turn on a dime from harrowing sorrow to slapstick comedy, always utterly honest and convincing. It doesn't hurt that she also has one of the best voices in American musical theatre. She has the audience in the palm of her hand early on when she sings the poignant "I Miss the Mountains" about the demoralizing and depersonalizing loss of affect that can go hand-in-hand with achieving an emotional balance through medication:
But I miss the mountains
I miss the dizzy heights
All the manic magic days
And the dark depressing nights
I miss the mountains
I miss the highs and lows
All the climbing, all the falling
All the while the wild wind blows
Stinging you with snow
And soaking you with rain
I miss the mountains
I miss the pain
Diana runs the gamut of alternative medical treatments (pharmacotherapy, psychotherapy, combined talk and meds treatment, electroconvulsive therapy (ECT), and even a brief dalliance with hypnosis). There are utterly hilarious musical homages to medications and their complications that leave the audience in stitches.
What prevents this show from becoming a two hour psychiatric teach-in is the well-crafted family saga which unfolds in parallel to Diana's journey. J. Robert Spencer is Dan, Diana's long-suffering husband. He is the anchor of this chaotic household, and deeply touches the audience when he explains in song ("A Promise") why he remains with Diana. Jennifer Damiano is splendid as daughter Natalie – compulsively overachieving and scared straight until she pairs with stoner boyfriend Henry (Adam Chanler-Berat) and plunges from pot into recreational prescription drug use. Damiano fills the song "Superboy and the Invisible Girl" with passion, pain and anger over her mother's apparent absorption with Gabe, the perfect son (played by Aaron Tveit). Tveit's performance is so powerful he's more electrifying than ECT. Damiano, Chanler-Berat and Tveit were all in the New York production and we are lucky to have them reprise their roles in DC.
Louis Hobson completes the six member cast, playing two of Diana's doctors, first her psychopharmacologist and later a rock-star psychiatrist who leaves no stone unturned in an attempt to stabilize Diana. True to the grounded nature of the show, the psychiatrist is not a caricature, a villain; he's just a medical professional practicing an inexact science who is at a loss to conquer a treatment-resistant illness.
In addition to the fine solo moments, the creative team uses duets and quartets, counterpoint and harmony to stunning effect again and again: mother-son, father-daughter, the young couple mirroring the dynamics of the married couple, et cetera. Michael Greif's direction is fast-paced and seamless from scene to scene with savvy choreography by Sergio A. Trujillo. Their staging is supported by a stunning, three-level, metal, Roy  Lichtenstein-influenced set by Mark Wendland and dazzling lighting effects by Kevin Adams, making the show a double whammy visually and musically.
The creative team is right on the money –  the heightened, hyper-reality of some forms of mental illness and the emotional swells they engender are the perfect stuff of musical theatre. Song is the perfect medium to express both the grey and grandiose moments. The show is all the more compelling for its freshness rather than having pulled a story off the shelf (say, The Story of Adele H, Cookoo's Nest, Man in the Moon Marigolds, or Ordinary People) to musically dramatize, although any of these properties might work quite well in musical form.
I can only hope that this edgy show focusing on a topic many still wish would hide in the attic will find the audience it deserves. Pop psychology has infiltrated nearly every sphere of American culture and, heaven knows, we have become a "maybe not so blissfully" medicated Prozac nation (with trace levels of antidepressants actually detectable in the water supply of some major cities), so the subject matter of Next to Normal is hardly foreign to us.
So go see Arena Stage's stunning reworking of this Off-Broadway hit and drop a note of gratitude to Dr. Jaylee M. Mead and Shugoll Research for their sponsorship of the show.
Running time: 2:15 with one intermission
When: Nov 21 – Jan 18. Tues, Wed & Sun at 7:30 pm; Thurs, Fri & Sat at 8 pm, Matinees, Sat & Sun at 2 pm.
Where: Arena Stage in Crystal City, 1800 S Bell St, Arlington, VA
Tickets: $27 – $66. Call the box office at 202 488-3300 or purchase online.
Related:
To read our interview with the creators of Next to Normal click here.
Coming soon – Joel Markowitz podcasts an interview with Alice Ripley.