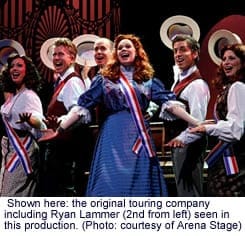 Irving Berlin's I Love a Piano
Music and Lyrics by Irving Berlin
Conceived by Ray Roderick & Michael Berkeley
Direction & Choreography by Ray Roderick
Musical Supervision by Stephen Purdy
Presented by Arena Stage in association with Maximum Entertainment, Off Broadway Booking, & Mazel Musicals
Reviewed by Steven McKnight
Arena Stage has such a distinguished history of outstanding theatre that one normally trusts any of its productions will meet a certain standard of excellence. After Arena's true artistic triumph with Next to Normal, it is disappointing that the Arena brand has been loaned to a lackluster work like Irving Berlin's I Love a Piano.
In order to weave together a number of Irving Berlin songs, the production follows an old upright piano with a bad key from the early 20th century through the 1950's.  The six singing and dancing performers (Ryan Lammer, Emily Mattheson, Alix Paige, Ashley Peacock, Michael Turay, and Jason Weitkamp) change costumes periodically to evoke memorable historical periods such as Prohibition, the Great Depression, World War II, and the post-war era.
It's hard to imagine how a musical revue featuring one of America's most renowned composers can go wrong, but this production finds a way.  First, the show skips uneventfully through 64 numbers which are mostly rendered in a bland and inoffensive manner, supplemented by some cutesy comic business.  There's not a single show-stopping moment.  Perhaps the audience would be better served if the show's creators had focused more attention on fewer songs so we could revel fully in the beauty of Berlin's compositions.
The show depends substantially on the talent of the cast, but to be charitable, this ensemble is mediocre in vocal, acting, and dance skills.  I would be surprised if any of them would be cast if they auditioned for a true Arena Stage musical production.  Perhaps the only performer with real promise is Ryan Lammer (Jim), a young man who strives mightily to entertain the audience in Act I even at the expense of a little shameless mugging.  Unfortunately, Mr. Lammer largely disappears for much of the second act.
The music does provide some pleasant entertainment.  Michael Berkeley's musical arrangements work well.  The ensemble sounds better as a group on numbers such as "Blue Skies" and "Always" than do any of them performing individually.  Under the guidance of Stephen Purdy, the six-piece band provides some lively and diverse sounds.
The dance numbers are less successful.  Other than a few acrobatic moments, the choreography was relatively simple and posed few demands on the cast.  Perhaps it is telling that the dancing highlight of the evening involved the six cast members kicking and swaying while seated together in a movie theatre.  That sequence had a certain charm, but the rest were largely forgettable.
The overall impact of the evening was lukewarm at best.  Irving Berlin's I Love a Piano seems designed to be a feel good nostalgia piece suitable for a cruise ship or an amusement park.  The show tries to tell you everything will be fine if you keep smiling, singing, and dancing.  Unfortunately, this production is not necessarily "a fine way to treat a Steinway" (to quote the title number).  In a town with abundant theatrical and musical offerings, it would be hard to feel good if you paid full ticket price for this uninspiring revue.
Running Time: 2:05 (one intermission)
Where: Arena Stage at Lincoln Theatre, 1215 U Street NW, Washington, DC.
When: Through February 15.  Tuesdays, Wednesdays and Sundays at 7:30 PM, Thursday, Fridays, and Saturdays at 8:00 PM, and matinees Saturdays and Sundays at 2:00 PM (except only one show on final Sunday 2/15 at 6:00 PM).
Tickets: $25 – $74.  Call the box office at (202) 488-3300