Billy Elliot, August: Osage County and The Third Story
by Richard Seff
Here we are into February and I'm just catching up on two of last year's big winners. I'd seen Billy Elliot in London last April, but saved the New York production until it properly settled in for its long run on Broadway. I caught up with it at the Actors' Fund Benefit on January 25th .  It  turned out to be a night and a half for the audience at these benefits (which is played for free by all the Broadway casts that run long enough) because each is always alive and ready to enjoy itself. As a result, my night at the Imperial Theatre had 6 show-stopping moments in it, all deserved, and it was wildly exciting to experience.
There is so much to admire in Stephen Daldry's staging of this musicalization of the film of the same name, with book and lyrics by Lee Hall (who wrote the screenplay) and music by Elton John. The story remains the same as that of the movie, but it's been expanded and much of its quiet emotion is explored now in music and dance. It's difficult to know where to start tossing  kudos, but I suppose it makes sense to start with Billy himself. There are three young actors who play him each week, as it's as tough a role as "Hamlet" and "Oliver Twist" combined, and I understand that all three of Billy's actors are excellent. But "my" Billy was Trent Kowalik, and if you want to know what a true stage star, aged 12, is  –  trot on up to the Imperial Theatre and seek him out. It's not just talent he has for dancing (and I mean everything from ballet to tap to  modern), but his acting instincts are amazing, and he knows even at this early stage of his career, the value in silence, in time-taking, in listening.
There is a lovely scene in which he reveals that his mother is dead, but his dance teacher, with his permission, reads a letter his mother left behind for him. When she's through, she concludes: "She must have been a remarkable woman". Young Kowalik thinks about that for a moment,  while we lean forward to hear how he handles it. Then, he simply answers: "No, she was just my Mom."  That one brought out the first of the four handkerchiefs into which I blubbered that evening. Perhaps it was director Daldry who taught him how to do it, perhaps the other two actors who play that moment do it just as artfully; all I know is no actor thrice his age could have played it more beautifully than did young Master Kowalik. I sure hope he doesn't get tired of acting by the age of 15 or so, and go into dentistry or biochemistry. It would be a great loss to all of us who love theatre.
But there is so much more to this lovely show. Carole Shelley, for example, who has been supplying Broadway with delicious character work ever since Neil Simon discovered her and made her a Pigeon Sister in The Odd Couple, continuing through the Alan Ayckbourn comedies Absurd Person  Singular and The Norman Conquests and on to her Tony Award as Best Actress inThe Elephant Man and her visits to musicals like Wicked (she was the first of the many Madame Morribles), Cabaret and Show Boat.  She's one of those rare gems that can attract me to a show even when she's not got a large role – and in Billy Elliot, she plays Billy's Grandmother, who has but one song in Act One and some funny stuff in Act Two. But when she's on, even young Master Kowalik must take a back seat and stay out of her way. Hers is the first of the showstoppers with "We'd Go Dancing", which gives the first act the kick in the pants it needs to start soaring.
On a recent afternoon,I visited her in her dressing room, and had a lively chat with her which we'll be throwing your way via a podcast in a day or two.  She's a rare one, this Shelley. Give a listen, and you'll hear for yourself. And Haydn Gwynne, of the original London cast, brings us her "Mrs. Wilkinson", the dance teacher who first spots Billy's talent for ballet, and devotes herself to rooting it out for the world to see. Her teacher is not unlike Miss Moffat in The Corn Is Green who spots in a Welsh coal miner a gift for language and helps him to make it to Oxford, much as Mrs. Wilkinson helps Billy make it into the Royal School of Ballet. Ms. Gwynne is another one who makes us reach for the handkerchief, that is,  when she's not exploding all over the stage as a dancer in "Shine" and "Born to Boogie."
This is not a musical for kids, it's not another Annie or Oliver! Though all three musicals have a child as their central character, Billy is much darker in its way of dealing with the very real problems of the miners in northern England who spend the course of the musical's time in a year-long strike, which is painful.  It gives Gregory Jbara an opportunity to show us his own dark side, so very different from his take on the closeted gay bodyguard in Victor/Victoria and the larky Billy Flynn in Chicago (he was the first replacement in the current Broadway revival.) Here, Jbara plays Billy's father, torn between love and loyalty to his two sons – one a militant striking miner, the other a mere boy who wants to dance. His torment is clear, his ultimate growth and tenderness is very moving, and he's another reason to bring along an extra handkerchief or two.  Actors as good as Carole Shelley, Haydn Gwynne, Gregory Jbara and of course young Trent Kowalik make theatre going a treat, and I hope the roars of approval they all got in their curtain call gave them back some of the pleasure they'd just given us out front.
Billy Elliot the Musical is at the Imperial Theatre, 240 W 45th St, NYC. 

'Finding Billy' video narrated by Elton John
—————
A week later I returned to August: Osage County for I'd heard good things about the many cast replacements since I saw it early in its New York run. I was particularly interested in Estelle Parsons, for she was being asked to fill the shoes of the seemingly irreplaceable Deanna Dunagan in the role of "Violet Weston", matriarch of a very closely knit volatile (to say the least) family in Pawhuska, Oklahoma, sixty miles north of Tulsa.  I like going back to long running hits to see how they're holding up, and I'm rarely disappointed. A good management makes certain that first class standards are upheld, and sometimes a well oiled ensemble company becomes even more remarkably cohesive and rich.  I can't say the original cast is outdone by these new actors in key roles, but I certainly was in no way disappointed. If anything, I had the opportunity to pay more attention to the text itself, this second time around. And Tracy Letts continues to astonish with his ear for detail, for colloquial correctness, and for insight into very complicated characters, all of whom ring true.
To get to my primary interest in Estelle Parsons though – all I can say is "Wow!"  Her take on Violet is considerably different than was Ms. Dunagan's. And rightly  so, for they are very different physical beings. Dunagan was slim and angular, Parsons is plump and plays her character slightly unkempt. Both actresses have tremendous reserves of energy and strength and though Parsons is in her 80s playing a woman of 65, this is no "old lady" up there. It would shock no one if Violet  outlived her family, including her 15 year old granddaughter. When she's under the influence of a dozen painkillers (she's suffering from cancer of the mouth but that doesn't do much to slow her down), she is somewhat out of control, and for a time she loses the top spot in the family to her daughter Barbara, another killer-in-the making – but only for a time. When the pills wear off, she's back on top, full of surprises and secrets. But wait – this three and a half hour opus continues to surprise us right up to the final moment, when — but no, I couldn't do that to you. Mr. Letts has worked far too hard  to keep us guessing as to what will happen to whom for me to tell you where he brings his final curtain down.
Estelle Parsons will head the cast when this play takes to the road in the fall of this year. But I highly recommend you see it here or when it hits Washington.  Or you might follow my lead and see it here AND there, for it's rich enough and complicated enough to warrant two viewings. It won the Pulitzer Prize for Drama, and I'm certain it will win your heart as well.
August: Osage County is at the Music Box Theatre, 239 West 45th St, NYC.

————————

Charles Busch has given us much pleasure with his The Lady in Question, Die Mommie Die! and his slightly more conventional comedy The Tale of the Allergist's Wife, among many others. This time out, he's linked together three different genres that interest him, and created a hodgepodge of a play he calls The Third Story. It's just opened a run at the Lucille Lortel Theatre in Greenwich Village. "Hodgepodge" is one word to describe it, "mishmash" is another. In a program note, Busch tells us that he's always had a great fondness for fairy tales, for Warner Bros. melodramas and moral tales taken from the gossip columns of his young life. Unfortunately, he decided to try to put all three styles into one play. It has so much plot that I'm still picking my way through its underbrush three days after seeing it.
It would seem that a washed up screenwriter (vintage 1940s, played by the formidable Kathleen Turner), is trying to get her grown son, who had once been her collaborator, to return to screen writing so that she can continue her career, which has fallen into disrepute. Her son has left Hollywood, and settled down as a mailman in a small town in the middle of nowhere. But wait! We are introduced to her counter-part, a fictional representation of herself in a Warner Brothers  melodrama, and this part is played by Mr. Busch in drag, via a character called "Queenie Bartlett", who also has a son. "Dr. Constance Hudson" figures in the melodrama as an homage to Ingrid Bergman in Notorious, but I simply could not follow her story line. Mix in an ancient crone of a witch and a lost princess named Vasalisa, season with a robot-like clone named Zygote, and you can see that we are in very strange territory.
There are occasional laughs in this piece, but they are separated by long monologues that wander, and by unreal dialogue that seems to go on forever. Mr. Busch has more fun with the evening, for he's in the fantasy part, and he knows how to make merry with facial expressions, gestures, and the occasional dance step that would never do in a realistic story. Poor Ms. Turner, fine actress that she is, tries to bring truth to her screenwriter Peg, but with truth comes loss of humor. She does get to double now and then as "Dr. Rutenspitz" but most of the Doctor's laughs come from his name, not from his words.
The supporting cast, Jonathan Walker, Sarah Rafferty, Jennifer Van Dyck and Scott Parkinson  throw themselves into the attempt at merriment much as the company of crazies that supported the late Charles Ludlam in his Theatre of the Ridiculous did when Ludlum was planting seeds which sprouted into Charles Busch and Company. But my feeling is shoemakers should stick to their lasts, and Mr. Busch bit off more than he could chew with these non-complimentary styles – all bumping into each other throughout the long evening.  All champions are entitled to an error now and then. Chalk this up to one for the gifted Charles Busch.
The Third Story is at the MCC Theater at The Lucille Lortel Theatre, 121 Christopher St, NYC. 

——————
Winter continues to throw snow and sleet and hail at us, but as we all know, the show must go on, and if it does, I'll be there to bring you tidings of the season. There will be lots of new works and star-studded revivals coming up to take us to season's end. First up will be the Mary Louise Parker Hedda Gabler. This revival has had a very mixed press, so I look forward to seeing it, anxious to find out on which side of the fence I am. I'll let you know, next time out. Meanwhile keep warm, stay dry, and see a play or musical.  If you combine that with enough sleep, you'll stay well until spring.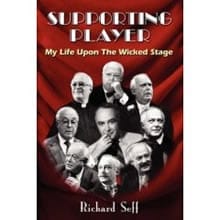 Richard Seff is author of Supporting Player: My Life Upon the Wicked Stage , celebrating his lifetime on stage and behind the scenes, available through online booksellers, including Amazon.com.