An intimate conversation with Richard Seff
Brought to America by Neil Simon as his original Gwendolyn Pigeon in The Odd Couple in 1965, the London actress fell in love with American theatre, and Broadway audiences have happily returned the favor ever since.  Her first musical,  Noel Coward's Sweet Potato, was far from her last. Most recently she has been featured in Cabaret, Wicked, and now Billy Elliot.
Ms.  Shelley was starring in Absurd Person Singular on Broadway 35 years ago when she was introduced to Richard Seff by her director Eric Thompson. A year later, Thompson cast her in The Norman Conquests in which Richard was a standby to Barry Nelson.
Their paths have crossed several times since, and recently they did so again, in Carole's dressing room at the Imperial Theatre on Broadway where she is ensconced for the indefinite future as "Grandma" in the smash musical hit Billy Elliot. Their podcast is a laff-in as they chat about Carole's long and varied career as a very special actor-singer whose legs still look just fine in tights.
"They're the last to go", says she, with a hearty laugh.
This podcast was recorded by Joel Markowitz
Related:
Richard Seff's review of the Broadway version of Billy Elliot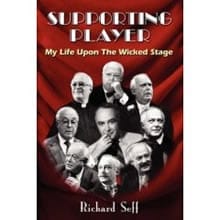 Richard Seff is author of Supporting Player: My Life Upon the Wicked Stage celebrating his lifetime on stage and behind the scenes, available through online booksellers, including Amazon.com.