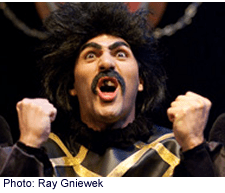 Kick-Butt Women (Mujeres al Poder)
based on the play, Lady Godiva by Jean Canolle
Adapted and directed by Mario Marcel
Produced by Teatro De La Luna
Reviewed by Rosalind Lacy
Let's hear it for acts of common sense and defiance that change history. The original Lady Godiva myth may not be based on an actual event. But let's pretend, as the French playwright Jean Canolle did, that the myth really happened. Kick-Butt Women is an adaptation of Canolle's mid-20th century play called Lady Godiva. The Spanish title, Mujeres al Poder, for the adaptation by Mario Marcel, means a special kind of power only women possess. That explains "Kick-Butt" for an 11th century woman who allegedly took off all her clothes, rode naked through the streets and started a renaissance.
It's clear early on that director Marcel loves Canolle's words. The players are centered and lit in such a way that we hear every paradox clearly enunciated. That's important. The play is talk-filled and intellectual, somewhat like a George Bernard Shaw play, about a legendary heroine immortalized in statuary in English town squares, and pageants, dedicated to world peace.
The story is filled with multiple contradictions, a fertile field for satire, but don't expect a hilarious farce. The humor is more subtle, thought-filled and ironic, again like a Shavian play. It's before 1066 when William from Normandy invaded and conquered. It's a time of warring feudal fiefdoms. It's a materialistic world where each individual is blinded by self-interest; there is no unified cause or central state. Count Leofric, played with bombastic puffery by the versatile Peter Pereyra, desperately needs support for homeland security and a Saxon army to hold off the invading Normans. So how is Count Leofric to raise revenue?
The Burghers (Mario Alvarez, Willie Padin, and Alex Alburqueque) are already vastly overtaxed by the Count, who demands more. These prosperous middle-class townspeople prefer feeding pigs they can eat to feeding soldiers. To them, a pig has more value. But the Count argues back: "God is with the army; not with the pigs." Also stressed-out Count Leofric has to contend with the competing power of the church, embodied in the chaplain, Capellan (Alex Lopez-Montanez), who decries the lack of community spirit, but seems obsessed with excessive desire for a sixteenth bell to complete the carillon for his chapel tower.
Enter the Count's wife, Lady Godiva, "a fragile flower" of upscale birth, played expressively by Anabel Marcano, who empathizes with the down-trodden, tax-oppressed people. Sweetly servile to her husband at first, Godiva boldly pleads for the commoners' relief and prevents a rebellion. In exchange for a tax cut, the Count dares his puritanical lady to ride in the buff on a horse through Coventry. So the dignified, great lady does what only a harlot would do. It's a great stage moment when Marcano, as Godiva, wrapped in a crimson-red garment, and wearing a flaxen wig, that's as abundant as a cloak down to her waist, drifts dream-like across the stage to mount her white steed off-stage. We don't see her one-woman parade of protest through empty streets; only hear the characters talk about it. What Godiva doesn't know is that her tyrannical husband has ordered the townspeople to seal themselves off behind closed doors and barred windows. All obey except for Peeping Tom (Alex Alburqueque), who sneaks a peak. Thereafter, the play deals with the voyeur's punishment and how Godiva as the savior of the middle-class and "a woman…who triumphs over all the blood and violence of (male) history" will be immortalized.
What starts as an ultra-serious historical play spins like a top into a wacky take-off of existentialist plays from the theatre of the absurd. Guendolina, the servant girl, solidly played by Marcela Ferlito Walder, represents common sense, and keeps us aware in asides and to the imprisoned Peeping Tom as to how legends and history are rewritten so as to fit the times and "not appear ridiculous." For example, Guendolina comes up with the idea to make Godiva a national heroine and a legend.
The ultimate irony that hits us is that Godiva has transformed from a dutiful wife to a liberated woman, who by baring all has discovered the sensual, physical world. She loves it and Marcano plays it to the hilt. Godiva has undergone a renaissance, a rebirth, in that she actually enjoyed the warm sensations on her skin.  She has experienced the natural world and true freedom by coming out in the open; thereby knocking down social barriers.
Add to that Peeping Tom's mock-heroics in prison (that could be played with greater baritone volume and anguish). "I'd rather die at 30 having seen her naked than to die a natural death at 70." He's been saved "from the horrors of growing old," he tells us. This ironic commentary adds a live-for-the-pleasure-of-the moment overtone that reminds us that this play comes filtered through the mind of a modern French playwright.
Sometimes too many words and too much good will are too much. Act Three is way too long. But Kick-Butt Women is a charming show for all ages. Go! Long live the power of this legendary woman. English translation by David Bradley, in sur-titles projected over the stage make a glimpse, or a peek, at this ancient, classic myth accessible today.
Running Time: Two hours. Two short 10-minute intermissions.
When: Thurs., Fri., Sat. evenings, 8:00 p.m.; Sat. matinee 3:00 p.m. through March 7th.
Where: Gunston Arts Center-Theatre Two, 2700 South Lang Street, Arlington VA 22206. Free Parking.
Tickets: Fridays & Saturdays 8 p.m. $30/regular admission/$25/students and seniors (over 60),  Thursdays 8 p.m. & Saturday Matinees 3 p.m., $25/regular admission/$20/students and seniors (over 60), 15% discount for groups of 10 or more.
Post-Performance Discussions every Friday Night.