Mary Louise Parker is one of those luminous ladies who will have allure on a stage as long as she agrees to set foot on one. Movie cameras are not so friendly, and the radiant Ms. Parker has thus far graced many more small screens than large ones. Embroiled for the past few seasons in the crazy plot maneuverings of Weeds on Showtime, she must have reached out to Ibsen's Hedda for an opportunity to explore a very different kind of woman. But has she given us Ibsen's frustrated, misplaced, sexually repressed Hedda Tesman, or have she and her director Ian Rickson (fresh from his triumph with Chekov's The Seagull) guided Christopher Shinn in his adapatation of the literal translation of Ibsen by Anne-Charlotte Harvey? I ask only because this new Hedda more resembles other contemporary women in Ms. Parker's portfolio. There is a touch of Nancy Botwin from Weeds, there is a lot of Li'l Bit from How I Learned to Drive, and more from Jean in Dead Man's Cell Phone, all women very much of today.
It's not that Ms. Parker doesn't look comfortable in her late nineteenth century gowns. She does, and she moves well in them, and they look like clothes on her, not costumes. But Mr. Shinn has provided her and her fellow players with dialogue that is at constant odds with the time in which those words were to be spoken. I half expected "You're kidding!" or "Come off it, that's bull…".
Folks just didn't speak casually or colloquially in Ibsen's and Hedda's day, but in this production they do, and it vitiates the play's ultimate power.
The plot is the same. Hedda, boringly married to Jorgen Tesman, is pursued by Judge Brack, who turns out to have a hold on her that makes her life unbearable. Her reunion with her ex-lover Ejbert Lovborg unleashes urges with which she's not prepared to deal. Her behavior with these men, as well as with her maid Berte and her friend Thea, almost makes it difficult to know why these people stick by her, some of  them entranced. Adding to her distraction is her secret pregnancy by her husband, with whom she's just returned from an unsatisfying (to her) six month wedding voyage. Parker is powerful throughout, bravely giving us a woman who is bored to death, unable to do anything about it, until finally she finds an answer, a devastating one to all. The performance is worth the watching, but I would have liked to see it tethered to 19th century language, not splashing about in this one. Michael Cerveris, who is always interesting and arresting, is less so as the besotten Tesman who doesn't seem to notice that his wife is unraveling in front of him and everyone else. Paul Sparks engages Ms. Parker in a life and death battle that is enthralling.  I'd call this production a stretch, a bit too much of one, but an interesting near-miss for anyone interested in seeing a different take on a fascinating character, played by a gifted actress who had a need to contemporize and had the muscle to wrap herself in a production that permitted it.
The Roundabout Theatre Company's production of Hedda Gabler plays through March 29th at the American Airlines Theatre, 227 W 42nd St, NYC. Call 212 719-1300 or

———————–
This Beautiful City needn't take up much of our time. A sweet six character musical play set in the "beautiful city" of Colorado Springs, wants to inform us, via keyboard, guitars, bass and drums with monologues to follow, what evangelical Christians really want from this nation, and their plan to get it. It's not a tract play; other viewpoints are expressed, but I  found it more informative than entertaining. The six appealing performers help sweeten the pill, but I still felt I'd been lectured. Singing about the "new life" and asking "God's Grace", we are told that evangelists do not proselytize,  they merely "love sinners so much that they pray we will come to know that they are on the right path, and we are all headed straight for hell."  I got the wrong kind of chills from that one. But they also fess up to the hypocrisy of Ted Haggard, and the damage he did to his order by his duplicity and hubris. All of the performers are talented and able to play several characters each, on all sides of this look at born again  Christians. Some of the material is positively scary, so much so that at least a number of patrons fled during the first act. I didn't feel assaulted however, merely more convinced than ever that those zealous fellow-citizens of ours out there in colorful Colorado have got to be carefully watched, for left to their own devices they could — but let's not go there. Brought into town by the Vineyard Theatre on New York's East 15th Street, it serves to inform and enlighten and as that is the Vineyard's mandate, I'm glad they brought it to us.
This Beautiful City plays through March 15 at the Vineyard Theatre, 108 East 15th St, NYC. Call 212 353-0303 or 

——————
Speaking of mandates, the City Center Encores! truly lived up to its own when it unearthed a little remembered musical by Jerome Kern and Oscar Hammerstein II.  Music in the Air was a success back in 1932 (it ran for 342  performances, a respectable run in those days), but it's remained pretty much on the shelf ever since. There was a revival on Broadway in the early 1950's but it didn't last, and was not paid much attention. Yet it's fascinating, if you're interested in the entire oeuvre of two musical theatre geniuses. You can see Hammerstein evolving from his cocoon stage as operetta librettist/lyricist (The New Moon, The Desert Song) in the 20's to the musical playwright/poetic lyricist of Carousel and The King and I in the 40's and 50's). For Music in the Air is a musical comedy ABOUT an operetta, so it allowed its creators to give audiences who still embraced the latter (they were fading fast) a touch of nostalgia, while offering the rest of the crowd the kind of double whammy love story that they used later in musicals like Oklahoma! and Carousel for Hammerstein and Swing Time and Roberta for Kern.. Of course the two of them had started their own revolution with Show Boat in 1927, but that only opened doors for serious musicals to follow in the future; there was still room for  light hearted material; in fact there was a craving for it as the depression took hold and was depressing almost everyone.
City Center has put together a first rate cast as always, with Kristin Chenowith and Douglas Sills closely followed by  Sierra Boggess and Ryan Silverman as the secondary lovers. As a matter of fact in the early 30's when musicals cost a lot less to mount, a third peripheral older love story was added, played here charmingly by Marni Nixon and Dick  Latessa. For the rest, there is a cast of thousands, all smartly dressed in Tyrolean walking shorts and peasant skirts, very Student Princey, until they all move from tiny Edendorf to sophisticated Munich where they all get to dress up very smartly in David C. Woolard's costume suggestions.  The musical is heavily underscored, and the music has quality and variety, something almost unheard of at the time, and never heard of nowadays.  This was not a jazzy Gershwin Pardon My English or Girl Crazy or a bouncy Berlin Face the Music or As Thousands Cheer, all musicals of the same vintage. This one has rondos and  ballets and sonatas and pastorals and impromptus besides an etude and a leit motif and an intermezzo. Plus a couple of knockout tunes like the ones for "The Song Is You" and "I've Told Every Little Star."   So you see there is a lot to like here, and you'd be well served to come on up and see for yourself, except you can't because Encores! plays for only one weekend, and it's behind us now. But if the cast does record an original CD, I highly recommend you  give a listen and buy it. It's a delightful introduction to a light hearted somewhat silly show that helped ease one depression, now trying to do the same for another.
Encores! Music in the Air has closed, but the next Encores! production is Finian's Rainbow. March 26-29 at New York City Center, 130 W 56th St, NYC.

.
——————
There's more to come, mostly from shows financed before the economic meltdown. Who knows? Maybe there won't be a next season. We'll see just how fabulous is this renowned invalid called "theatre."  Keep the faith.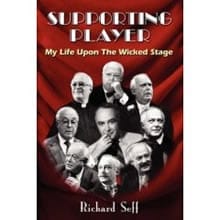 Richard Seff is author of Supporting Player: My Life Upon the Wicked Stage celebrating his lifetime on stage and behind the scenes, available through online booksellers, including Amazon.com.
Richard Seff in conversation with Joel Markowitz: