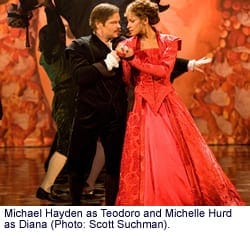 The Dog in the Manger
By Lope de Vega
Translated and adapted by David Johnston
Directed by Jonathan Munby
Produced by Shakespeare Theatre Company
Reviewed by Rosalind Lacy
Call it Lopemania. The Shakespeare Theatre Company has opened its doors to the rich treasures of Lope de Vega, the "Spanish Shakespeare," and his tragic-comedies. This gorgeous Washington premiere of The Dog in the Manger, written about 1615, follows the GALA Theatre's magnificent The Best Judge, The King, and tops off a too-brief Loving Lope festival dedicated to Spain's Golden Age of 17th century theatre, which is bringing theater-loving fans from across town together.
Shakespeare Theatre has pulled out all the stops for Dog in the Manger, giving it the heady rush of an elegant Twelfth Night. That weightless, out-of-body feeling of lovers transcending class differences is dizzying. But Lope, the master story teller and poet, makes a familiar story unique with a dagger-sharp twist of cynicism beneath his eloquent verse. Here the actors on the Lansburgh stage capture the multi-levels and musical language while making us believe these are real people we're watching, whatever the century.
Jonathan Munby, already known for his light touch in directing Arena's Noises Off in 2006, is an intuitive, gifted director, who takes hold and directs the play as if it's a intense flamenco that unleashes rhythmically into one gigantic crescendo ending. At the same time, he has the good sense to let Lope have his say. His direction holds up the mirror to love and jealousy that is darkly serious yet distinctly modern and upfront.
We are placed in 17th century Naples. Countess Diana, (Michelle Hurd) who holds a position of power, secretly loves her secretary, Teodoro (Michael Hayden). But Diana's sense of honor prevents her from coming out with her true feelings for someone beneath her station, as she tells us: "….a noble birth regards low-born things with shame……if only I were less; if only he were more."  She's caught between her closeted passion and her duty to class.
From the opening seduction (in Marcela's bedroom off-stage), the story whiplashes back and forth with mesmerizing force. Teodoro makes advances to Marcela (Miriam Silverman), a lady in waiting. Only then, under jealous stress does Diana slacken her reins and show her love. When Teodoro responds and shows interest, Diana because of her sense of honor turns cold. Then when she ultimately withdraws her courtship, she icily blocks Teodoro's attempts to reignite his relationship with Marcela. That's Diana's revenge. That's The Dog in the Manger. In Aesop's Fable, the dog cannot eat the hay but barks the cows away, preventing them from eating.  Moral: "People often keep from others what they themselves can't enjoy." The English equivalent of the Spanish saying that "the orchard-keeper's dog neither eats nor lets one eat."
The acting ensemble is so uniformly interlocked we are drawn into the intrigues as if by a magnet. The excellent supporting cast perform with dignified sweep and capture the grandeur of Lope's baroque, ornate and lyrical language. ("My soul swims through the dark river of your eyes.") Under Munby's direction, the quicksilver changes of the lovers' moods are delivered with such a rapid-fire, lively pace, an hour-and-a-half-long Act I figuratively takes wing.
What works is the confrontational acting style and the in-the-moment way Munby directs. In the asides, the actors talk to us as if we're the jury, right up to Teodoro's last  plea: "Keep our secret safe./One slip, one forgetful moment,/and this secret comes tumbling out."
What secret? Ah-hah, there's the evidence that this tricky story is about so much more.
Michele Hurd, playing Diana, gives a stunning performance of liquid fire. She's cold one moment, hot the next, wearing bell-shaped dresses, black, then dazzling red, by costume designer Linda Cho. Hurd plays the role wonderfully bipolar, an essential element. That was the way Spanish society was – caught in a delicate balance.
Spanish actresses in 17th century Spain had more freedom; they were allowed on stage because of the commedia del'arte from Italy. But a noble woman, who had the power to rule, was trapped by that power. Diana abuses her power by lashing out, but she's also a dimensional, sensitive human being, who suffers. One moment she's wooing Teodoro through a dictated love letter. The next, she's humiliating her underling ladies-in-waiting with her withering eyes and inquisitions. Or driven by envy, she's taking revenge by promising herself to Marquess Ricardo, played with flamboyant bravado by Jonathan Hammond, whose floral tributes grow ever funnier and more grotesque in size, as his ambition for the conquest of Diana grows. Hurd is a fine actress who handles this sad-humorous interplay by making anguish palpable as a lone figure in black mourning for her own isolation over her natural, physical attraction. "We see others love; we wish to love too." Our sympathy is aroused for her. In spite of Diana's cruelty and hard-to-take arrogance, we're disillusioned by honor and cheering on the lovers.
On the other side of this fragile scale, Michael Hayden plays Teodoro as a down-to-earth, hard-working guy, trying to stay alive. His loyalties to a woman are as chameleon-like as Diana's to men. Is Teodoro, like Icarus, too ready to climb too high and fly too close to the sun, an allusion Lope uses repeatedly for this heroic character? That's the suspense. Teodoro's wings could well be burnt; and we expect him at every plot turn to crash into the sea.  Surely, Teodoro will never survive this dangerous liaison, especially when Diana's two aristocratic suitors, her cousin, Count Federico (John Livingstone Rolle), and Ricardo hire Tristan to kill him. (The surreal touch of the neon lighted skull hanging from the ceiling works in this scene.)
Speaking of Tristan, you can also love Lope for his menagerie of counter-culture persons, who come at us with the fresh spontaneity, and witty repartee reminiscent of improvised commedia del'arte form.  There are the humble servants, like Marcella and the ladies- in-waiting, dressed like black pawns that glide across a chess board. These are the commoners for whom Lope had great empathy. Tristan, Teodoro's sounding board, the trustworthy, comic servant, (a Sancho Panza) played with light-hearted, improvisational flair by Turner, is dedicated to the "art of not loving."   Tristan is one of Lope's best character roles, who's often compared to Figaro, the democratic matchmaker in Beaumarchais' The Marriage of Figaro. Turner makes the most of his moments, building them to peaks of hilarity, especially in the madcap twist of fate, long-lost father/son scene with the immortal David Sabin as Duke Ludovico.
The conventions of the Golden Age of Spanish Theatre dictated that all loose threads and lovers must come together in a play. And true to pattern, there are three marriages in this one. But  Teodoro must live with a lie to meet the demands of society's code of honor. Is this the answer? Another ah-hah! There's Lope's wicked sense of humor: something is askew if only a lie can bring about a happy ending.
Alexander Dodge has designed a supportive, wooden screen set, with a fleur-de-lis design, suggestive of a church altar screen or a wealthy manor house interior. But I especially liked the high-lighted facial portrait of a lady with steely-eyed stare on the drop-curtain, used throughout that illustrates the power of women during the Spanish Golden Age.  The surreal touches, like the lighted skull during the assassination plot scene, do not overwhelm or distract from a play once performed in Madrid's streets or inside royal houses. There's honor in Life that is honored by the merriment of a carnival-like flamenco dance to top off the evening.
So kick up your heels, clap your hands and join the Loving Lope festival. Where's the fine line where the power balance tips over into abuse? The answer can be found in another Lope de Vega play coming soon: Fuente Ovejuna, on March 31 and April 1, 2009 at the GALA Tivoli Theatre; and on April 2 and 3, at the Shakespeare Theatre.
Running Time: about 2 ½  hours. One 15 minute intermission.
When: Tues and Wed at 7:30 p.m.; Thurs, Fri and Sat at 8 p.m.; Sun at 7:30 p.m. (except March 29); Sat and Sun matinees at 2 p.m.; matinee at noon on March 25, through March 29, 2009.
Where: Lansburgh Theatre, 450 7th Street NW, Washington D.C. 20004-2207.
Tickets: $35.50-$84.75