The Story of My Life – Broadway opened its doors to this little musical, giving it maximum exposure after its early days off Broadway in Canada and at the Goodspeed in Connecticut. That may have been a mistake. For I call it "little" in the sense that it has only two characters onstage, virtually no scenery, and a score that consists merely of monologues with musical underscoring. There are no "songs", no choreography, and no size. What it does have in its collaborators, Neil Bartram (music and lyrics) and Brian Hill (book) are two writers of talent and imagination who manage to make of their story of two lifelong friends, a piece that is better than any of its parts.
We begin at the funeral of Alvin Kelby, best friend to Thomas Weaver. When the men were children, they'd agreed that whoever outlived the other would write and perform a eulogy at the other's funeral. Thomas starts to recite his, but he is stumped by a catchphrase, "Write what you know." and it sends him into his first musical number, called just that. For the rest of the 90 minute one-act musical, we will have 17 more moments set to music. They tell of playing with bugs, Alvin wearing his mother's clothes, "Mrs. Remington", Alvin's grade school teacher who introduced him to the Capra film It's a Wonderful Life and its two principal characters, "George Bailey" and "Clarence" the angel sent to keep him out of trouble. The two friends watch the movie each year and they are aging, and think of themselves as George and Clarence.  By the time we are through we have come to know these two men, bonded early on, working through a relationship that brought them great joy and great pain.
But therein lies the rub. While it's clear to every one except Thomas Weaver that Alvin has been in love with him since about age 12, this central fact is never explored by either of them. All we get at one point from Thomas is: "You want more from me than I can give." That just doesn't cut it. At one point Thomas breaks Alvin's heart by telling him he's going to marry Ann, but Alvin gives him his blessing for he hopes it will make his true love happy. Just before the wedding, Thomas chickens out, and asks Ann to put it off to "give him time" to sort things out. But Alvin, who has been playing out a fantasy called "George Bailey," having lost his guardian angel, leaps from a local bridge as George might have done if the angel Clarence had not showed up to stop him.
The sad part is that the actual writing (the words, not the music) is fine. We come to know and like and ultimately become annoyed with these two men because we want them to grow up and face things as they are. Musically, Neil Bartram owes much to Master Sondheim, but his music lacks melody. To the untrained ear, all these musical monologues sound similar.  Only their lyrics (also by Mr. Bartram) illuminate, move, inform.  Eighteen charming monologues grow tiresome as well, clever as they are. The concept requires that between musical numbers, we must get small talk that leads into yet another musical monologue. Will Chase and Malcolm Gets as Thomas and Alvin are spot on perfect, and help enormously to make the short evening engaging. But they are trapped by the limitations of the concept, by the method in which the authors decided to tell their story.  It's difficult not to root for these two immature but loving characters, but I think it would have been wiser to keep them housed in a tiny theatre, where the quality of the writing might have been enough to sustain us, and where musical accompaniment by just a piano, bass and drum might have made the score sound less innocuous, for it wouldn't have been trying so hard to sound like a Broadway show.
The Story of My Life closed Sunday, Feb 22nd.
—————–
Just about a century ago, give or take a year or two, when Shaw, Pinero, Granville-Barker and the Russians were burning the midnight oil, plays had meat, bone and sinew in them. Four acts were common, three were required, and an audience was expected to sit still for at least 2 l/2 hours, sometimes three or four. Two or three intermissions were common and even they were filled with drama. None of this grab-a-coffee or visit the john. No time for both. Of course there were no cell phones or ipods or iphones, no instant messages, no connecting to the internet while guzzling that four dollar coffee for which you waited on line for most of the intermission. Yes sirree, a playwright had a chance to express himself without fear of losing your attention along the way, and if he did lose you – you were expected to doze quietly until you felt rested enough to return to consciousness. You'd still have time to catch up.  Today, we have a new phenomenon in theatre. My friends and colleagues call it "the 90 minute wonder." Plays and musicals are now thrown at us, all in one piece, no intermission, in and out just like the short order restaurants that have replaced the grand old chop houses, steak palaces, and even the friendly middle class chains like Schrafft's and Child's.
Which brings me to Shipwrecked!, the latest from the desktop of Donald Margulies, who has entertained us in the past with Dinner With Friends, The Loman Family Picnic, and Sight Unseen among several others. His work has always been interesting and sometimes more than that. He's had a dozen awards including the Pulitzer Prize. His latest is a departure in structure, content, setting, period.  It's a one-hander with great assist from two actors who play everything else including aborigines, dogs, mothers, children, and all sorts of plant and animal life. At the center is a character called Louis de Rougemont who has a fabulous tale of an amazing adventure to tell. And tell it he does, in 90 minutes, to our utter and sheer delight.  Michael Countryman plays Louis; Donnetta Lavinia Grays and Jeremy Bobb play everyone and everything else.
Staged by Lisa Peterson with great imagination and spirit, Monsieur de Rougement takes us with him as he sets out from stodgy old Victorian England to "see the world."  It took Jules Verne longer to introduce the characters in his "Around The World In 80 Days" than it does Mr. Margulies to cover the globe and get us back to England. That Louis turns out to have enough imagination to turn the truth of his rather sordid tale into a grand and great adventure, does not make us think less of him, for he's brightened our day in a dozen small ways by sharing his hopes and dreams with us.
Tiny Ms. Grays is fun as the captain of a ship, as Louis' mother, as Louis' wife, and as various natural sounds.  But it is Mr. Bobb who absolutely convinced me not only that he was a dog, but managed to give that dog as many characteristics as any well drawn character of the human persuasion. With his expressive face and flexible voice and body, I'd love to see him get a crack at Snoopy, Lassie and Rin Tin Tin.  And wouldn't he make a hilarious Fancourt Babberly in Charley's Aunt? He also came up with a dilly of a Victorian lady in a bonnet, and an aborigine chieftan who made me clearly understand everything he said in his native language. Note to all writers of comedy: Keep an eye on Jeremy Bobb. He's a gem, and must not be allowed to head west and rob the theatre by landing a sitcom.
Shipwrecked! continues through March 7th in Theater A at 59E59, 59 East 59th St, NYC.

——————-
The Manhattan Theatre Club is stretching again – offering us a new play by Lynn Nottage who's come through for us before, most notably with Intimate Apparel which won her the New York Drama Critics Circle's Best Play Award. That one was produced by the Roundabout, and she is preparing a sequel to it, set 100 years later, for Playwrights' Horizons, so clearly she likes to spread the wealth.  She has chosen to work this time at MTC with director Kate Whoriskey, whose regional theatre background matches Ms. Nottage's. Her new play, Ruined, deals with Congolese women caught in the trap between sides in the Civil War that plagued that African nation.
It's a bloody tale,  set in a brothel run by the Mother Courage-like Mama Nadi. In the opening beats, two refugees from the Republic of Congo are brought to her house to become prostitutes, both having been "ruined" by rape and mutilation in their village when it was attacked by the rebels. One, Sophie, is tall, beautiful and spiritual. The other – Salima – is short, of average looks, and fiery temperament. We will learn in time, in one of the play's most movingly written and acted scenes, that she had been happily married, is currently pregnant by one of her rapists, and is suicidal because she has, from her viewpoint, disgraced her husband, whom she loves.
It's a bloody play, one which is only separated from others involving Arabs vs. Israelis, Blacks vs. Whites, Russians vs. Georgians, and all other co-inhabitants of the lands in which they live, by differences in costume, language, culture and diet. But it's the first play I know to be set in the Congo, and that gives it special value. First presented at the Goodman Theatre in Chicago, it has arrived in New York with most of its original cast intact, and a fine cast it is. Kate Whoriskey has staged this production as well, and gives it its full measure of passion and grandeur while allowing for the moments of intimacy as well.
If I have one criticism of her work, it's that she lets all stops out on all occasions, thus blunting the effect of some of the major catastrophes. Some scenes, even those involving Saidah Arrika Ekulonoa as Mama Nadi, are played at full tilt from the top; as a result some scenes, starting high, have nowhere to go but higher, sometimes to their cost. But Ms. Nottage creates characters of depth, and for the most part, her cast delivers. Condola Rashad and Quincy Tyler Bernstine, as the two new recruits for Mama's House, are terribly effective, and play the full range of their complicated characters' emotional lives.
It's a strange new world in which the Madam lets her clients know that she will tolerate no violence (there's plenty of it just beyond her villa's walls). Johns must remove clips of bullets from their automatic weapons and pile them up at the door. No cold beer, no whiskey, no time with her 'ladies' until all her regulations have been agreed to, and implemented.  "Survival", she emphatically tells them, "is the only art I recognize."
This is a Mother Courage of a play made more resonant because the civil war being fought in its wings is kith and kin to those going on all over our own world right now. Early reviews in Chicago indicated that, powerful as the play was, it needed shaping and pruning. It may have had some of both prior to its New York transfer, but it can use more. Its second act wanders and there seem to be several endings. But it's the sort of theatre that should be seen by all those, including our President and his Cabinet, who have a direct hand in coming to grips with the myriad points of view causing such havoc everywhere.
Theatre can be, and in this case, is illuminating, even when it's a bit lumpy and overwrought. I learned a lot and was gripped almost all the way through by this very worthy venture. For some reason, Shaw's Saint Joan and its haunting last line came to mind as I moved slowly out of the theatre,: "Oh God, that madest this beautiful earth, when will it be ready to receive Thy saints? How long, O Lord, how long?"
Manhattan Theatre Club's Ruined plays through April 12th at MTC Stage, NY City Center, 130 W 56th St, NYC.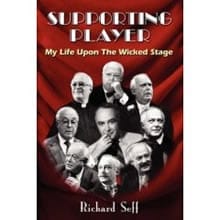 Richard Seff is author of Supporting Player: My Life Upon the Wicked Stage celebrating his lifetime on stage and behind the scenes, available through online booksellers, including Amazon.com.
Richard Seff in conversation with Joel Markowitz: