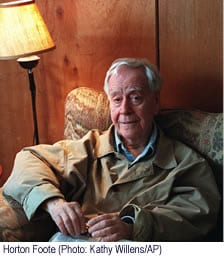 Playwright Horton Foote  passed away on March 4th in Hartford, Connecticut.  That night, the lights on Broadway were dimmed in honor of the prolific writer, who Ben Brantley in his essay in the NY Times described as "the playwright who cozied up to the chill in the hearth."
Mr. Foote was working on his epic 9 play cycle The Orphans' Home which he began in the 1970's and is based on the life of his parents in rural Texas.  The premiere of was set for Hartford Stage in Connecticut and Off-Broadway's Signature Theatre.
With plays such as A Trip to Bountiful, Washington audiences have had the opportunity to see much of his work.  Quotidian Theatre Company, in particular, has been the home of nine of his plays.
From Jack Sbarbori, writing for Quotidian:  "In his 92 years on this earth, Horton enriched American drama with his unique insight into the souls of common men and women living and dying in the fictional town of Harrison, Texas.  We are so pleased to have had Mr. Foote serve as an Honorary Member of our Board of Directors, and honored to have presented nine of his plays since 1998, including two de facto premieres, through his kind generosity.
The Quotidian Theatre dedicates its April 2010 production of The Trip to Bountiful to the memory of this sweet, gentle, talented man, whose words will live on as long as plays are performed in this country."