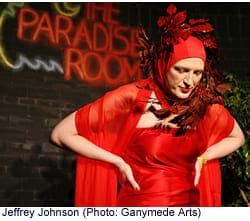 If you've seen the documentary (The Beales of Grey Gardens) and/or the musical (Grey Gardens) you already know "Little Edie" Beale.  If you are a hard core fan of this absurdly pathetic character and cannot wait for the upcoming Jessica Lange/Drew Barrymore movie, you can feed your appetite further with Ganymede Arts' world premiere production, After the Garden: Edith Beale Live at Reno Sweeney.  If you lack any special affection for her, however, you'll find this show only sporadically funny and increasingly tiresome.
For newbies to the Grey Gardens cult, Little Edie Beale grew up as a wealthy young woman at the height of New York society.  Alas, the late Joe Kennedy Jr. (John F. Kennedy's older brother) broke off their engagement, her father ran through their fortune, and she was eclipsed by her Bouvier cousins, Jacqueline Kennedy Onassis and Lee Radziwill.  She wound up an old maid living with her mother, Big Edie, in an increasingly dilapidated East Hampton estate called Grey Gardens.
Little Edie Beale was a precursor to today's so-called reality stars, quirky personalities who have little reason for their fame other than widespread media exposure.  She certainly could not sing, a reality reflected in this show based upon a week of cabaret performances that she gave at the age of 60 in January, 1978 (after the death of her mother but before she sold the estate).  All that's left is the opportunity to laugh at this deluded woman and revel in her bizarre character.
Jeffrey Johnson makes a game attempt to recreate the Little Edie persona.  Dressed in drag, he does bear an eerie resemblance to the woman.  Vocally, he captures her lilt and cadences, although he slips in and out of a softened version of her distinctive accent.  He does manage to project Little Edie's personality, using a script based in part on actually comments made during her publicly embarrassing series of performances.  The red evening gown held in place by safety pins and the accompanying accessories are also suitably gaudy.
The problem underlying the production is that Little Edie's shtick has very little variety.  She fluctuates from pitiable whining to vain self-congratulatory posturing.  Few of her revelations are very interesting or insightful.  In addition, much of the added dialogue consists of facts mostly known from the source material or exposition that comes across as merely didactic without being witty or humorous.  In an effort to add meaning and atmosphere, the cabaret performance is moved to New Year's Eve (which is historically inaccurate).
Some welcome relief is added by Little Edie's two supporting players, her talented accompanist Thomas (Keith Tittermary) and her flamboyant manager and impresario Gerald (Michael Winstead).  Still, those interactions cannot save Little Edie from becoming a progressively more annoying and tedious character who would normally send you fleeing from a party.
On a side note, theatre fans should welcome the nice new performance space that Ganymede Arts has helped develop upstairs from Miss Pixie's wonderfully quirky home furnishings and antiques store.  It is an intimate space suitable for a range of smaller works (are you listening, Capital Fringe Festival?).  Let's hope that it can be used for more satisfying productions in the future.
After the Garden:  Edith Beale Live at Reno Sweeney
By Gerald Duval
Directed by Rick Hammerly & Jeffrey Johnson
Presented by Ganymede Arts
Reviewed by Steven McKnight
Running Time: 1:10 (no intermission)
Where: Miss Pixie's Backroom Palace, 1626 14th Street NW, Washington, DC
When: Through March 29th.  Fridays at 8:00 PM & 10:30 PM, Saturdays at 8 PM, and Sundays at 7:00 PM.
Tickets: $25.