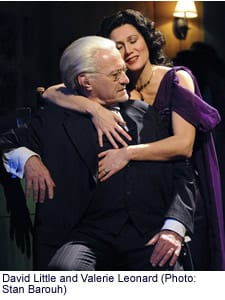 The novel King of the Jews is the story of the heroic Jew Trumpelman, who makes the fatal decision to collaborate with Nazi oppressors in order to save the lives of the other Jews in his community. Trumpelman is a complicated man – a seducer of women and a con man – but he is brave, clever and resolute; he clearly loves his people; and the choices he makes breaks your heart. It is a fine novel, ennobling and funny in the way Roberto Benigni's Life is Beautiful is funny, and I'm glad I bought it.
The play King of the Jews, adapted by Leslie Epstein from his own novel of the same name, is the story of the mean-spirited and self-absorbed Jew Trumpelman (David Little), how he acquires power from the Nazis over his fellow Jews, and the angry justifications he makes for his exercise of that power. He spends much of the first Act courting Madame Rievesaltes (Valerie Leonard), the wife of another man (Delaney Williams) and in the second Act, when she is free of her marriage bond, Trumpelman presses his suit again while ignoring his fellow Jews, who are attempting to resolve a crisis created by the sinister local Nazi (in the production I saw, Nick DePinto substituting for James Konicek).
Look, it's hard to turn a novel into a play, and it must be even harder to adapt your own novel. A novel is inherently nuanced and discursive; it is meant to be read over several hours, or even days. A play, on the other hand, must be done in time for the audience to go to bed, and get up for work the next day. Epstein is an experienced novelist with widespread familial exposure to the shorter forms (his father, Philip Epstein, and his uncle, Julius Epstein, collaborated on Casablanca and Arsenic and Old Lace, among other works). Moreover, he has been working on transferring his book to the stage, on and off, for twenty-eight years, and this is the first fully-mounted production. He understands that a novel must undergo a radical transformation to become a play.  Somehow, though, in this transformation the story loses its heart.
The play King of the Jews might be subtitled "two powerful scenes from the novel King of the Jews, with substantial alterations."  It's powerful, funny at times and supported by an excellent cast, but it is not ennobling. What is a Jew?, the characters ask each other, over and over, and in the end, Trumpelman gives his answer: a Jew is a piece of offal. Even assuming that Trumpelman says this because he believes that all men are offal, this cannot be the wisdom Epstein means to offer in this play. But what is it, if not that?
So much for the writing dilemma which afflicts the play; now let's concentrate on the production's many pleasures and successes. Foremost among these is the superb ensemble cast, who inhabit their diverse characters with great naturalness, authenticity and panache. I particularly liked Norman Aronovic and Carter Jahncke as two old rabbis who are too busy bickering about which one of them is liable for a broken bed to guide their community through the awful choices the Nazis are forcing upon them; Williams, who shows the coward hiding inside the brave man's body; Peter B. Schmitz as an ancient bartender who performs the play's single most noble act; and David Elias, playing a comedian who wisecracks because he knows the obliterating truth. ("How do I know that Horowitz will die on a Jewish holiday?" he asks, using the name Jews used because they were not permitted to utter the name of Hitler. "Because any day Horowitz dies will be a Jewish holiday.") But everyone in this fine cast has powerful moments. Cherie Weinert has a devastating speech near the end, and Harry Winter is terrific as a trumpet-blowing true-red Communist. DePinto, appearing on short notice, is as scary as a cobra, recalling the "smiling villain" Hamlet saw in his uncle. These men and women appear to have known each other for years. It will take you thirty seconds to forget you are in a play.
The second great pleasure is the canny choice which Epstein and Director Cheryl Faraone make to breach the fourth wall, and draw all the audience in the intimate Mulitz-Gudelsky into the action, as if we are sitting in the Astoria café ourselves. In a sense, of course, we are; King of the Jews is a fictional story set in the real world, and in a setting more horrible than any fiction writer would permit himself to devise. The Nazi world was the true world, full of acts of nauseating cruelty performed by people like us upon people like us. We need to acknowledge that this was done only three generations ago, by sophisticated people, and that every time we lash out in mindless rage – whether against practitioners of Islam, for example, or AIG executives – we are in danger of doing it again.
The third great pleasure is Jon Savage's excellent set, which is a bistro of a type instantly recognizable. The audience reaches its seats through the set, thus reinforcing Epstein's and Faraone's lowering of the fourth wall. At the beginning of the Second act, Timmy Ray James, who plays the Jewish police chief of the Jewish ghetto, herds the audience back in with a vaguely menacing Billy club,  reminding us, once again, that what we are watching is more history than fiction.
The final, and best, pleasure is to see Epstein's theme of hope – central to the novel, but only briefly mentioned in the play – reinforced in an unexpected way. The Trumpelman of the novel ceaselessly devotes himself to the orphaned children in his care, and when he marries at seventy he promises – in defiance of the Nazi prohibition against Jewish births – to father a line of Kings. In this play, seventeen-year-old Justin Pereira gives an absolutely stunning performance as a boy who watched his family, and hundreds of other Jews, slaughtered by Nazis in an open field. His account of that event doesn't just hold the room in rapture, it enraptures the entire theater, and could it be broadcast to the whole world it might hold the planet in its thrall. Performances like this should give us hope for theater's continued excellence, even as we should continue to have hope for humans, even in our darkest times.
All photos by Stan Barouh
Click here for Details, Directions and Tickets
King of the Jews
Adapted by Leslie Epstein from his novel of the same name
Directed by Cheryl Faraone
Produced by Olney Theatre Center
Reviewed by Tim Treanor