Two days after debarking from Celebrity Cruise's SS Solstice in Ft. Lauderdale and flying back to NYC, I came down with the worst cold of my life and here I am, nine days later, still coughing and wheezing to beat the band. My doctor tells me I must grin and bear it for his final conclusion is  that I have a very common cold. I've lived through Robitussin with Codeine (you don't want to know about the side effects), salt water gargles, inhaled steam mixed with Vicks Vaporub, Saline Nasal Mist, and Symbicort Chest Inhaler, and still I carry Kleenex with me everywhere along with cough drops (I discovered "Fisherman's Friend", quite marvelous) and bottles of cool water.
But being the positive soul that I am, my first thoughts about this late winter collapse is that I'm so happy it didn't hit me onboard for we had 7 days of perfect weather, and I enjoyed each one of them enormously. What does all this have to do with "New York Theatre Buzz"?  Not much, except that old friend Chita Rivera was strutting her stuff for two shows on the penultimate night of the cruise, and I finally got to have some quality time with this theatre icon both on board and on shore as we anchored in Haiti, Dominican Republic and Curacao
Chita Rivera's act is more or less the one with which she had great success at Feinstein's at the Regency on Park Avenue this past season. She is comfortable with an audience, and this one, comprised of 2800 gay men, went bananas over her.
Cheers and hosannas for Ms. Rivera at both shows, and so well deserved! She has a way with a word, both sung and spoken, and her repartee was hilarious. She wowed them with her own hits "All That Jazz" and "Class " from Chicago, "America" from West Side Story, then borrowed her co-star Dick Van Dyck's "Put on a Happy Face" from their joint effort, Bye Bye, Birdie to wow them again. She gave new meaning to "I Won't Dance" for, now in her seventies she still can, but does not always choose, to dance. To watch her move though, is treat enough. Her body instinctively delivers what her songs promise; she can make you laugh with one tiny movement of her hip, she can move you to tears with one rise of her hand to her cheek in "Only Love" from her recent tryout of Ebb and Kander's The Visit. And she brings power and authority to the title song of her Kiss of the Spider Woman. She could have done six encores; she did two, and by show's end, the entire house (including me, who hates that sort of thing) was on its feet roaring its approval.
————
As I said, two days after my return, my sore throat arrived, followed by my running nose, and ultimately the Mother of all coughs. However, armed with my bottled water and my "Fisherman's Friend", I went on up to the Cazale Theatre on 76th Street and  Broadway to visit the only known revival of a World War II Broadway musical comedy, Early to Bed. I'd seen it when I was in my teens, remembered little about it, but I used to sneak in to see the curtain calls during its  eleven month run at the Broadhurst Theatre, so I clearly recalled the entire cast singing "When the Nylons Bloom Again" and "Martinique" (which I thought was called "There's Yes in the Air", for that's the first line of its lyric).  This staged reading series, produced by Mel Miller, serves the theatre well, for it exhumes little remembered musicals that found favor in their time. This season alone he's offered Cabaret Girl, about which I've written, and next up is Cole Porter's You Never Know, which features the song "At Long Last Love". These are low budget productions, which somewhat limit the caliber of the casting from time to time, but in this instance, Miller did very well with his cast. In the role originated by Richard Kollmar, Vincent D'Elia  is spot on – attractive, with a robust baritone and a sense of humor. In the Jane Kean role Allyson Tucker gets to deliver "The Ladies Who Sing with a Band", "Men", and the big winner, "When the Nylons Bloom Again" (very relevant in 1943, when this opus opened).
A silly musical comedy story in which a gent inherits what he thinks is a seminary for young women, but is actually a brothel, serves well enough for block comedy scenes and a sort of romance in the middle which allows a couple of ballads to sneak in. The big news is that the score is by Fats Waller, and though he wrote several other Broadway shows, they were mostly revues, and this one is strictly a book show, though these songs don't probe or poke into character very much.  Ain't Misbehavin' is his score, but it's a collection of pop hits of his, strung together into a revue.   George Marion, Jr. wrote the book and lyrics, and for the pre-Oklahoma! standards of l943, it's pretty good. Silly happy ending book, hummable and light hearted score, it was just what the war weary middle class wanted and they supported it through 380 performances.  It's in the league with Follow the Girls, Toplitzky of Notre Dame, My Dear Public, If the Shoe Fits and other 40s musicals – and in that group, only Follow the Girls out ran it (888 performances), and imagine – its two leading characters were called "Bubbles LaMarr" and "Goofy Gale (deliciously played by Gertrude Niesen and a young Jackie Gleason).  If the script and score for that one are still around, I wouldn't be surprised if enterprising Mr. Miller dished it up next season. I'd love that, for I remember La Niesen (all 4'11" of her) belting out "I Wanna Get Married " and "It's Twelve O'Clock (And All Is Well)". The curtain call had Neisen wearing a man's pajama tops, and Gleason wearing the bottoms, a very shocking sight for 1947. But as everything old becomes new again, this arrangement re-appeared in the curtain calls for The Pajama Game in the mid-fifties. I'm afraid the Early to Bed run ended March 29th, but I thought you ought to know about it.
The Musicals Tonight! production of Early to Bed closed March 29.
—————-
As the week progressed, so did my cold, so I was in good shape when I caught a preview of Happiness at the small Mitzi Newhouse Theatre in Lincoln Center.  This adventuresome romp, set in New York in the present, has good credentials. The very clever Susan Stroman directed and choreographed, Scott Frankel and Michael Korie, whose Grey Gardens I greatly admire, wrote the music and lyrics and John Weidman, who's worked so often with Stephen Sondheim, came up with the original book.
The opening number, "Just Not Right Now" sets the tone for the 100 minute one-acter that follows.  You can sense the Sondheim influence; it's different, but second cousin to "Another Hundred People" from Company. Frantic in pace, it introduces us to Zack and the cast. He's the quintessential New Yorker of the early 21st Century (pre-recession), tied to his electronic iPod and iPhone, frantically chasing some fuzzy dream that even he doesn't understand. He ends up in a crowded subway car, which suddenly stalls, and he and his fellow passengers are greeted by someone called "Stanley", who fills them in on what's happened.  Well!   What's happened is they are all dead, and they're about to be given one last chance to live out eternity peacefully if they can come up with just one moment in their lives when they were totally happy. Each one then proceeds to describe such a moment, and one by one the subway car door opens for them to go off living that moment forever. All goes reasonably smoothly until one of the women is forced to admit that the moments she came up with were all fantasies, they never happened. She must reach back further to her very young self to find even one that she had long forgotten – remembering it brings peace to her too.  The character who began it all, Zack, has a different sort of ending, but I won't ruin it for you – it's worth taking this journey to discover it on your own.
This very inventive musical is worth exploring too; it justifies the hope we held for Korie and Frankel after their very interesting Grey Gardens. One big disappointment to me though this time out is that Scott Frankel, who supplied such lovely melodies in Gardens to "Another Winter in a Summer Town", "The Five Fifteen", "Peas in a Pod", "Will You?", "Around The World", has decided to go all atonal in Happiness, denying us the catharsis that music alone can bring to a tale as emotional as this one.
The lyrics by Michael Korie are interesting and ear-catching throughout, but missed opportunities abound when it comes to the tunes. The closest Frankel comes to melody that moves us is in Stanley's big number, "Step Up The Ladder", but it's more performance, staging and orchestration that work, rather than melody. And "The Boy Inside Your Eyes" comes close, but again it's more Ken Page's lovely performance and the words that move more than the music. "The Toothfairy Song", "Gstaad" and "Just Not Right Now" are all melodies that scratch and irritate, reaching as they do for those diminished sevenths (I have no idea what that means; that's just what those high notes brought to my mind). It's a shame too because the musical itself is intelligent, inventively staged, beautifully performed by the likes of Joanna Gleason, Ken Page, Sebastian Arcelus, Jenny Powers, Hunter Foster as "Stanley" and a large ensemble of gifted actors/singers/dancers.  Ms. Stroman's production is impeccable, beautifully designed by Thomas Lynch, costumed by William Ivey Long, lit by Donald Holder and sound designed by the excellent Scott Lehrer (you see, sound does not have to distort the human voice, hooray for Mr. Lehrer).  I certainly recommend you see this interesting take on the state of affairs in 2009 New York – it's not exactly full of hope, but it clearly dramatizes a valid viewpoint, and does what theatre is supposed to do – it shakes us up, and engages us.
But please, talented Scott Frankel – don't be afraid we'll think less of you if next time out you do a little listening to the likes of Richard Rodgers, John Kander, Jerry Herman, Burton Lane, Frederick Loewe, Jerry  Bock, Jule Styne among others and turn songs like "Gstaad", "Best Seats in the Ballpark", "Step Up The Ladder", and "Happiness" into skintingling melody treats.  You know you can do it – you've done it before.
Happiness is scheduled to run at Lincoln Center thru June 7th. 
Now, for next time, a burst of activity on and off Broadway, starting with Ionesco's rarely done Exit the King.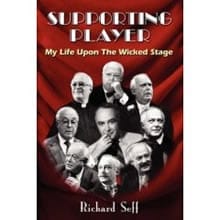 Richard Seff is author of Supporting Player: My Life Upon the Wicked Stage celebrating his lifetime on stage and behind the scenes, available through online booksellers, including Amazon.com.
Richard Seff chats with Joel Markowitz: