Eugene Ionesco died in 1994, and left us the progeny of his Theatre of the Absurd in which he was a pioneer. He wrote some 28 plays, and is best remembered for The Bald Soprano, The Lesson, The Chairs and Rhinoceros. His ode to dying, Exit the King, played 47 performances on Broadway in 1968 in repertoire for the Phoenix Theatre with a cast that included Eva Le Gallienne and Richard Easton. It was a straight on production, no frills, and it didn't make much of an impact.
Now Neil Armfield and Geoffrey Rush co-founder and star of the internationally renowned Company B of Sydney, Australia have fashioned a new take on the absurdist comedy. Together they have inserted current references to make the play more relevant, and with Mr. Rush in the title role, they had themselves a great success over in Oz. All of which aroused a dozen or so New York producers, and a consortium of them, outnumbering the cast of six by more than two to one, have booked the Ethel Barrymore Theatre for what looks like the surprise run of the season. With a small advance sale, the play opened in late March to sensational reviews, and an instant surge in attendance.
Is it for everyone? Well, what is, when you come down to it? You have to prepare yourself with an absurdist mindset, so that when Brian Hutchison steps out from the wings as the King's guard to announce and introduce Queen Marguerite, Queen Marie, Juliette the Servant, the Doctor and finally the King himself, you don't wince at the absurd costumes (the Royals' trains cover the entire stage), the blackened eyes and reddened cheeks, the body English of marionettes maneuvered by a drunken puppeteer.  Once you've got yourself all set to join the madness, the rest of the evening is great fun, and on occasion, very moving.
Mr. Armfield has given Mr. Rush an American supporting cast, and, in doing so, he's chosen wisely. The refreshingly delightful Lauren Ambrose (who lit up the TV series "Six Feet Under" as red headed Claire Fisher) continues to impress as she has in recent seasons in such diverse fare as Romeo and Juliet and Awake and Sing. This time she is playing the ravishing young Queen Marie, who adores her husband and is willing to do her all to save him from his destiny –  which is to die.  She is pitted against the ex-Queen Marguerite, played with great aplomb by Susan Sarandon who returns to Broadway for the first time since appearing in Gore Vidal's An Evening with Richard Nixon thirty seven years ago.  Sarandon, always an actress worth watching, has taken some criticism for her naturalistic style in this very stylized production – but I thought she was fine. Yes, at times she seemed to be in another play, but I do believe that was her choice, for Queen Marguerite's attitude toward her ex-husband's demise is unique.  "You're going to die in an hour and a half, at the end of the play", she tells him – and that's that. Andrea Martin, late of Young Frankenstein, continues her ghoulish ways as the obsequious all round serving woman, willing to follow all orders, though clearly agreeing with the wisdom of none of them.
The leader of the gang though is the King, and Geoffrey Rush is playing him for all he's worth, and more. Again, criticism from some quarters for playing fast and loose with Ionesco's theme, but it works – and I'm certain the author would approve. If you're going to send a message, why not disguise it as an entertainment? – and entertainment is written all over this madcap journey through the agonizing final hours of a man's life. In the end, it is quiet Queen Marguerite whose long soliloquy eases the way for the King's acceptance of the inevitable, and Sarandon's reading of the speech, and Rush's reaction to it, bring the play to its very haunting final curtain. This Exit the King is a rare treat and I highly recommend it.
Exit the King plays at the Ethel Barrymore Theatre, 243 W 47th St, NYC. thru June 14th. 
————–
Primary Stages is offering a new play, Chasing Manet by Tina Howe (Painting Churches, The Art of Dining, Museum) at its comfortable new home at 59 East 59th Street.  Meticulously cast, as always with Primary Stages, Jane Alexander and Lynn Cohen head a cast of fine character actors who, in this play, must double and triple roles which they all do superbly. One tends to thumb through the program in the middle of it all, asking oneself "Is Julie Halston the actress who also plays Lynn Cohen's daughter? Is Jack Gilpin playing Jane Alexander's son and that sex-crazed resident? Is avuncular David Margulies changing  wardrobe, personality and accent to become the Captain of a fancy ocean liner?" For the play is set in an expensive nursing home, one a step above "assisted living", one in which supervision is required almost constantly. Alexander plays a painter of some repute, installed in the home by her only son because she's become legally blind, lived far from his own home, and he wanted her nearby so he could visit. The trouble is he doesn't visit very often and that leaves his mother wanting out. As no one seems to be helping her achieve that goal, she cons her roommate (a charming old woman who's in the early stages of dementia) into joining her in an escape plot. It's somewhat far fetched, but it works for the ladies. I'm not sure it worked for the play.
Ms. Howe has managed to make this grim setting come alive by bringing into it some very real concerns dealt with by using comedy as a tool, even as a weapon. Jane Alexander stretches her vast repertoire even further in characterizing this wealthy, talented, self-centered woman who is mother, wife, artist. She admits she "wasn't much of a mother", and though she was there to see her husband through his final illness, she was grateful to have time for herself when he passed away. Her performance is riveting; it's a tough role, for her character is far more clear minded than her fellow patients, able to fully understand where she is and very angry at the lack of options she has to help herself escape. There are many colors to this "Catherine Sargent" and Ms. Alexander delivers them all.
Jack Gilpin plays her son Royal, fighting desperately to escape from her control and not doing too well. The revelation of this cast is Ms. Cohen. She's been around for decades, always doing good work in very supporting roles, but here she is asked to play a leading role opposite a genuine star actress, and she's ready for it. She has learned through the years and the many plays in which she's appeared, how to take stage, how to listen, how to demand attention when it's her turn to sparkle, how to disappear into the shadows when it's someone else's. The two ladies got roars of approval from a most appreciative audience. They work well together and some wise manager would do well to cook up an Arsenic and Old  Lace revival for them and wouldn't that be fun?
Staged by Michael Wilson (who last season guided Horton Foote's Dividing the Estate at this same theatre, and later on Broadway), the play concludes on a rather false note, tidying everything up and delivering a socko happy ending. It does send the audience out in a cheery  mood, but I thought the play deserved something more believable, more rueful. Ms. Howe knows her characters; one suspects she's experienced the nursing home scene first hand, and there aren't many neatly happy endings in them. But for them as likes excellent dialogue, an interesting and topical theme, two star turns, magical acting and a crackerjack production, I suggest you join Alexander and Cohen in their pursuit of happiness.
Chasing Manet continues at the 59E59 Theatres, 59 East 59th St, NYC  thru May 2nd. 
————
I call it good news that Jane Fonda is back on Broadway after a ridiculously long absence.  In the early 1960s she appeared on Broadway in four plays, but none of them were successful, and off she went to a glorious film career and several husbands. And, oh yes, there was the war in Vietnam during which she enraged many with her visit to Hanoi and the photo ops that were made of that. At the time she was married to activist Tom Hayden and in their determination to end the war, she used her international celebrity to behave recklessly and without concern for consequences. Some say the publicity attached to what many called a betrayal, even an act of treason, caused her film career to crash in the early seventies. But Fonda felt it had more to do with bad films, and her ever increasing desire to make films which had some relevance to her time. So she turned down An Unmarried Woman as being "irrelevant", and waited for The China Syndrome, Julia, Coming Home and The Electric Horseman among others. Later, she used On Golden Pond, which she produced and in which she played a supporting role, to work with her father, Henry Fonda. It moved her mightily, as it did us, when he, near the end of his life, won the Oscar for Best Performance in it. She managed in the 1980s and 90s to work in film, to spend some years with Ted Turner (to whom she was married) and finally to return to the screen in Monster In Law and more recently in Georgia Rule. In between there were all those exercise videos which proved she was in remarkable physical shape well into her sixties.  Now, she's back – live on stage – still slim as a reed, looking absolutely fine at 72. To some she will always be "Hanoi Jane", but most of her fans have forgiven her, and there are many too young to viscerally feel the anger they might have once felt had they been around in 1972.  Now, to her play.
33 Variations was first seen in what I understand were fairly well-received productions in both Washington, DC at Arena Stage(2007)  and then last year  in La Jolla at The La Jolla Playhouse. The California production starred Jayne Atkinson (currently on Broadway in a supporting role in Blithe Spirit) and an actor called Ryan King as her daughter's boy friend. The rest of that company has been retained, but names were deemed needed for Broadway so Ms. Fonda replaced Ms. Atkinson, and Tom Hanks' son Colin replaced Mr. King. It probably made sense from a commercial point of view, for the material is not in itself the sort that brings long lines to the box office. The New York notices were favorable for the most part, but I had some problems with the play itself.
It's written by Moisés Kaufman, is based on a historical event, but is told from a fictional perspective. Mr. Kaufman's story deals with Dr. Katherine Brandt (Jane Fonda), a musicologist who is so obsessed with the genesis of the 33 Variations which Beethoven imposed on a minor waltz by his contemporary publisher Anton Diabolic, that she spends her final days researching all she can in archives in Bonn and in Vienna, for in the midst of her research she is diagnosed with Lou Gehrig's disease. Kaufman asks us to equate Dr. Brandt's compulsion to Beethoven's but I couldn't do it. Matters were not helped by the acting and directorial approach to the characters in 1819-l822 (Beethoven, his assistant Anton Schindler, his publisher Diabelli). Those three seemed to me to be in a musical comedy – images of Herman Bing and Felix Bressart kept popping up each time Zach Grenier spoke as Beethoven and Erik Steele retorted as Schindler.   Back in the present, Susan Kellerman as Fonda's Doctor Ladenburger, Samantha Mathis and Colin Hanks as her daughter and her daughter's suitor played naturalistically, but none of their characters were more than sketched in the writing. Young Hanks has a most appealing way, and if he chooses, I would think he could inherit the mantle left by his Dad and by Jack Lemmon, who had the same sort of everyman charisma.
The physical production was smashing, with a set by Derek McLane that successfully transports us with great style from century to century, as well as to such unlikely locations as research areas, hospital rooms, apartments, and rendezvous settings for the young lovers. In addition, Diane Walsh seated at a piano way downstage right on the orchestra floor, played the various variations beautifully as they were mentioned in the text. The New York  notices  have been excellent for the most part, and I must tell you that Jane Fonda's lovely work at the center of the piece, combined with the excellent production, had me willing to stay with it right to its prettied up ending of double death. The audience I attended with was on its feet at the end, but I truly believe that was because Jane Fonda came through with a star turn, and they (and I) wanted to encourage and appreciate her. I suspect this play will play out its "limited run" (it's always been scheduled to close on May 24th) to decent but not smashing houses. If you'd like to see a controversial personality, one with genuine talent who is at the top of her game, trot on up to the Eugene O'Neill Theatre. I only caution that when the play is over, your life will not have changed, you will have seen in my opinion, a 'vehicle' with a legitimate star attached.
33 Variations continues at the Eugene O'Neill Theatre, 220 West 49th St, NYC  thru Mary 24th. 
———-
Until next time, when we'll have a peek at ROOMS: a rock musical, and revivals of two British comedies – Noel Coward's Blithe Spirit and Alan Ayckbourn's Living Together (part of the trilogy known as The Norman Conquests,) I remain, as Orson Welles used to say, "yr. obd. svt."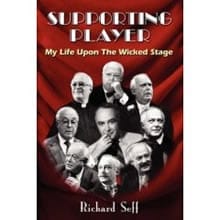 Richard Seff is author of Supporting Player: My Life Upon the Wicked Stage celebrating his lifetime on stage and behind the scenes, available through online booksellers, including Amazon.com.
Richard Seff chats with Joel Markowitz: