The New World Stages, in one of its many hidden black box theatres underground on West 50th Street, is offering Paul Scott Goodman's and Miriam Gordon's ROOMS a rock romance, in a version slightly altered and half re-cast since its premiere productions at MetroStage in Alexandria and Geva in Rochester. This is actually the two-character musical's fourth outing, for it first popped out of its egg in a staged reading at the NY Music Theatre Festival in 2005.  Now Van Hill Entertainment and Red Griffin Media have joined to bring it to New York, in a production directed by Scott Schwartz.  That's a long road for a musical piece that doesn't have a great deal on its mind. It's a new kind of musical, geared to the audiences that have come to accept small pieces in one act and running about 90 minutes. Odd, but I kept thinking "this is Funny Girl without all the trappings. No set, no dancing, two characters onstage throughout, a story of a nice Jewish girl with talent and ambition who falls for a Scottish lad with talent and a drinking problem."  OK, Nicky Arnstein was a tricky lad with a gambling problem, but still .. .. ..
The authors of this very mod musical spin quite a yarn as these two people from two different worlds meet, create music together, fall in love, and have success that takes them from Scotland to London to New York. Then it all falls apart as career interferes with the life that the man wanted. The couple split, spend two years apart, then are reunited and this time have grown enough to make a new beginning. This tale is told with virtually no book, which means the telling of the story depends entirely on the original score, which consists of 18 songs including reprises. I would have thought this couldn't be done, but Goodman and Gordon have pulled it off, and I was ultimately very moved by it.
Leslie Kritzer brings to the girl, Monica, a hoydenish quality, and great strength. Doug Kreeger's Ian is likable, appealing, vulnerable, a true artist who is only half complete without his woman. You root for these two, you understand what drives them both, and what drives them both crazy, so that when after two years away from each other her need for fame is diminished as is his for demon rum, their story concludes in a way that makes us feel good. I wouldn't bet on their making it through a lifetime, but the writing is substantial enough for them to have earned the right to a crack at a good life. I certainly wish them well, and I think you will too.
There's variety in the score. "Bring the Future Faster" tells us a lot about Monica early in the show. "All I Want is Everything" tells us more about her. "Fear of Flying", "Clean" and "Happiness" are rich material for Ian.  "My Choice" near the end brings us to tears, and "New Song for Scotland" is tender, melodious, a fitting conclusion to a very sweet show. Of course each number must be a solo or a duet, and this occasionally had my mind wandering, knowing there would be little variety up ahead.  I'm hoping the economy improves for many reasons but high on my list is so that when I know I'm going to see a musical, I can anticipate lights, color, lots of singers blasting out five part harmonies at me, maybe a dance or two, a turntable or something magical done with lighting, a couple of secondary characters (they're in this show, but always on the telephone offstage). I will say that for a score that is amplified electronically, the sound design of Jon Weston was excellent and the show had a 'live' sound, so essential to good theatre.  And if Kritzer and Kreeger were wearing microphones (they had to be) they were hidden, and I say "hooray" to that.
If you don't mind your musicals tiny, if you're okay with a show that fulfills its promise even if its promise is not major, you'll enjoy ROOMS a rock romance and be proud that D.C. helped shape it so it can have a life around the nation.
ROOMS a rock romance continues at New World Stages, 340 W 50th St, NYC.  Cast album is coming soon.
———–
Via the time machine called 'theatre', I was transported one recent Wednesday afternoon to Kent, England in the late 1930s to visit the Charles Condomines in their very spacious sitting room, the one in which  Charles, his wife and his ex-wife are cavorting once again in a smashing revival of Noël Coward's Blithe Spirit. As the actor Edmund Gwenn was reported to have mumbled on his death bed, "Dying is easy. Comedy is hard."  Watching the first class cast of this revival one is reminded just how hard comedy is, and how easy a gifted cast makes it seem. For in the minds, bodies and talents of Rupert Everett, Christine Ebersole, Jayne Atkinson, Angela Lansbury, Simon Jones, Deborah Rush and Susan Louise O'Connor, we see what the almost lost art of playing high comedy can do to a well made and very articulate comedy of manners.  These players know how to prepare you for a laugh, deliver the laugh and follow up on a laugh with all the aplomb of the Lunts, Ina Claire, Roland Young, Ilka Chase, Donald Cook, Margaret Sullivan, Shirley Booth and dozens of supporting players who were trained in how to behave in the drawing rooms of the comedies which appeared every other week on Broadway  in the 1930s and 1940s.
I am a huge fan of Christine Ebersole (just check out the bouquets I threw her way in her last outing, Grey Gardens,) but of her six fellow players this time out, she is the one who, though tops in her ability to play high comedy, one set so linguistically in England catches her a tad short. Her British accent is iffy; an occasional "cahnt" or "hahlf" doesn't cut it, and there is something in the timbre of her voice that screams more Montclair, New Jersey than Mayfair, London.  Don't misunderstand me; this lady has star quality and she floats through her role of Elvira, first wife to Charles, now deceased and ghostly, with the grace of a dancer, and the comic chops of a true star. But her delivery, her rhythm, so perfect for the hostess she played in the American Dinner At Eight and the Long Island society dame in Grey Gardens should have allowed Michael Blakemore, the director of this production, to slip in a line about Elvira having been born and raised on this side of the Atlantic.
Small quibble though, for Mr. Coward would have been delighted, I'm sure, to have heard the screams of laughter that emanated from the two-balconied Shubert Theatre on Broadway, usually home to hit musicals, as a very middle class American audience responded to the madcap goings on onstage. Angela Lansbury, a legend in her own time, got a huge hand on her entrance, and ANOTHER huge hand on her entrance in the second act. Now that's an achievement I've never witnessed before.  The first one is to acknowledge the debt her audience feels for her past work and to welcome her back to the stage.   The second is for the great first act she's delivered, playing Madame Arcati  as a woman of tremendous conviction and self-confidence, a woman who is a also totally wacko. Her interpretive dances as she goes into various trances are worth the price of admission.
Jayne Atkinson, not as well known as her co-stars, plays Ruth, Charles' current (and living) wife. I've seen half a dozen Ruths in my time, going all the way back to Peggy Wood, who played her first in the original Broadway production in 1941, and Atkinson is by far the best of the lot. I saw Claudette Colbert play her in a TV special, Judith Ivey in one revival, Louise Troy (in High Spirits, the musical version). But none came close to the hilarity of Jayne Atkinson. Grounded in sanity, her loss of control of all around her brought her closer and closer to madness and by play's end she had gone round the bend. It's a treat to watch her transformation.  Rupert Everett has been stuck playing gay best friends in film ever since he came out of the closet himself, and it's good to see him playing a heterosexual husband, lumbered by two women for both of whom he has feelings. He gets laughs from perfectly ordinary lines (though no line Mr. Coward wrote is ever quite ordinary) by attacking them in highly original ways, and his body language conveys humor as well. All this comical magic must have been contagious for it trickled down to the youngest member of the cast, Ms. O'Connor, here making her Broadway debut as the diminutive maid Edith, and getting peals of laughter and applause even by merely crossing the stage without speaking.
Conclusion:  if you need two and a half hours of pure glee in these troubled times, include this blithest of all Blithe Spirits in your next visit to Gotham.
Blithe Spirit continues at the Shubert Theatre, 225 W 44th Street.
————–
I'll be brief about You Never Know, an early trifle from Cole Porter, because Musicals Tonight!only offers a staged reading of it that runs through April 26th, so it's not likely any of you will get to judge it for yourselves.  I enjoy this series of little-known musicals because it takes minor titles off library shelves and plunks them down with decent casts onstage. You Never Know had only a two month run on Broadway in 1938, an attempt by the Shuberts who produced it, to capture the audience that had embraced the play on which it was based,  By Candlelight. It didn't work, and why Mel Miller decided to resurrect it for his series is beyond me. The Porter score is second rate, and sounds more like it was written by someone else, in the style of Porter. Some of the lyrics are clever, but the tunes are undistinguished and only one, "At Long Last Love," had any life beyond first airings. The original Broadway mounting had a cast of thousands (around 40 and that's a lot), played the huge Winter Garden Theatre, had a score with 18 songs in it, only ten of which were by Porter! The little dinky production I saw this week had a cast of seven, and a dozen interpolated tunes, "all written by Mr. Porter but not in the Broadway production." Not one of them is up to the great man's standards. I was told by James Stenborg, the musical director, that the score was written just after Mr. Porter fell off a horse, crushing his leg. He further stated that the title song "You Never Know" was written while the leg was still under the horse. Apocryphal maybe, but it does explain the lack of magic coming from the Porter pen.
The one production aspect that made the matinée worthwhile was the cast. An offbeat lad reminiscent of  Norbert Leo Butz and Hunter Foster played the leading role of Gaston. His name is Kevin Kraft and he was delightful. Three fine actresses played wife, mistress and new girlfriend (don't ask; the mistaken-identity plot is ridiculous and complicated) and they were Christy Morton, Kate Marilley and Jennifer Evans. Ms. Evans is a particular find, in the manner of Kelli O'Hara and I'm hoping she finds a less shabby home next time she pops up in a musical. The other two have a true comic bent, and were very helpful to the proceedings. The audience, "of a certain age", emitted a giggle now and then, but that was about it. "A" for effort on this one, but not much more.
You Never Know has closed.
——-
I'm starting The Norman Conquests, a trilogy, with just one play next time out, but I have a feeling I'll be going back for the other two thirds. I'll have reports on all sorts of spring events from The Apple  in the weeks to come. So don't leave for your villas in the south of France just yet. Or if you must, be sure to take your laptops with you so you can keep up with DC Theatre Scene and NY Theatre Buzz. There'll be quite a lot of activity through May at least.
Until next time – happy spring.  RS .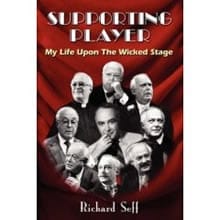 Richard Seff is author of Supporting Player: My Life Upon the Wicked Stage celebrating his lifetime on stage and behind the scenes, available through online booksellers, including Amazon.com.
Richard Seff chats with Joel Markowitz: