South Ark Stage's Artistic Director Rhoda Herrick has seen fit to revive Jonathan Marc Sherman's Sophistry at the Beckett Theatre in 42nd Street's Theatre Row.  Originally mounted by Playwrights Horizons, this examination of college life in the early 90s has been hauled over the coals twice in 1993, playing 14 performances in March with a slightly different cast then in September of the same year, when it played out its limited run of 54 performances. Ethan Hawke played the leading jock "Xavier 'Ex' Reynolds", playwright Sherman played "Igor" (a dopey sort of loser) in both productions, but Dick Latessa was replaced by Austin Pendleton in the central role of Professor Whitey McCoy, and Calista Flockhart replaced Katherine Hiler in the leading female role, "Robin".  One character was cut between outings, played by a nine year old Scarlett Johannson! We can only imagine why this very slight play was given two productions in the 1993 season, for of the four young men at the center of the plot, three of them would make any parent go gray at their adolescent whinings, spewings, and general approach to life. Lots of inhaling smoky substances, dozens of beer bottles consumed, plenty of horseplay and dirty tricks, a smattering of four letter words for just about everything and everyone; not an appetizing lot. One of them, "Ex Reynolds" seems a more decent sort, but even he doesn't come through in the end. He and Robin are working on a relationship, but good as they both are, theirs is a teen age romance and not very compelling. The play purports to explore the subjective nature of truth. But it doesn't do that.
It seems that one of these lads, "Jack Kahn", played by Anthony Rapp in both Playwrights productions and here, in South Ark's production, well played by Michael Carbonaro, has accused good guy Professor Whitey McCoy of molesting, fondling, and raping him one day in McCoy's quarters. Kahn accuses McCoy of being drunk and threatening, which he thinks explains why he didn't run out of the room.  It's now two years later but he's finally had the courage to come clean. We are given  Jack's version of what happened, and McCoy's, both presented straight out as monologues. Each is a complete contradiction of the other's. There were no witnesses to the alleged rape, so it's a case of "he said, he said", and when it comes to internal trial with the school board, McCoy is found guilty and is dismissed, thus taking from him everything of value in his life – his income, his reputation, and the school he called home for most of his adult life.
The plight of the young folks, which involves a triangle between Reynolds, Robin and Robin's friend Debbie, is trivial. The Professor's crisis, the more interesting one, is set up for half of the first act, then he disappears until the middle of the second act. It's all very lumpy and crudely put together. There are some fine performances in the play, particularly that of Jonathan Hogan as Whitey McCoy. Somehow he manages to bring dignity and empathy to a character who asks little of life, who does his best to infuse his young charges with the force to make better lives for themselves than he has managed with his own. Charlie Hewson as "Ex" keeps this well meaning but ineffectual student grounded; he is the one of his group of pals who seems redeemable. Natalie Knepp brings to "Robin" the same sort of appealing vulnerability, quirkiness and strength that helped launch Calista Flockhart when she played the role 16 years ago. The others are unable to keep their students interesting, to rise above the one dimensional characteristics supplied by the author. The term "sophistry" is defined as a tricky, plausible but fallacious method of reasoning, and this play is telling us that Whitey McCoy has been destroyed by sophistry. Not a lot here to hang onto.  It's not a good sign when the most urgent question a production arouses is why it was dusted off and presented once again.
Sophistry plays through June 6 at the Beckett Theatre, 410 W 42nd St, NYC.
————
On a recent rainy Monday night I made one of my rare appearances in a cabaret (I'm not fond of them) to see the delectable Andréa Burns present her most recent act. This was on her one night off from In the Heights in which she plays the volatile and nubile "Daniela", proprietress of the beauty salon, who stops that show nightly with her second act number, "Carnival del Barrio." Burns is amazing. Her entrance is impressive, in a red creation which combined a gauzy light skirt in front with a skin tight gauzy pair of pajama pants in back; the gown alone gave her the opportunity to be gay and girlish one minute, to strut with head held high the next. Her act gives us the whole range of Andréa Burns, and it's quite a meal. Though she's been featured in show after show onstage, she has not yet found the role that will establish her as a center stage star. She played the lead in the national tour of Jason Robert Brown's Parade, she was featured in the national tour and later on Broadway in The Full Monty, she's played The Beast's "Beauty" on Broadway, and has had featured roles in Stephen Sondheim's Saturday Night, Sail Away! and Songs for a New World off Broadway.
In this Monday night benefit for The Actors' Fund Broadway Series she sang many numbers from her "A Deeper Shade of Red" CD, recently released. "It's an eclectic evening', the actress said, "I celebrate my heroes, which include female singer/songwriters of the 1970s, my Latina mom, my Jewish dad and, quite frankly, Elaine Stritch."
[ft_amazon ibn="B000WDTO3E&fc1=000000″ align="right"]
Eclectic it certainly is. Her voice moves easily from the luscious soprano with its beautiful low tones to the belt required by so many of the characters she plays. The transition from head to chest is so smooth it just disappears.  She moved easily from Kate Bush's "The Man With the Child In His Eyes" to Gloria Estefan's "Mi Tierra," which she combined with "A Little Brains, A Little Talent" from Broadway's Damn Yankees. The lady is in full charge onstage and her packed house bought it all. At one point in the 90 minute performance, she sang Carole King's "Really Rosie," from her first role in a children's musical when she was 9. That segued into "Dim All The Lights" by Donna Summer which she sang at her seventh birthday party. She didn't sing anything from her current In the Heights but she used Carole King's "Up On The Roof" as a dedication to the cast of that show as, during it's off Broadway run before the move uptown, they all used to congregate on the roof of the theatre and hang out together between shows.
There was more, much more, but it was such a treat to see a lady who could play Nellie Forbush in a minute at a matinée, and that night take us to Latin America and come up with a sensational Eva Péron,  with a weekend of almost anything Mary Martin could have played except maybe Peter Pan, for Andrea Burns is too deliciously female to ever really make it as a young boy. Maybe it was that pajama/negligee combo that did the trick. Whatever, I felt 10 years younger by evening's end, and that's becoming harder and harder to achieve. Now if someone will just come up with a new musical just for her, not a revival.   Something like One Touch of Venus, Little Mary Sunshine, Anything Goes, West Side Story. Unsinkable Molly Brown that launched Mary Martin, Bernadette Peters, Ethel Merman, Chita Rivera and Tammy Grimes and voilà- A Star Is Born. Thank you, Andréa. I can't wait till next time.
———-
As the New York theatre season races to a close there seems to be an event every night, so I'm not having dinners at home a lot. I dropped in on Liz Tudor and Mary Stuart one evening, in Schiller's Mary Stuart, and this time out the ladies were being played by Janet McTeer ( Queen Mary) and Harriet Walker (Queen Elizabeth I).  I've never been a fan of the play, but I can see why it pops up every 20 years or so in a major revival. It's got those two thick juicy roles for ladies of a certain age, and I guess they just can't resist having a go. In an imagined meeting between the two cousins  who both claimed to be Queen of England in 1585, Mr. Schiller concocted a match not equaled since. But I can never take the play seriously – it all seems to me to boil down to a catfight between the two over Lord Leicester, whom both ladies fancied. Oh yes, there's much talk about politics and religion, and lots of speechifying but in this new version by Peter Oswald, the language did not soar, and the emotional content was slim indeed.  In Phyllida Lloyd's direction (whose major credit is Mamma, Mia! though she's handled the likes of  much much more,) I felt the key descriptive word was "declamatory".  Actors tended to enter from stage Right or stage Left, march to Center, then turn forward, get hit by a spot, and spout soliloquies at us. I exaggerate a tad to make my point, but that's the overall impression I had.
The concept in this production is to have the Queens dressed to the nines in period costumes, and the many men in their lives in proper contemporary business attire. This worked just fine, but the actors who wore the suits behaved as though they were still in Elizabethan finery. Even the excellent Brian Murray. Michael Countryman and John Benjamin Hickey seemed pontifical and distant to me. Mind you, it's absorbing enough as a melodrama, but I did not feel moved or transformed at the end of the three hours it took to tell the tale of Elizabeth and Mary, particularly since the meeting of the two never happened in life.  I couldn't determine if the physical production had been conceived to save money (it consisted only of the black brick wall of the theatre, inventively lit by the design of Hugh Vanstone, but it served as prison, palace and all in between.)  Costumes by Anthony Ward, who conceived the set as well, gave the production an elegant sheen, and I hope the gents in the company have the right to purchase their suits at the end of the run, for they all looked mighty fine, and the suits fit as though bespoke.
The ladies McTeer and Walter are absolutely tops, and to prove they were only play-acting during their royal battle, they embraced warmly during their curtain call, which sort of said "we were only kidding." But the whole thing was played at fever pitch and for me it all smacked of the old fashioned British way of playing drama – center stage, forward, and with all the stops out.  Again, it took 14 producers to import this Donmar Warehouse production from its limited run in England with an American supporting cast plus the two stars. It's always a pleasure to watch old pros onstage, but though this purported to be more important material, it struck me quite early on as a l6th century version of John Van Druten's 1940s Old Acquaintance in which Bette Davis and Miriam Hopkins on screen, and Jane Cowl and Peggy Wood onstage once hurled invectives at each other. Frankly, I found that one more fun.
Mary Stuart plays through Aug 16th at the Broadhurst Theatre, 235 W 44th St, NYC
———-
For dessert, I offer you a palate cleanser, three tiny playlets by Ethan Coen who, with his brother Joel, has made 14 films including Fargo and O Brother, Where Art Thou? This writer, who trots out short plays now and then (his last outing was Almost An Evening, which was successful enough to transfer after its Atlantic Theatre run to The Theatres at 45 Bleecker Street), has come up with three sketches, all presented under the catch-all title of Offices.  All three are set in some anonymous and generic corporate headquarters, filled with the requisite secretary, underlings, officers and CEOs.  F.Murray Abraham was the only name recognizable to me, and he was marvelous in two roles, particularly in "Struggle Session", the third of the 3 playlets, in which he played a street person who is taking a sabbatical from the streets and trying out a conventional office job. Coen is clearly on the side of the misfits, and he hits some targets in aiming his poisoned pen at some of the accepted American corporate killers.
In the first play, "Peer Review" he establishes his method of writing very short, piercing scenes. Joey Slotnick plays a total malcontent who simply can't beat the system and gets himself fired. In the second play, "Homeland Security", we have a half hour of madness which is scary, for its point is we have no homeland security at all. Eight beautifully chosen actors bring skill to these briefly sketched characters, and supply lots of laughs covering the terror underneath. Well staged by Neil Pepe at his Atlantic Theatre Company's neat little home on East 20th Street, Offices was a surprise springtime delight.
Offices plays through June 7 at the Linda Gross Theater, 336 W 20th St, NYC.
———-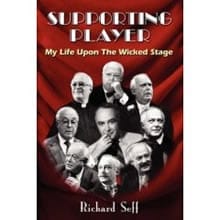 Richard Seff is author of Supporting Player: My Life Upon the Wicked Stage celebrating his lifetime on stage and behind the scenes, available through online booksellers, including Amazon.com.
Richard Seff chats with Joel Markowitz: