On the road as a swing and understudy in Rent: The Broadway Tour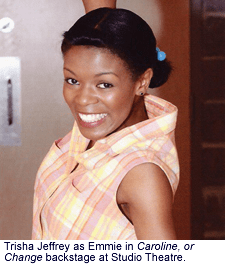 She wowed DC audiences with her powerful singing and Helen Hayes Award nominated performance as the rebellious and feisty daughter, Emmie Thibodeaux, in Studio Theatre's 2007 Helen Hayes Award winning Best Resident Musical Caroline, or Change.  For the next few days, Trisha Jeffrey is in DC at the Warner Theatre  with Rent: The Broadway Tour. Trisha updates us on where her career has taken her since Caroline, or Change, and the ups and downs of being a swing and understudying the roles of Joanne and Mimi among others on the road.
Joel: it's so nice to have you back in DC. Tell me about your vocal and theatre training.
Trisha: My grandmother threw me in the church choir when she overheard me singing quietly to my sister and friends at a dinner party on the eve of my 11th birthday. The after-school Glee Club at P.S. 21 in the Bronx came almost simultaneously, but my vocal training really started when I went to LaGuardia High School 's  Music & Art and Performing Arts in NYC. LaGuardia opened me up to a wide variety of music and all the endless possibilities for life as a Vocal Artist. At that age, I did not see myself as an actress. I wanted to be a successful recording artist and focused much of my time after school in the studio, recording my first demos.
I took up acting as a hobby with a community arts program of Co-op City called YAC in the Bronx, only because a gospel singer I admired at my church thought it would be good for me. My acting was not very good, but I got cast because I had a nice singing voice.  About the time I finished High School, my desire to be a recording artist dissipated. I instead performed in a bunch of community theatre events, which then led me to studying and performing at Harlem School of the Arts, where I began to take acting more seriously. It was there that I began teaching Theatre to young kids before I received my B.A. in Theatre from Lehman College of the City University of New York, where I also double-minored in Music and Dance.
While I continued teaching after school, I also landed office work as a Temp. Eventually, I was offered a full time job as an Administrative Assistant for an investment firm. It was nice for a while, but I wanted to wholeheartedly love what I chose to do for a living. So, after fulfilling my first contract with Welch Capital,  I quit and decided to attend a 2 year intensive Acting and Musical Theatre Program at Circle In The Square Theatre School.
My goal back then was to not only be a good singer and performer, but an equally, if not stronger actor. After gaining confidence in technique and expanding my knowledge at Circle, I still had a huge fear of auditioning. The rejection was just too much for me. Just before I graduated Circle, I began auditioning for shows like it was a sport. I had to convince myself that auditions were just free dance classes, a way to meet new people and fun ways to accomplish tiny goals for myself as a performer, even if I didn't get the job. To my surprise I started getting real jobs.
Joel: Tell us about your Caroline, or Change experience at Studio Theatre in 2006.
Trisha: Doing Caroline, or Change at Studio Theatre in 2006, was a very special and cherished experience for me.  Studio Theatre was a wonderful environment to work in, and we had an amazing cast of people, some of whom are still in my life today. We endured some intense rehearsals, shared our life experiences, and willingly collaborated to make the best of our production. There was much collaboration on my part with our director, Greg Ganakas, to create the movement of our show, especially for our girl group trio, the Radio. I was asked to be Dance Captain but then found myself adding choreography to the show.
When focusing on my role as Emmie, I felt deeply connected to a girl who wanted to be free of ideals and boundaries set forth by her mother and society. She was a smart girl on the verge of womanhood, actively involved in fostering change to promote equality and a future world that she could be proud to live in. Emmie had a true sense of pride. She refused to allow the color of her skin to dictate what achievements she could make in her life. Emmie believed in and yearned for a better world, not unlike myself. She struggled with the fact that her mother, Caroline, was a maid who spent all of her time cleaning other people's homes, and caring for other people's families. Emmie loved her mother, but she did not understand why Caroline was merely a maid. Emmie makes me think of the girl I might have been, had I been a black teenager in Lake Charles , Louisiana in 1963. Doing that phenomenal piece, with its intense subject matter and fabulous score, was absolutely mind-blowing for me. I found our DC audiences to be intensely engaged, open, and attentive. They were intrigued by the story we were telling and were quite supportive of our efforts. We had some good and some really great audiences while doing that show  I'm very proud that we won the Helen Hayes Award for Best Resident Musical, and I feel honored that I was even nominated for Best Featured Actress. I loved working on that production, and I would do it all again in a heartbeat.
Joel: Tell us where your career has taken you since Caroline, or Change.
Trisha: After being nominated for Caroline, or Change,  I returned to NY to do a short gig for NYMF, (New York Musical Theatre Festival)  performing in Marcus Hummon's Warrior, directed by Michael Bush. While rehearsing Warrior, I dabbled with the idea of creating my own cabaret piece, which Michael encouraged me to do. So, I finally came up with what would be my first solo act in the Fall of 2006, performing in the "Just A Piano" series, conceived by Lee Summers at The Triad in NYC. Once that was accomplished, I had no idea what I would do next!
Out of the blue, I got a call to fly to Germany and work as the "Sangerin die Nacht", the featured singer for Harold Wohlfart's Palazzo in Stuttgart. It was an amazing experience for me. On two days notice I was surrounded by incredible talent originating from not only Germany, but Italy, Spain, Switzerland, Ukraine, France and Canada to name a few. The Palazzo show was like mixing theatre, a lot of music, comedy and amazing circus acts, all while featuring gourmet cuisine under a tent. The show was nearly 4 hours long, and I sang throughout. I'm very grateful for my time there because the audiences reminded me that singing was my first love and it was a "role" I could always play.
When that was over, I auditioned to seemingly no avail.  Later I found myself returning to my theatre home at Classical Theatre of Harlem, where I was a founding company member since 1999. I played the role of Chrysothemis in Electra, where it felt good to be in a straight play again. Then came Michelle in Dreamgirls at Gateway Playhouse, and then one of my favorites, Ti Moune, in Once On This Island at the Lyric Theatre of Oklahoma City. Very shortly after that came Rent.
Joel: When did you first audition for Rent, and when did you receive the offer to join the show?
Trisha: The first time I auditioned for Rent it was the huge cattle call held at the Knitting Factory in 2002. After three auditions for Rent, I was offered the role of Alexi Darling in the non-union tour,  understudying Mimi and Joanne, but I turned it down. It wasn't the best move for me, plus I had another offer bringing me straight into Actor's Equity Association. So, I began working a few regional gigs, playing roles like Lucy in Jekyll & Hyde and Dionne in Hair. Then in July 2003, I booked my Broadway debut, Little Shop of Horrors, where I played Crystal. I eventually auditioned for Rent again in early 2007 after my trip to Germany My agent told me several times that I "fall in the cracks", that I wasn't your typical Joanne or Mimi. When I didn't hear anything that Spring, I told myself to let it go and that it just wasn't meant to be. Just a few months later, I was asked to audition again! And that's when it finally happened.
Joel: Explain to our readers what the responsibilities of a swing and understudy are, and how they differ.
Trisha: I joined the Broadway company of Rent on August 21, 2007. They wanted someone who could play Joanne, Mimi, Alexi Darling, Mrs. Cohen, and Mrs Jefferson/Season's soloist.  I "understudy" those 5 roles, with the ability to "swing" in and out of them at any given moment
Swings understudy several roles, whether chorus and/or dancing roles, AND principal parts. As far as I know, most understudies perform in the ensemble of a cast, covering only the lead or principal roles. As a swing, I am backstage and on call for every single performance, even though I don't perform everyday. It is one of the most difficult jobs you could ever do in Theatre. There's no performance consistency, and there's no telling when you may go on. People ask me all the time what the chances are. It is completely random. There were times when I suddenly stepped in as Joanne at the top of Act 2, or Mimi in the middle of Act 1, which is exactly why I'm there. Things go wrong, people get hurt or sick, but the show has to go on. I remember a time when I played all five of my roles, consecutively within a 2 week period. And then there are times when I don't perform for weeks on end. On this tour, I've performed as Joanne, Mrs. Jefferson, Mrs. Cohen, Alexi, but not yet as Mimi.  Unfortunately, I'm not scheduled to perform as Mimi while we're in DC, but you never know. However, I can be seen as Mrs. Cohen (Mark's Mom) on Sunday May 31st.
Joel: How do you relate to Joanne and Mimi?
Trisha: Many of Joanne's characteristics and desires line up perfectly with my own. I see her as a strong, hard-working, successful lawyer. Her education and family background have played a significant part of her life, setting her standards high above the rest.  Joanne is a perfectionist who happens to be female, eager to take and be in control. To the outside world, she may come off as a know-it-all snob. Underneath it all, she really just wants to be loved, without losing her sense of self. She loves Maureen, a free-spirit who challenges everything Joanne knows about her and life.
With Mimi, all I knew was that she had a dark side that once tapped into, would be hard to let go of. Although Mimi comes off as being this hot, sexy, wildflower of a woman, her sense of self-worth can be lacking. She likes to take chances and live on the edge, in spite of the heartache and disappointment she's been through. Mimi desperately longs to be free. She wants to escape from everything she's known, constantly seeking pleasure and will do anything to ease the pain. She is a real survivor, something I am quite familiar with. When I think of Mimi I remember the times in my life when despite appearances, I felt unloved, unsafe, confused between physicality and love, when running seemed like my only option. Mimi reminds me of the person I came so close to, but chose NOT to be.
Joel: Have you ever worked with Telly Leung before appearing in this tour of Rent?
Trisha: Before Rent, I had not worked with Telly Leung at all. When I listen to him sing "Will I", the spirit that shines through his voice is warm, deep, and brings tears to my eyes. Telly is simply a wonderful actor, singer, dancer AND a delightful person. He's a generous performer and an even more genuine, loving spirit, who is an absolute joy to work with. I adore Telly, and I think everyone at Rent does too.
Joel: What's it like being on the road?
Trisha: Although I've done regional sit-down gigs, I've never really traveled on the road with a show before. Doing Rent on the road is truly amazing but not without its challenges. Touring is a great way to see new places and experience new things, but I don't recommend living like a tourist in every town. It's exhausting! With all the eating out, and moving around, one can get really home sick. The cast and crew become your friends and family, and like all families we love each other and get tired of each other. It's hard to grasp a true sense of stability, not to mention reality, since you're packing and unpacking every week. Once you accept that your life is constantly in flux, then it's all good.
Joel: What's been your favorite theatre so far on the tour?
Trisha: Since I'm not performing every show, it's pretty hard to say what my favorite theatre has been on this tour so far. We've seen all kinds of theatres, many of them larger than any Broadway house. I remember thinking that the Academy of Music in Philadelphia was just breath-taking. What a gorgeous space to perform in. The Hobby Center in Houston will always be on my favorites list. They have a beautiful facility,  good people, and performing there in the past has always been a joy. The Pantages Theatre in Los Angeles was also a nice highlight for me, being my first LA experience.
I've thoroughly enjoyed being in cities like Tempe, Chicago, Minneapolis, San Diego, and each audience is different with every show, every night. No matter how they enjoy and/or participate in the show – or not,  in the end they always show genuine appreciation for what they just saw on stage. If I had to say what city has had the best audience, I'd have to say Los Angeles. You could really feel the love and support from those audiences, without a struggle. They were lively, engaged, active, and I was amazed to see the ongoing line up of fans outside the theatre every night.
Joel: What are your favorite scenes to perform in Rent?
Trisha: There are so many parts of the show that I love performing, some of which include "Seasons of Love", "Without You", and "Take Me or Leave Me". One of my favorite moments to watch in Rent is "I'll Cover You" between Angel and Collins. I always get a surge of emotion when I see Justin Johnston and Michael McElroy perform together. Besides being amazingly talented people, their honesty on stage grabs my attention, and I thoroughly enjoy watching them live out Jonathan's words, which I believe encompass everything loving someone is about.  Performing in the fight scene after "Halloween" is another big one for me. The height of emotion that runs through every character in that scene is so deep and powerful. Above everything, singing "Goodbye Love" as Mimi has got to be the hardest and most emotional moment in the show for me. Not only is she losing yet another person she loves (Roger), but she's losing herself as she gives in to her illness. She feels doomed and doesn't have the strength to fight anymore. Even thinking about it makes me cry.
Joel: What advice can you give high school actresses who are preparing to perform the roles of Mimi and Joanne for their Rent: School Edition production?
Trisha: It can be difficult for a young actor to deeply relate to the complexities of the characters in Rent or in any adult-life play. Life experience is a great tool when it comes to acting. Having as much information as possible about each character is vital to the experience. Doing the research and having a great imagination can go a long way for a young actor. My advice to any young person preparing to play Mimi and Joanne would be to draw connections from those experiences and people that they already know. Try to find that thing inside of you that somehow relates to the same desires of these characters who need to survive, want to get out, or simply feel loved. Trying your best to understand the character's situation, knowing their goals, hopes, obstacles, and true objectives are key. And, of course, have fun doing it!
Joel: Why is this production of Rent so special?
Trisha: This tour of Rent is special because it's a mix of the great original company members, Anthony Rapp and Adam Pascal, with a few newbies and a very strong group of fantastic actors who've done the show and graced the stage at the Nederlander theatre over the years. It's like the Rent cast "Mega-mix". Every member of this cast is of high caliber and displays amazing work on stage.
Joel: How long are you committed to the tour?
Trisha: So far, I am committed to doing Rent: The Broadway Tour in its entirety, through August 30th and extending beyond. Is it March 2010?? The dates keep moving forward!
Joel: What do you want audiences to take with them when they leave The Warner Theatre after seeing Rent?
Trisha: My hope is that audiences leaving the Warner theatre in DC walk away feeling enormous love, strength, and encouragement to live their best life, no matter what their circumstances.
Joel: Why is Rent still so popular?
Trish: Rent is so popular even 13 years after opening on Broadway because it possesses universal appeal. Not only does Rent have a great score that you can laugh, cry, sing and rock out to, it captures the reality of people fighting disease. It has strong themes of love, survival, and longing for happiness. People struggling with identity, with sexuality, doing whatever they can to survive from day to day, people who long to live.
The youth of today are not so far removed from the reality that many adults face. Even if one didn't live through the height of the AIDS epidemic, there are still other serious diseases to fight, like Cancer for instance, where loved ones are lost, affecting all kinds of people, even today's youth.
People still love Rent because Jonathan Larson's words and music speak endless truth for so many of us:
"There's only now, there's only here. Give in to love or live in fear. No other path, no other way. No day but today…"
Words to live by.
Rent: the Broadway Tour is at the Warner Theatre until May 31st. More details here.
Related:
Joel's interview with Telly Leung
Watch a video of Telly Leung being transformed into Angel in Newark, New Jersey, after receiving a call that he would have to step into the role because Justin Johnston was ill, and listen to the understudies and swings, including Trisha Jeffrey, talk about the various roles they understudy and swing. Cick here.