My week began with high hopes, for Olympia Dukakis is back on the boards and that's always good news. Her play is The Singing Forest by Craig Lucas. In support is 24 year old Jonathan Groff who made a splash in Spring Awakening and again in Hair last summer in Central Park. Mark Blum is in the cast too, and I always look forward to seeing this actor whom I've admired since he was a juvenile; he's now emerging into a fine character actor. My own most recent acting gig was in Craig Lucas'  Prelude to a Kiss and I've been a fan of his ever since Blue Window, The Dying Gaul and his film Longtime Companion. Director Mark Wing-Davey has had several Drama Desk and Lucille Lortel Award nominations, so you can see why I anticipated a special evening.
I discovered on arriving at the Public Theatre on the night, that the play was  in three acts and would last just under three hours, somewhat dismaying but hey –  Long Day's Journey Into Night had certainly paved the way for more of the same.  On opening the Playbill I realized the Lucas play was set in New York in 2000, in Vienna in the 1930s and in London in 1940. Nine actors would be playing some seventeen characters.  Eight o'clock came, and we were off.
By eleven I was stuffed to the gills, and punch drunk. One of the highlights of the long evening was the first intermission, during which five of us in the audience (each unknown to the other) tried  to figure out who was playing whose daughter, son, lover, ex-lover, husband, professor.  It was a heated discussion, and in some cases we could not agree.  And that was only from the first act, the "New York Act".  Once we got to Vienna in the second act, things grew more complicated, particularly as the play occasionally jumped back to 1940 in New York, thus forcing Mr. Groff, for example, to change clothes, hairdo, and characterization from Gray Korankyi to Walter Rieman, and back again. Ms. Dukakis was the only actor fortunate enough  to play only one character, a lady named Loë Rieman, mother to Mr. Groff's Walter. I honestly don't remember if she was mother or wife to Mark Blum's Martin Reiman, and at one point the actress Susan Pourfar who'd been playing a lady named Beth Adler turned into Young Loë, and for a while she and poor Olympia had to say the same lines at the same time. I tell you it was bizarre.
I have a feeling Mr. Lucas had been storing this one up for a long time, for it included enough material to populate three or four plays. Even Sigmund Freud popped up in the Vienna section, and though the third act was announced as "London" in the program, it turned out the Freuds were still in Vienna at the top of Act III. The set, designed (or more accurately, constructed) by John McDermott, was about a mile wide, stretching from wall to wall of the Public's Martinson Theatre. It did quadruple service, housing everything from the streets of various cities, to the homes and offices of these folks in three different decades. The Stage Manager, Zac Chandler, had an impossible job, as some scenes were all of three lines long, and the lighting cues were endless. At one point, lights came up on a stagehand who resembled a startled fawn before he fled.   If I've thoroughly confused you, well – why should you be spared? I'm glad Mr. Lucas got this one out of his system – I'm only sorry that this fine cast is stuck for a while playing out the run that the Public's subscribers will give it. If you feel very brave, are known to be curious, and want to support a talented writer in one of his lapses, c'mon up. I don't think you'll have difficulty in acquiring seats.
The Singing Forest closed May 17th.
——————
9 To 5 The Musical was a step up. But only in that it was beautifully cast, zippily staged, and written by Patricia Resnick and Dolly Parton, who wrote the film on which it is based. It was a better film than musical, but as a stage piece it is good middle brow fare, if not as  startling in its tale of women in revolt against male chauvinism as in its movie debut in 1980.  The Parton score, which expands from  the movie's title song,  is adequate and occasionally better than that.  But though she is a fine country writer, this time out she is writing for iconic characters who may not be very deeply probed, but there are genuinely moving plot points for each of them, and the songs that are intended to explore these points, do so very tentatively.
One secretary, Violet, has a then-impossible dream of becoming CEO of a company, the first woman in the land to do so.  When she has a musical fantasy about just that, what does she sing? "I'm One of the Boys", which is pretty much antithetical to all she's been talking about. Nevertheless, with a delicious Allison Janney all dolled up in white tie and tails dancing (well, moving gracefully) before a dozen or so gents, she has herself a winner despite the triteness of the music and lyrics.  Violet, an embittered widow with a young son, afraid to let love into her life a second time, says to her younger suitor, "I'm a one man woman, and I've had my one man." He presses further, sings "Let Love Grow" and just because Ms. Janney is a bigger name than Andy Karl, who plays her suitor, she joins him in the second chorus, though two minutes earlier she had been firm in saying "No, not again."
The best number Parton has written is for the character she played herself in the movie.  The role is "Doralee" and an adorable double has been found in  Megan Hilty who gets every laugh and every tear this sweet character deserves. The song is "Backwoods Barbie" and its lyric makes clear that its author is in familiar territory. It's funny and it lands big for Ms. Hilty.  "Judy", the third of the office workers who bond in revolting against their arrogant  and hateful boss, has to wait until the show is almost over to get a number of her own, and in "Get Out and Stay Out" she does get to tell her own husband, a philanderer and a lout, well – you get it. The problem is all of these numbers are sort of by the numbers; predictable, soothing, perfectly stageworthy but uninspired.
The villain of the piece, boss Franklin Hart, Jr. has the perfect actor inhabiting him – Mark Kudisch who combines leading man good looks with a sense of the ridiculous that allows him to hang in mid air, be boiled in oil (offstage) while strung up on a gigantic office pencil, to fall over backwards every time he moves in his executive chair. He's got a foul mouth as well and tosses a few zingers our way that actually drew boos and groans. He's one of those rats you love to hate, and when the actor who plays him, if he's Mark Kudisch, takes a curtain call, you cheer. As you do for Allison Janney,  Megan Hilty and Stephanie J. Block, the three gifted ladies playing his adversaries.
For the rest, I kept thinking of how much more original was the Burt Bacharach score for Promises, Promises which is dealing with very much the same premise – 1960s office life in which women were "girls", and men were male chauvinists dressed in gray flannel suits.
In 9 To 5, the Kudisch character makes passes at just about every curvy female  in his office – he doesn't even have the grace to do it in an apartment.  And though the story of these three women and their plan to revenge is fun to follow, the conclusion is wrapped up in the same way that How to Succeed in Business without Really Trying (another musical set in an office) did.  A white knight appears at the very last moment to change the ending, to get the bad guy and send the heroines and the family audience home happy. But How to Succeed was a cartoon/fable from the getgo, and 9 to 5 purports to be on the level, which is why the former is a classic and the latter is run-of-the-mill.
I had a good time; it's a very amiable musical, and if you don't go expecting a classic, if you don't mind that it's not likely to be revived in 20 years, if you're in the mood for a first class production of a middle class musical with a happy (though impossible) ending, this is it.  I don't quite see how Rock of Ages beat it out for a Tony nomination, for its over-all polish and cast and production certainly entitled it to one. I suppose it's because How to Succeed and Promises, Promises were originals set in their own time when they were produced. 9 to 5 has the slightly musty aroma of revival because, for it work at all, it must take place in the distant pre-feminist past. You have my permission to forget everything I've said and come on up and have yourself a good time. Just leave your intellect in the lobby, and let's face it, we all love Dolly Parton even if she isn't quite in the league with Frank Loesser . After all, he couldn't touch her when it came to songs about country matters.
9 to 5 is enjoying an open run at the Marquis Theatre, 1535 Broadway, NYC. 
—————
I conclude this piece with a return to the absolutely delightful The Norman Conquests, this time to Table Manners, the dining room part of the trilogy by Alan Ayckbourn.  Once again, Norman, his wife Ruth, his sister-in-law Annie, his brother-in-law Reg and Reg's wife Sarah and the good vet next door Tom, are all still untangling themselves from the mess that was created when Norman invited Annie away for a 'dirty weekend' in East Grinstead, the grubby little village which was the best he could come up with when Hastings had no room for them.
[ft_amazon ibn="0802131344″ align="right"]
I'm going to skip Round and Round the Garden, the third play only because I am so familiar with this material, and the season's end has brought a mountain of new works for me to cover. But I urge you to plan a Saturday in New York, when you can see all three plays in one day!  You don't need to see all three; each is complete in itself. But that's like saying a slice of pizza is fun, but wouldn't a lovely whole pie make a Saturday truly memorable?  Anyway, hats off again to Matthew Warchus, who's directed all three of these Ayckbourn comedies PLUS God of Carnage and Boeing Boeing all in one season.  And, of course, to the remarkable sextet of actors who are delivering Ayckbourn's six characters on a silver platter, complete with all their complexities.  Great theatre.
The Norman Conquests plays at the Circle in the Square Theater, 1633 Broadway, NYC, where it is due to close July 26th.
Until next time, enjoy the weather. But go to the theatre. There is so much good stuff around.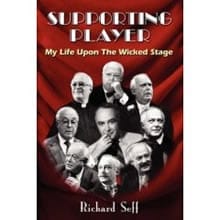 Richard Seff is author of Supporting Player: My Life Upon the Wicked Stage celebrating his lifetime on stage and behind the scenes, available through online booksellers, including Amazon.com.
Richard Seff chats with Joel Markowitz: