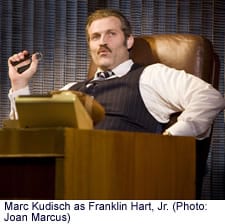 He's the guy audiences love to hate, and this year, he's earned a Tony Award nomination as the lying, sexist, bigot Franklin Hart, Jr. in 9 to 5: The Musical. Marc Kudisch is any producer's  go-to guy for seductive bad guys; he's played the snake in Roundabout's revival of The Apple  Tree, and the devil who turns three lonely women into  a trio of beautiful high flying witches in Signature Theatre's Witches of Eastwick.  This time, he's getting his comeuppance as the predatory boss in the Dolly Parton musicalized version  of the popular 1980 movie.
Joel Markowitz sat down with Marc Kudisch in his dressing room at the Marquis Theatre after  the May 24th matinee performance, to talk about why he loves playing Franklin Hart, Jr. "One of the worst bosses on the face of the planet", the journey of the show from LA to Broadway, and working with Dolly Parton and how he handles the physical demands of getting hog-tied 8 times a week.
Marc takes us through the evolution of the play from its first reads with Alice Ripley and Tracey Ullman on board, through the show's first production in LA.  "At first we were just putting the film on stage. There we discovered how to go beyond the film."  Marc  talks about his good friend composer Michael John LaChiusa, whose two musicals Giant and See What I Wanna See are playing at Signature Theatre now. Marc starred in See What I Wanna See in NYC and was involved in the first reading with Michael John and read the part that John Dossett plays in the SIgnature production.
Which leads him to think about the significance of Signature Theatre winning the Tony Award for Best Regional Theatre this year on Signature's artistic director, Eric Schaeffer "He's brilliant!" and DC as a theatre town. "Signature may be the youngest theatre company to win this award. That's one hell of an accomplishment. DC is a great theatre scene. DC audiences are smart, and DC has the creative environment to nurture the works that NYC audiences will eventually see", he says.
Marc is hopeful his next Broadway show will be a new adaptation of the Meredith Willson musical The Unsinkable Molly Brown. Now in development, he plays Johnny "Leadville" Brown to Kerry O'Malley's Molly. "I'll give him a little edge." he promises.