August Wilson accomplished miracles when he completed his 10 play cycle covering the African American experience over the 20th century. Joe Turner's Come and Gone is set in Wilson's familiar boarding house in Pittsburgh 1911. Joe Turner won the New York Drama Critics' Prize in 1988, the year of its original Broadway production. Several actors in its company won other awards, as did the director. So it comes to the Belasco now as a venerable and highly respected work. Most of the Wilson plays have found resistance to long runs on Broadway, and this one was no exception. – its original New York run was just 3 months.  I suspect that will happen again this time out, for plays of this sort, which combine the naturalism of Fences with the poetic dramaturgy of Joe Turner usually have difficulty in reaching a crossover audience. But no matter – those who choose to support it will have, if nothing else, an informative time. Personally, I felt more informed than transported, more interested than entertained or moved, more perturbed by its occasional artistic pretensions.
Mr. Sher seems to like his scenery to disappear on cue, and it was sometimes difficult to remember we were in a boarding house as the walls and windows kept flying in and out, up and down.) All in all though, because of the quality of the writing (though it badly needs editing) and the excellence of the acting, I would call it an absorbing and nourishing theatre evening .
It also attracts attention because it is the first play of August Wilson's to have a white director..Bartlett Sher, Award winner or nominee for Awake and Sing!, South Pacific and The Light in the Piazza at Lincoln Center, has that distinction, and he's cast this production superbly, from top to bottom. I'm proud that one of its members, Roger Robinson, playing the vivid role of Bynum Walker, has already won the award I sponsor through the administration of Actors' Equity, [the Richard Seff Award] and last night he won a Tony for his performance. His colleagues, ten of them, bring diversity, imagination, great power and in some cases, great tenderness to the characters Wilson has created for them. The play has humor, and certain mythic qualities as it reaches for the stars in its climactic monologues. There is the insertion of what was to me an irrelevant song and dance invoking African words, music and choreography. It's called "Juba" and it's a call-up of spirits. It didn't seem to spring from any need within the play, and the two speeches that followed it would seem to have "fortissimo" written in the stage directions, for they were played at full throttle.
August Wilson introduced theatre to an entire generation of black theatre goers. We'd had Anna Lucasta and Native Son and A Raisin in the Sun, Purlie (both play and musical), Jamaica, The Wiz, Green Pastures, The Emperor Jones, Ain't Misbehavin', Sophisticated Ladies, Carmen Jones, others, but they came one at a time, were mostly musicals and were not able to grab a constituency large enough to survive until the next play of interest came along. Wilson supplied ten plays, and I do believe black audiences began to feel included in the Broadway scene. The Wilson plays attracted a larger white audience too, and blacks began to show up at plays by white authors in larger numbers than pre-Wilson. So for that alone, we owe this gifted writer a huge debt. I think in time he'd have allowed cuts to be made, for his plays are hurt by his over-extensions. The monologues which inhabit all of them are interesting, sometimes eloquent, but more often unfocused and cluttered.
I recommend Joe Turner to those of you who relish good theatre even when it is flawed. I'd rather have a smattering of magic than a full evening of vanilla (Legally Blonde, 9 to 5, The Wedding Singer). See Joe Turner's Come and Gone and stretch. I'm glad I did.
Click here for an audio slide show of  a monologue from Joe Turner by Tony winner Roger Robinson.
Joe Turner's Come and Gone is at the Belasco Theatre, 111 West 44th St, NYC.   
———–
I can only sympathize with Matthew Broderick for having chosen to come back to Broadway in a role to which he's simply not suited. I'm speaking of "Philip", the philologist, in Christopher Hampton's The Philanthropist, which is currently on, courtesy of the Roundabout Theatre. Broderick has delighted me onstage from his very beginnings in Torch Song Trilogy in 1982 when he was barely twenty. His teaming up with Nathan Lane in The Producers put the two of them right up there with Gaxton and Moore, Clark and McCullough, Wheeler and Woolsey and other clowning doubles of renown. On his own he achieved star status in two of the Neil Simon trio of "B.B." plays, playing the young Simon in both of them to comic perfection. He more than held his own in playing the Robert Morse role in the revival of How To Succeed In Business which informed us that he could sing and dance as well as lob out the comedy material.
His current vehicle is not his first bad choice – Taller Than A Dwarf and Night Must Fall were flops, but the Lunts and Helen Hayes had a flop now and then, so he's remained a star through the murky days too. But this latest attempt at stretching into a genuine character actor of range earns my respect only because any artist should be allowed to stretch and grow. My advice would be to try not to do it in the spotlight in the center ring, which is Broadway. There is something quintessentially American about the basic Broderick, and in The Philanthropist he's trying to convince us he's a very British egghead with no social skills whatever, a man who is 21st century step brother to "Alceste" in Moliere's masterpiece The Misanthrope, who tells everyone the truth and makes everyone miserable. Hampton's "Philip" is a sponge who passively absorbs those around him, then shreds them with his blunt and judgemental comments about what they've just said. Lurching about the stage, dressing in not very smart cardigans, having an unsuccessful go at a British accent, Broderick simply cannot hold this intellectual wordgame of a play together. He has some decent support too. Under David Grindley's direction (his second crack at it; with Simon Russell Beale in the lead at London's Donmar Warehouse he had a success) the likes of Anna Madeley (the only import from London), Steven Weber, Jonathan Cake and others manage to land on both feet. I was particularly impressed by Weber, for he is as American at the core as is Broderick, but he managed to drop all that, and came up with a lively Brit as Philip's best buddy. But with Broderick's take on his character there was no way to believe that his live-in girlfriend (Madeley) and a guest at a dinner party (Jennifer Mudge) would both want him for bedmate. Simon Russell Beale is not exactly a hottie, but one hears his "Philip" was beguiling even at his most maddening. I remain loyal Mr. Broderick, but please sir, let's get you back to your roots – your limbs are not long enough to reach for the sky. Anyone for George Kelly's The Show Off or Merton of the Movies?
The Philanthropist plays at the American Airlines Theatre, 227 W 42nd St, NYC thru June 28th.
————

The warmest, most entertaining social event of the theatre season in New York is the annual Theatre World Award Show. Only guests of the host and the winners are invited, and the afternoon resembles nothing more than a happy get together of the enormous family which is the theatrical community on and off Broadway. It tops that other gala occasion, the Drama League luncheon, only in that there are no agents, producers or backers present except those who want to cheer those they support. There is no sense of competition, for these 12 actors who've already been chosen are those who gave the best debut performances of the season just ending. As many of these neophytes in later years turn out to be blazing stars, the list of presenters (all former winners) is impressive, and yesterday [June 2nd]we had Kristin Chenowith, Craig Bierko, Jane Houdyshell, John Tartaglia, Harriet Walter (the current Elizabeth of Mary of Scotland,) Tovah Feldshuh, Andrea Martin and Dylan Baker among them.
The incredible host Peter Filichia keeps the three hour event rolling along, and manages to find witty and pithy and informative comments on everyone and everything. The Tony Awards would do well to use him as host on their much drearier event. There's even some musical entertainment thrown in for good measure. Ann Hampton Callaway sang a song, composed on the spot, using phrases thrown at her from the audience. She had to come with a ditty which used such interesting lyrics as "Obama", "Mayor Bloomberg", "West Side Story", "The Tonys", "Is it going to rain?", "how old is Angela Lansbury?" and the like. She did it, finished it, resolved the final chord, and got herself a standing ovation. Of course on the Tony Show, that would probably have lowered the ratings by a point or two (too many inside jokes,) but among the theatrical community, there were cheers.
The honorees included the three lads who share the role of Billy Elliot, a tiny lady called Susan Louise O'Connor who plays the tiny maid in Blithe Spirit, Josefina Scaglione, whom some of you saw play Maria in West Side Story during its D.C. tryout, Colin Hanks (son of Tom, but very much his own man) who was so good in 33 Variations, Haydn Gwynne, who has recreated her original London performance as the ballet teacher in Billy Elliot. It included all six of the character actors in The Norman Conquests, who said Broadway had exceeded their wildest dreams in terms of acceptance, acclaim, pure joy for all of them. Another award went to the gifted young Josh Grisetti, whose performance I told you about in Enter Laughing (a triumph so complete it landed him the lead in the revivals of Brighton Beach Memoirs and Broadway Bound which are Broadway bound come autumn.) The oldest debutante was Geoffrey Rush, for his magnificent turn in Ionesco's Exit the King. He was introduced by Andrea Martin, who plays his servant in the play, and the two of them should take their act on the road; the banter was hilarious, as Ms. Martin told us how bored she was with all of Mr. Rush's award winning (she claimed this was his 27th this season). One can't help but wish, on these occasions, that family life could be universally as convivial as it is in the Drama League and the Theatre World.
———-
I'm off to Ithaca tomorrow to share in the opening weekend festivities at the Hangar Theatre, now under the artistic direction of Peter Flynn. The play is Dirty Blonde and I'll tell you all about it next time out.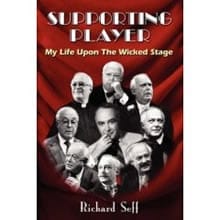 Richard Seff is author of Supporting Player: My Life Upon the Wicked Stage celebrating his lifetime on stage and behind the scenes, available through online booksellers, including Amazon.com.
Richard Seff chats with Joel Markowitz: