Technically, New York's new season begins on June 1, so mine began with a bang. I had no idea what to expect of Next Fall, a Naked Angels production at the small Peter Jay Sharp Theatre . I'd heard of Geoffrey Nauffts (the playwright) but only as an actor. The program told us this was his first produced work as writer for the stage, but he's been associated with Naked Angels for 22 years, and has been its artistic director since the fall of 2007.  I'd worked with Maddie Corman, one of the six featured players in the cast of Next Fall (I was the Old Man who exchanged souls with her via just one kiss in Prelude to a Kiss). I'd known Cotter Smith's excellent work at Circle Rep, but that was back in the 1980s and 90s. I knew no one else connected with this production, but as always I sat me down with high hopes but not much else.
As the lights hit Wilson Chin's imaginative and multi-purpose set, as Patrick Breen as "Adam" and Maddie Corman as "Holly" began to let us in to their lives, I was intrigued; I wanted to know them better. A flip forward in time introduced Sean Dugan as "Brandon" and Patrick Heusinger as "Luke". Relationships began to be suggested, but as in all early days more questions were posed than answers were given. In due time it was clear that Adam  would save Luke's life, by administering the Heimlich maneuver in a restaurant, and from small beginnings, fascinating plays are born.  Luke and Adam begin a relationship, which is odd because Luke is a Christian, a devout one and Adam is an atheist. They are drawn to each other and their diametrically opposed religious views make for amusing and insightful exchanges through the rest of the play. Holly is explored as Adam's good friend, Brandon is mysteriously silent until we realize he had been in love with Luke and deeply resents Adam's hold on him. Luke's parents are a rough and tumble macho male-ditzy wife couple, but there's much more to them than that. Put the six together, expose them to each other, turn on the blender, and you've got yourself a fresh and quite remarkable first play. Sheryl Kaller, a director also new to me, cast the play impeccably and managed to make a cohesive whole of this lovely ensemble play centered around the two men who tell you, if you didn't already know, what love is all about.
The quality and depth of the writing helped, of course, but the actors poked and probed and delivered characterizations that were rich and often surprising. Cotter Smith's "Butch" for example, first appearing as the macho male father of a gay son – seemingly so frightening that neither the word nor the thought is ever mentioned – is written and played as a very complicatedand ultimately deeply moving man who is stuck with his limitations until he faces how much he loves his son, how much he realizes his inability to face that until it's almost too late. Connie Ray, as the boy's mother, finds much in the material that allows her to turn a submissive wife into a tender and loving mother. Maddie Corman plums the tenderness and care inherent in Holly. Sean Dugan is remarkable as the repressed rejected lover. But it's Patrick Breen and Patrick Heusinger who make the central couple a deeply probed pair who triumph in the end, despite the seemingly unbeatable circumstances with which they must deal.
This is first rate writing, acting and direction that make Next Fall a play you must see, if not during its limited New York run, then wherever you find it, though this company, under this director, will be a tough act to follow. As I said, this was one of those enriching surprise visits to theatre, and an auspicious beginning to the 2009-2010 season for me.
Next Fall plays thru July 5 at the Peter Jay Sharp Theatre 416 West 42nd St, NYC. 
———-
I guess it's all right to take you to Ithaca, New York with me, for technically it comes under "New York Theatre Buzz". A bit off the main stream, I went up to Cornell University territory on June 5th to have a look at the Hangar Theatre which has a new artistic director in Peter Flynn. He directed a workshop of a musical for which I wrote the book, and I'd seen several other musicals he'd directed off Broadway, in stock, in workshop, but he opened the Hangar '09 season with Dirty Blonde, Claudia Shear's entertaining play about the one, the only Mae West. It's a clever piece in which one actress plays Mae and a woman called Jo, who is trying to discover the inner Mae in herself. By that I mean the free and independent, "I gotta be me" Mae, as Jo skims through life and a relationship with a man who seems to be able only to be her friend, not her soulmate.
Kevin Corolan, who covered Kevin Chamberlin in the role during its New York run, plays Jo's man Charlie and other characters as well in this imaginative examination of Mae West and a plainer Jane as each of them emerges from a voyage of discovery that is a joy to watch. Corolan is first rate, tender and tentative one moment (in his scenes with Jo), brassy and brave when in the company of his fantasy love Mae West. Joe Kinosian completes the cast of three, as piano man and general dogboy.
Emily Skinner, who came to prominence as half of the sister act in Side Show on Broadway, for which she was Tony nominated, brings her remarkable voice and considerable talent to the very first blonde bombshell who took about 40 years to discover her own voice, but when she did, she rode the rapids on Broadway and in Hollywood, to become for a time the highest paid actress on the silver screen, the one who saved Paramount Pictures from bankruptcy in the early 1930s.She was also the dame who had the good taste to push a young Cary Grant, under contract to Paramount, from obscurity into stardom by casting  him opposite her in She Done Him Wrong and I'm No Angel, both released in 1933. She's reported to have said, after seeing him on the Paramount lot, "If he can speak, I'll have him."  We're dealing with a large character here, and under Flynn's fluid and beautifully paced direction, she's up there in Skinner's very capable hands (and a couple of other interesting accoutrements).
Dirty Blonde is very much a play, but it includes piano music, a couple of ditties sung by the inimitable Ms. Skinner as the inimitable Ms. West, some riotous costumes which culminate in the best ensemble since Dolly Levi got all dolled up to come down those stairs in the show that shouted "Hello!" to her.
The Hangar Theatre audience at the matinée I attended, was wildly enthusiastic. I watched as Flynn greeted his flock, much as a minister does at the end of a service, and the raves they were tossing at him indicate he's in for a happy time in this soon-to-be-completely renovated playhouse on one of those grassy green hills for which Ithaca is justly famous. The entire two day's jaunt started with a very comfortable ride on something called C2C Bus which happened to depart from around the corner from my New York apartment, and it deposited me smack in the middle of Ithaca after a four hour drive through magnificent New York scenery.  I had a fine tour of the Cornell campus as well, but the highlight was the new Hangar and its delightful first offering. Once on this Island, Betrayal by Harold Pinter, November by David Mamet and Rent complete the season in late August. I can't speak for you, but it all made me kind of want to rent a summer chalet in or near one of those finger lakes I kept passing as I returned to Gotham.
Dirty Blonde has closed.
———–
Lincoln Center Theatre has established a new program called LCT3. It's devoted to producing work by new artists and developing new audiences. Stunning, a play by David Adjmi, is the current offering, and it's been given a smashing production in the small Duke Theatre on West 42nd Street for a limited run. [ed's note: Woolly Mammoth's production of Stunning won the Helen Hayes Outstanding New Play Award this year for Mr. Adjmi.].
I was delighted to find a packed house attending, proving there is still interest in good new play material, with or without star names attached. Stunning is the tale of Lily, a teenager from a Syrian-Jewish family, living in the Syrian-Jewish section of Brooklyn in a beautiful new house, with lots of clothes and jewelry. She has just married a guy – Ike – who is no charmer, but he's really old – like, 40 – and he's rich. She has good friends (though two that we meet, her married sister and another girlfriend, are loud, crude, and monstrously airheaded) . When she hires Blanche, a black housekeeper, her sheltered world opens up in ways she could never have imagined.  The really good news about this play is that it takes us into a world rarely if ever explored in theatre before, and Mr. Adjmi's wit and insight makes the visit interesting, informative and entertaining. Charlayne Woodard as Blanche makes mincemeat of macho Ike (Danny Mastrogiorgio) before the evening is over, and helps Lily (Cristin Milioto) to grow, to stretch, to find the decent and attractive soul within her.
Director Anne Kaufman, who's done good work at the Vineyard, at New York Theatre Workshop and other off/off B'way venues, keeps things moving, and brings everything in Mr. Adjmi's script into focus. A worthwhile visit to the Duke, and another feather in Lincoln Center's cap.
———-
I finished my theatre week with the Saturday matinée (June 13) of Everyday Rapture, the virtually one-woman musical biography of Broadway leading lady Sherie Rene Scott. She wrote the book with Dick Scanlan, and it's a corker. She calls herself a 'mini-Mennonite' (second cousin to the Amish), from the middle of Kansas, from a town "whose population is 348,000 – churches." Her musical play tells us she lives with a constant battle between her very strong faith, and the other half of her, the part that says "the world was created for me." Using a large trunk of tunes from the jukebox world, she manages to convey her message with material ranging from a series of Judy Garland standards to "Beautiful Day In the Neighborhood" from Mr. Rogers' television show for kids. In between, we hear a dozen oldies including "Killing Me Softly", "Hang Onto My Rainbow", and one song from The Weight whose lyrics I simply could not extract. You know me and my problem with amplification. Though not bothersome in this case, it did make lyrics disappear when anything with more than one voice was coming at me. I asked the young lady sitting next to me if it didn't bother her that the microphones distorted all lyrics on trios and duets, and she answered very simply, "No, I either know them in advance or I go out and listen to the CD."  So that fixed me.  What she would do with a new score, one that hasn't yet been recorded, I don't know. I guess she'd just wait for what is now called "the soundtrack", what used to be called "the original cast album."  My only choice, if I'm to go on enjoying musicals onstage, is to go with the flow. So you won't be hearing much from me in future (as you have in the past) about the Sound Revolution in musical theatre. I hereby surrender.
Ms. Scott is wise, as is her director Michael Mayer, to allow Lindsay Mendez and Betsy Wolfe to join her as backup singers. They have a sense of fun about them, and excellent voices which blend with her own. There is also a young man (age: fifteen) whom she plucks from the audience late in the run of this ninety minute one-acter, whom she sticks behind a large tv screen, and he mouths her next few numbers with hilarious pantomime. When he's released from the screen, he joins the backup singers in one number that raises the roof.
The lad's name is Eamon Foley, he had a good role in the late musical 13, and he'll be heard from again. Goofy, toothy, with great charisma, he has the face of a clown and a voice (I'm not sure if it's changed yet) that can belt. He's fun, and lends variety to the last twenty minutes.  The show closed June 14th, but it did so well, I'm certain there will be further bookings when Ms. Scott's schedule permits. Keep an eye out for it.
Everyday Rapture has closed.
————
June is bustin' out all over, mostly with rain. But summer is a comin' in, and we'll see what comes our way on stages about town. I'll keep you posted.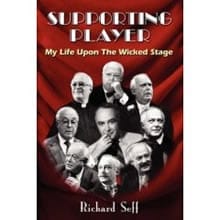 Richard Seff is author of Supporting Player: My Life Upon the Wicked Stage celebrating his lifetime on stage and behind the scenes, available through online booksellers, including Amazon.com.
Richard Seff chats with Joel Markowitz: