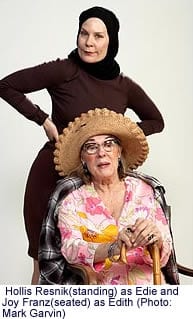 I'm off for a theatre weekend in the "City of Brotherly Love" with DCTS' editor Lorraine Treanor to see three classic musicals: Grey Gardens, Forbidden Broadway's Greatest Hits and The Producers at Walnut Street Theatre, and a new one – Avenue X, an a capella musical at the 11th Hour Theatre Company.
To begin our coverage, I had the opportunity to interview three women from The Philadelphia Theatre Company's Grey Gardens:  its co-stars Joy Franz and Hollis Resnik and director Lisa Peterson.
Lisa Peterson on directing the Philadelphia Theatre Company's Grey Gardens:
Washington and Baltimore theatregoers have witnessed Lisa Peterson's directorial magic at two area theatres. She directed several plays, including Tony Kushner's Slavs! at Baltimore's Center Stage. For Arena Stage, she directed The Rainmaker in March, 2006, which won Johanna Day a Helen Hayes Award for her performance as Lizzie and returns to Arena this Fall to direct The Quality of Life, by Jane Anderson.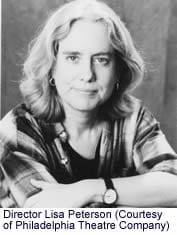 Joel: From a director's point of view, what is Grey Gardens about?
Lisa: For me, Grey Gardens is really about home and the world, and how difficult it can be to balance the two. The Edies are trapped in their own lives, longing in different ways to escape, but unable to figure out how to move beyond their own fears, limitations, and society's expectations. There is a very strong theme of escape in the musical, and I found myself responding very strongly to that.
Joel: When were you approached by PTC to direct their production of Grey Gardens?
Lisa: I think that Sara Garonzik asked me about directing Grey Gardens back in the Fall of 2008, after she saw my production of A Midsummer Night's Dream at Hartford Stage.
Joel: How do you like working in the Suzanne Roberts Theatre space, and did the space pose any challenges in the way you wanted to direct the show?
Lisa: It's a lovely theater, with a lot of great tools – fly loft, traps, wings, nice relationship of stage to audience. The biggest challenge with Grey Gardens was figuring out where to put the orchestra, since there is no orchestra pit at the Suzanne Roberts.
Joel: You have directed many plays in NYC including Shipwrecked by Donald Margulies at Primary Stages, Tongue of a Bird by Ellen McLaughlin at the Public Theatre, and Collected Stories at Manhattan Theatre Club. I saw these shows and you did a great job directing them.
Lisa: Thanks!  I loved all of those plays.
Joel: Have you directed musicals before, and is it more difficult to direct a musical than a play?
Lisa: I started out directing musicals, actually, and leap at the chance whenever it comes my way.  My first big break in NYC was a musical I wrote with David Bucknam, a musical adaptation of Virginia Woolf's The Waves. And a few years ago I was lucky to work with William Bolcom and Arnold Weinstein on Casino Paradise at the Prince Music Theater. Musicals are great fun to direct, because there are more collaborators involved (Music Director, Choreographer, etc), and one of my favorite things about working in the theater is the collaboration with smart, creative people.
Joel: I saw your wonderful production of Slavs! at Center Stage in Baltimore. What other shows have you directed at Center Stage, and will we see you again there in the future?
Lisa: Boy, I sure hope so. I love working at Center Stage; in fact, Irene Lewis gave me my first regional theater job there back in 1990 or so – Athol Fugard's My Children! My Africa! She's one of the best artistic directors out there, and Baltimore is just a great city.
Joel: What advice would you give to students and/or actors who are considering a career in directing in the theatre?
Lisa: Make your own work. Hook up with your friends, especially young writers your own age, and just find ways to produce that work. Don't wait around for someone to hire you, make work any way you can.
—————–
Joy Franz on playing Big Edie:
"If at first you don't succeed, try, try again!" And that's the story of veteran actress Joy Franz landing the role of Big Edie in PTC's production of Grey Gardens In this joyful interview, bubbly Joy Franz talks about working with director Lisa Peterson and her Grey Gardens co-star Hollis Resnik, and shares stories of her long and successful career, which she loves and plans to continue until her final breath. I saw Joy many times in Into the Woods, so I am so happy we had a chance to finally schmooze.
Joel: How are you enjoying playing Big Edie in Philadelphia Theatre Company's ("PTC") production of Grey Gardens?
Joy: I'm absolutely thrilled to pieces!  I'm so tickled to be doing this show, because it is one if the most ingenious shows ever written. How they incorporated the story, and Scott's music, from the documentary. It's very true to the documentary.
I originally auditioned for it to cover Big Edie for (Tony Award Winner) Mary Louise Wilson (at the Playwrights Horizons). I had said to Scott Frankel, who composed the score, and who conducted me in Into the Woods, "You should really have one person cover for both Edies. It would be a great challenge." And, of course they did, but it wasn't me!"
Then they asked me to audition for it when it moved to Broadway, to cover again. I was doing Hats!, about "Ladies in The Red Hats". We premiered it in Denver. It's a great piece. The music is by Melissa Manchester. Her songs were so gorgeous, and she was there, and I got to meet her and all the several different composers, and I think it is better than Menopuse!-The Musical. Well, I had my own role – I didn't have to cover. My mother died of breast cancer and I found her red hats, and they incorporated it into the show. I thought it was coming into Broadway – Well, not!  I get all kinds of residuals- $2 here and there.
Joel: How and when did you get the role of Big Edie?
Joy: I auditioned for it in NYC for director Lisa Peterson, who directs it brilliantly, may I add, and I got it! I was just thrilled to pieces! Ever since I saw the show, I knew I just wanted to do this role. If I was younger, I would have loved to have done Little Edie. She's on constantly during the first act and second act, and I think Hollis Resnik is fantastic!
Joel: How do you relate to Big Edie?
Joy: Being also a singer, I knew that's all I wanted to do since the fifth grade. I always sang since grade school, and wanted to be a concert singer. In high school, I did Carousel. I said, "Oh my God. It's acting and singing!" I knew from then on that's what I was going to do. And, that was the same with Big Edie.
I don't have my own daughter. I went back to my relationship with my mother, about how I wanted to get out of Missouri, and go to New York, and be on the stage.
I knew nothing was going to stop me. Marriage would be down the road, but I was going to have a singing career first.
Joel:  How did you prepare for this role?
Joy: I watched the documentaries over and over before I auditioned. Here I had all the information about the Bouviers, and knowing already about Jackie Bouvier Kennedy – having real people to study, and having all the history already.  I went online and did a lot of research, but here at PTC, the dramaturg did a lot of background research, and gave us a booklet full of information to read.
They had me come in and watch the show, and I was just blown away because it was so ingenious. I tried to pick up some of the mannerisms, her walk and some of her voice inflections. It's really about a mother and a daughter and their relationship, and what happens when they were at the top of society, and then fell to the bottom, without any kind of support from the Bouviers and her two sons. It's really quite disgusting, I think, the way they were treated.
Big Edie was really a great singer. She did several recordings. If you remember from the second documentary, her singing of "If I Love You". She was so smart. She quoted Hamlet. She was so funny, too. She was really a smart woman – they both were.
Joel: You have a great song in the second act that you sing called "Jerry Likes My Corn". Peter Filicia, who writes a column for Theatermania.com wrote in an article (I'm paraphrasing) that this is one of the best songs ever written in a musical because we learn so much about the Little Edie, Big Edie and Jerry and about their relationships. Do you agree?
Joy: He is right. It's like Sondheim – you have three different stories going on at the same time. Scott is like Sondheim, and you are only hearing from the best. In fact, the real Jerry – Jerry Torre appeared at the theatre last Friday, May 29th , and he absolutely loved it, and praised all of us!  He said to me, "You've got her walk down". She didn't walk a lot.
In this scene, Big Edie just adored Jerry. He's the son she can dote upon, because her other two sons left them high and dry, probably because they were brainwashed by the father.  Jerry said he was working for the Gettys before, and he was just fascinated by the house and everything. He was only 16 years old. He ran away from home, because he was badly treated. He knocked on the door and Big Edie latched onto him immediately. There was just something about him that she loved – the innocence. He helped them immensely. He said that when the police came to do the raid on the house, Big Edie was holding on to one of the pillars, because they were trying to take her away to a home, and they were trying to pull her away, and Jerry said, "You leave her alone!, and this is her home!" He was the one who stood up for her. He actually cleaned up that whole home, and then Jackie Onassis gave some money and helped them. They wanted to sell her house, and she wasn't going to leave that house for nothing!
Joel: Is your house clean, and do you have any cats?
Joy: Yes. I have a cat. I've had several cats in my life actually. So, now I have a dog and a cat, and they are great for each other. My house is very clean. I happen to be a little fanatic about that. I can understand about being in a mess, too. I've allowed that to happen a couple of times in my life.
Joel: Why do you think Little Edie keeps coming home, when she has so many opportunities to strike out on her own?
Joy: She was so browbeaten by her father. And she didn't have that core strengt and confidence in herself. She was actually a beautiful woman, and very smart, and when she went to New York and then her portrait was hanging in Berdorf's. Where else is she going to go? She has no money, so she comes back home to her mother, to take care of her, and provide for her. They had a great loving relationship. Little Edie adored her mother, so she really needed to come home.
Joel: Have you worked with Hollis Resnik – who plays Little Edie with you in the second act –  before?
Joy: No, but I adore her. I hope we get the opportunity to do this show in other places. The chemistry was there between us from the start, because she said to me,
"I saw you do the Witch in Into the Woods", and she was very flattering to me.
I only got to do the Witch a couple of times.
Joel: Did you replace Bernadette Peters?
Joy: I didn't go on when Bernadette was there, Bernadette didn't miss! It was for Nancy Dusseault. She replaced Bernadette. Nancy happened to break her arm. I happened to be in California on vacation. I told Betsy Joslyn, who was Nancy's understudy, "If you ever get hurt, you are not to allow anyone but me to go on as the Witch". I was the first cover, and Marin Mazzie, who played Rapunzel, was the second cover.
Joel: Why did you like playing Cinderella's Stepmother?
Joy: Oh, my God! It was so much fun. Here's my story I made up when I was playing her: We needed the money you know. I have been married before- a couple of marriages, and I wanted my daughters to have money, and to marry a prince -are you kidding? I would do anything for my daughters, even if I have to cut off a toe or heel. I was even at one point – and told James Lapine- I wanted to offer my foot-to see if my foot fit in that shoe! But, he wouldn't let me do that.
Joel: What has director Lisa Peterson brought to this production of Grey Gardens, and what is her style of directing?
Joy: She has made the character relationship much more clear in this production.
The first time I saw the first act in NYC, I said, "Huh, what is going on here?" Here, you really see the way she has directed it, all the different characters and how they are all interacting, and why Little Edie is the way she is in the second act, 30 years later. You see Little Edie's relationship with her father, the husband who married Linda, who was probably his secretary. You see the interrelationships, and how strong the mother-daughter relationship is. It's on a deeper level. And designer David Zinn using a turntable, and not being so literal, and the projections – Oh, My God,  it's so powerful.
Lisa had Hollis, who had already done the show in Chicago. She is a director who trusts the actors' instincts, and chooses not to impose anything on you. She told me, "You develop and bring your own personality to Big Edie", so it's not a carbon copy of how Mary Louise Wilson portrayed it in NYC. The way she directed some of the lines, and we would discuss it and do table work, and talking about the relationships. We watched both of the documentaries together. So, I just think she is a brilliant director.
Joel: When did you first become interested in the theatre?
Joy: Oh, my Gosh! It was the most exciting thing that ever happened to me! I was doing Carousel when I was a junior in high school, and when I was getting ready to play the role of Julie, I realized it wasn't just singing anymore. I had to be an actress and a singer. And, I said, "Oh my God! This is the most thrilling thing to do", especially when Billy Bigelow died. I had tears coming down my face. After the show, my mother said, "You were singing. You had tears streaming down your face!" She was embarrassed. I told her, "My husband died. Of course I would cry!" She just didn't understand acting and the theatre. Theatre lifts peoples' spirits and, and it's a great way to teach humanity and the politics of our history.
In this role, you learn that you can have your anger, and then you love one another in the next moment, and how you learn to forgive.  I recently did Mrs. Warren's Profession in a small theatre in NYC –  The Manhattan Theatre Source. Playing Mrs. Warren  – Oh, my God! – we see how women were stuck and had no outlet to make money on their own, because it wasn't theirs to keep back in the 1800's. It wasn't until the 1900's when women won the right to vote.
Little Edie was a debutante. She was taught to be a lady, and how to marry into high society, so she wasn't trained to do anything else. It's not just women. Everyone can relate to this relationship – Fathers and sons, and fathers and daughters, because Mr. Bouvier was so hard on Little Edie. Because she was a free spirit, a Bohemian, and she was an artist. She was taught to be a lady and be quiet, and to play the piano. This goes back to many generations before her.
Joel: You have appeared in Shakespearean plays. You have also appeared in Sondheim musicals. In 1972, you appeared in the London production of Company, and then went into Pippin the same year, where you played Catherine. It was a big year for Bob Fosse, who won the Emmy, the Tony and the Oscar all in one year.
Joy: I got to do Othello, Emilia and also Desdemona's father in Indiana. I can't tell you – I had a blast!
Joel: What was it like working for Fosse?
Joy: It was very exciting! I was not the original Catherine. Jill Clayburg was the original, and then Betty Buckley followed her, and then me. I stood by for Betty Buckley, after A Little Night Music closed,  (She played Mrs. Nordstrom), and I got the cover for Catherine. And then I got to take over for Betty.
I found out that Bob Fosse and Stuart Ostrow and Fosse were holding auditions for someone to take over. I just automatically assumed that I was going to do it and get it. I called Stuart Ostrow up (I had more courage in those days and knowing him also), and I said, "Why are you having auditions?" I put him on the spot. "Because that's what I like to do!" Then I said, "Bob Fosse has never seen me do this role, so I want to audition also". He said, "Well OK! " Well, there are about ten of us and they said to me, "Why are you auditioning. You are the cover and you've been on?". I said, "That's what they want. That's how they do the business here". It was my turn to go in, and I sang the song, and Bob Fosse said, "You like to do comedy, don't you? " I said, "Yes, I do!" My interpretation was different than the other two who came before me. After I was done reading and singing, Bob Fosse said to me, "What are you doing later tonight?" I was like dumbfounded. I didn't know what to say. I kinda stood there for a second, trying to think what to say, and Stuart said, "He is asking you what you are doing later tonight."  I said, "I am doing this show unless you can get me out of it". And, they laughed. I never went out with Bob Fosse! They offered me the part. You didn't come on until the last half hour of the show, and you got to make people laugh. You got to cry, and you got to say, "Can you hold that light a minute?" I got a lot of applause. It's just a great role!
Joel: Which is your favorite role so far?
Joy: That role of Catherine is my most favorite role. The second would be the Witch in Into the Woods, and my third would be Big Edie in Grey Gardens, and the forth would be Meg Boyd, in Damn Yankees, that I got to do with Jerry Lewis in London. I did the second part of the National Tour also, which we did in Baltimore.
Joel: Why do you enjoy performing in a Sondheim musical?
Joy: Oh, my God! The most exciting thing is to work with Stephen Sondheim.  And, to know him is the biggest thrill of my life. It's been an honor to have worked in six of his shows: Into the Woods twice, Company – I got to do it  (played Susan) on Broadway and then went to London and then did the National Company, and U S Tour – and then went into A Little Night Music, where I played Mrs. Nordstrom. I then did Into the Woods and then Assassins, where I played one of the bystanders. I was supposed to be Mrs. Lincoln, but that role got cut. I was doing it at Playwrights Horizons. I was one of the bystanders who says, "I saw right away he was insane. Oh, this is my husband. We're here from Maine". (Both laugh loudly). Then I went to the  La Jolla Playhouse , where they were reworking Merrily We Roll Along, where I played several characters at that time – no specific roles, just multiple roles. And then came Into the Woods, again!  I was just so thrilled and honored again to play my role.
Joel: Tell our readers about the webidsodes Horrible People and Wainy Days.
Joy: Oh, my God! Wait 'til you watch it!  It's on YouTube, or you can go to www.mydamnchannel.com and find it there. I am on the final episode of Wainy Days.
Joel: Who do you play in Horrible People?
Joy: I play quite a horrible mother! I'm a really horrible mother! I can't wait for you to see it. There are ten episodes, and they are only five minutes each. I won't say any of the lines because I want you to see it first. I don't want to give anything away!
Joel: Stop teasing me! I promise I will see it today. You have itched my curiosity. Why do you think you have had this long career in the theatre when so many actors have had brief runs?
Joy: I haven't had any star roles. I have always been the second leads or having cameo roles, not a minor role. I always believe that this role has been written for me, like Cinderella's Stepmother. Each role, no matter how small or how big, is a very important role, an integral part of the play. Each role I get to perform is as important as the star. I feel blessed to do what I love to do more than anything else in the world . I always knew that I was given a gift from God. And, believe me, I certainly had my doubts, at times in my life, and I'd say, "Oh God! Am I supposed to be doing something else with my life?" It's something I love with all my heart and my soul. I'm very passionate about it, and I'm always very grateful. I call myself an "Eveready Battery". I always keep working and I always keep working, and I see myself working into my 90's".
Joel: can I ask you how old you are?
Joy: You can ask, but I won't answer! (BIG LAUGH!)
Joel: Ok! That's fair!
Joy: I constantly study also. I still take my voice lessons and go to acting class. I am always improving myself and keep learning, I have a positive way of looking at my life today. Whenever I have those dry spells, I always have a positive attitude, because I know that something is always around the corner.
Joel: What advice would you give young actors who are considering a career in the theatre?
Joy: If you love it, more than anything else in the world, never give up. Believe in yourself. Keep studying, trust, and keep on keeping on. You have to love it more than anything else in the world. And if you have talent, and you believe in yourself, and have that perseverance, and if you don't have any doubts, then keep trusting and you will persevere.
Joel: What do you want audiences to take away with them after they leave the Suzanne Roberts Theatre after seeing you in Grey Gardens?
Joy: I want them to have a new perspective on these two women, and to understand psychologically where they came from. These two women were walking up the aisle, and Scott Frankel who wrote the music, heard one woman saying to the other, "That Big Edie – she reminds me of your mother! And the other woman said, "Yes Vickie, just like your mother!"  That made Scott Frankel feel so great, that everyone can relate to this show on many levels, and you have a better understanding of yourself and what they went through, and what many women go through.
Hollis Resnik On Playing Edith and Little Edie:
Hollis Resnik is a singer and actress extraordinaire  Having racked up so many Jefferson Awards in her hometown in Chicago for her exceptional work in musicals and plays, it was no surprise that director Lisa Peterson lured her to Philadelphia to reprise her award-winning roles of Edith and Little Edie.
Joel: How are you enjoying your stay in Philadelphia and performing in the Suzanne Roberts Theatre?
Hollis: I love Philly and love The Philadelphia Theatre Company. The Suzanne Roberts Theatre is a beautiful theatre to play in.
Joel: This is the second production where you have played Little Edie and Edith. Before performing in the PTC production, you appeared in Northlight Theatre's production, where you won the Sarah Siddons Award. What is it about the roles of Little Edie and Edith that made you want to perform the roles again?
Hollis: Yes. I recently won the Sarah Siddons Award in Chicago for Grey Gardens. It's a
lovely honor. There is always more to discover when working on a role, plus it was with director Lisa Peterson. I really wanted to work with her.
Joel: How do you relate to Little Edie and Edith?
Hollis: I don't know how much I truly relate to these women except that we all have  unique relationships with our mothers and daughters. I totally get their creative spirits though. It made them feel so vital.
Joel: How did you prepare for the roles of Little Edie and Edith?
Hollis: I watched the documentaries over and over. I watched and studied both of them in great detail, for dialect, physical movement, just the look in their eyes. I had no voice coach in Chicago. The largest challenge was to express their truth and intimacy that is found on film onto the stage in a theatrical manner, so it would reach past the third row!
Joel: What is the most emotionally difficult scene to play for you in Grey Gardens?
Hollis: The fights with mother darling in the 2nd act are extremely difficult as well as singing "Around the World". Just maintaining my stamina for the whole emotional arc is taxing, but very rewarding.
Joel: How would you describe Lisa's style of directing?
Hollis: I love Lisa Peterson. She is very sensitive to the actor's process, has respect for the text, and the writers' intentions.
Joel: What is the best advice Lisa gave you on how to play Edith and/or Little Edie?
Hollis: She gave me the freedom to continue to explore, to be vulnerable.
Joel: You have this beautiful voice. Tell us about your vocal training.
Hollis: I always took voice lessons. My Dad was a music teacher and my Mom sang well, although not professionally.
Joel: Do you remember your first stage appearance?
Hollis: I always did a lot of community theatre when I was growing up. I was in the King and I when I was very little!
Joel: You appeared on the road in the National Tours of  Les Miserables, where you played Fantine, and then it was Mrs. Meers in Thoroughly Modern Millie,  and Muriel in Dirty Rotten Scoundrels. Did you enjoy being on the road, which tour was your favorite, and would you go on the road again if you were asked?
Hollis: I loved all the tours, and of course would go on the road again. It's wonderful to see the country.
Joel: You are from Chicago, and have performed in your hometown in many musicals, and have won 8 Joseph Jefferson Awards and 3 After Dark Awards, which included wins for your performances as Eva Peron in Evita, The Witch in Into The Woods, Charlotte in A Little Night Music, Emma in Song and Dance and for your dramatic performance as Regina in The Little Foxes. You've also played Aldonza in Man of La Mancha,  Mame, Patsy Cline, Audrey in Little Shop of Horrors, Edith Piaf, Mary Todd in Abe Lincoln in Illinois, and Blanche in A Streetcar Named Desire?
Why do you enjoy playing very assertive, strong but vulnerable women?
Hollis: I love playing complex characters. We human beings are exactly that! I loved doing The Little Foxes as the text and those family relationships were so rich. Lillian Hellman is a great writer. There is such succinct dramatic structure in her plays. And, I was just so grateful to play Blanche in A Streetcar Named Desire. Just learning that poetic text was a dream. I just kept thinking, "How does one (Tennessee Williams) write like that?"
Joel: Have you ever appeared in DC?
Hollis: I have never appeared in DC – but would love to.
Joel: Do you have a clean house, and do you have cats?
Hollis: I have a very clean house and 2 beautiful cats, who I miss very much!
Joel: How are Philadelphia audiences reacting to Grey Gardens?
Hollis: I think Philly audiences are embracing Grey Gardens. The whole town is fantastic, just great people!
Joel: You have recorded a CD –  "Make Someone Happy".
Hollis: My CD is for sale in the PTC lobby. It has a few songs on it that l love to sing. You can buy it here:
Joel: What advice would you give young actresses and singers who are considering a career in the theatre?
Hollis: Please, go for it! We need artists of all kinds in this world! The arts are a necessity and not a luxury..
Joel: Please invite DC Theatregoers to come to Philadelphia to see Grey Gardens.
Hollis: I am so grateful to be doing what I love, and to be supported  here at The Philadelphia Theatre Company with such a wonderful cast, crew and orchestra. I hope DC theatregoers will come to Philadelphia to see our production of Grey Gardens at The Philadelphia Theatre Company's in the beautiful Suzanne Roberts Theatre.
Grey Gardens plays through Sunday, June 28th at The Philadelphia Theatre Company, 480 South Broad Street in Philadelphia, PA. Call 215 985-0420 or order online.  
Related:
Watch a video of Hollis Resnik performing as Little Edie/Edith in Northlight Theatre's production of Grey Gardens.