I finally caught up with the critically acclaimed Anthony Page staging of Samuel Beckett's Waiting for Godot. Just as with Ionesco's Exit the King earlier this season, a brilliant cast, a director with a clear vision, and voila!  We have us an amazing achievement – amazing, because as you know by now, nothing happens in this play. Estragon and Vladimir are standing on "a country road, near a tree". Estragon is anxious to leave but Vladimir reminds him they cannot leave, for they are waiting for Godot. That's all Beckett tells us – but somehow he manages to give us in his two protagonists, and in Pozzo and Lucky, who drop in to stir the stew, enough complexity for us, each in his own way, to, in a sense, write our own play, fill in our own subtexts. Honestly, some seem to think of Vlad and Estragon as lovers, others as friends, others as brothers, others as two sides of the same man. Pozzo, the rhinoceros of a villain, who arrives with his slave Lucky (now there's a lot to ponder right there), bellows and rolls about on his stomach, and we can call him anything we like too — macho male, big boss, guide, symbol of perfidy in the world, whatever we like.  Nathan Lane and Bill Irwin are such gifted mimes, you really don't want to take your eyes off them, for if you do even for a moment, you're going to miss a major moment, either terribly sad or terribly funny. Their dialogue has riffs; they roam from subject to subject, and they play off each other as the Lunts used to do.  When this sort of thing is done with élan, it's a much fun to watch as anything can be.
John Goodman, he of the huge girth, makes us wonder how he ever played Roseanne Barr's blue collar husband, for in this he roars with a highly cultivated British accent, and he lets loose with movements and facial gyrations worthy of a master clown. John Glover's Lucky (if ever a characters was misnamed) is another portrait in this great character actor's gallery. I've met many of those characters in other plays, but this one has to be his master creation. Secreting all sorts of bodily fluids from all visible orifices, he epitomizes and brings to life all nine circles of hell. Yet he's funny! When his master demands that he dance, he dances, and you ain't seen nothin' like it since Angela Lansbury choreographed herself in the current revival of Blithe Spirit.
Waiting for Godot is playing at Studio 54, 254 W 54th St, NYC, where it closes July 12th. 
—————–
Manhattan Theatre Club's revival of Samson Raphaelson's Accent on Youth visited New York, and departed. It caused no harm, and was for me an interesting look at one of 1935's modest successes. It originally opened on Broadway on Christmas Day in 1934 and closed early the following July. I don't think it made much of a ripple even then, but a seven month run in the midst of the depression meant that a goodly number of theatre goers found it entertaining. As did the Manhattan Theatre Club audience that always welcomes David Hyde Pierce, Charles Kimbrough, Byron Jennings, Lisa Baines and other dependable actors. As did I.
It's a tepid comedy, but it had some wise and witty things to say about the passing of time, about the difficulties the generation gap can bring to romance.  In it, Pierce plays a playwright who is finishing a play about a 60 year old who has a love affair with a much younger woman, and whadda ya know? His young secretary puts the move on 50 year old him, which teaches him a lesson and brings Accent on Youth to a surprising ending.  More I cannot tell you, for I saw the play two or three weeks ago and you know what?  Much of the plot has gone down the road, and all I'm left to share with you is a nostalgic glow, the sort of feeling one gets when one has an unexpectedly street encounter with an old acquaintance, one whom you know will disappear again once the encounter is over. Nice though, a reminder of less turbulent times, on and off the stages of the world.
Accent on Youth has closed. More on the production here.
—————
June is full of the past for the York Theatre, which specializes in musicals at its small theatre in the Citicorp Building on Lexington Avenue, presented the Maxwell Anderson/Kurt Weill musical Knickerbocker Holiday in its "Musicals In Mufti" series. Each year the York offers three vintage musicals, performed without costumes and scenery (hence the "mufti"), for 5 performances. Last season's Enter Laughing was so popular, it grew into a full production, again at the York, for a limited run. Knickerbocker Holiday is more specialized material, and doesn't warrant a transfer or extension, but I found it intriguing for a number of reasons. I mean, "Maxwell Anderson – librettist and lyricist???".  Are we talking about the author of Mary of Scotland, Elizabeth the Queen, Key Largo, Candle in the Wind, The Eve of St. Mark and Winterset to name a few plays of considerable weight? Yes, we are, and I'd never seen nor read of this major playwright's detour into musical theatre. Then too, it was Kurt Weill's second shot at Broadway after his arrival from Hitler's Germany in the late 1930s. All I knew of its score was the perennial "September Song" and the lovely balled "It Never Was You". Then too, that great Mufti's discovery, Josh Grisetti, who carried Enter Laughing on his young shoulders, was returning to the York for this brief appearance before he makes his Broadway debut in the fall starring in both Neil Simon's "Brighton Beach Plays" in the role that launched young Matthew Broderick's career. This time out Grisetti was playing Washington Irving (!)  in 1809, about as far a stretch as he could get from David Kolowitz in the 1970s.
In a way, as with Accent on Youth, it was fascinating for this theatre devotee to familiarize himself with these two very special writers, watching them stretch and grow. For I'd never have thought that Mr. Anderson had this much wit and humor in him, not based on what I knew of him as a playwright who dared to write in blank verse much of the time. His lyrics to this intensely political libretto are Sondheimesque, and his dialogue is reminiscent of Hugh Wheeler and Dorothy Parker with a dash of Brecht tossed in for seasoning. He's not in any of their leagues, but now and then he comes remarkably close.  "How Can You Tell an American" is colorful and fun. "Nowhere to Go But Up" is more musical comedy than one could imagine coming from THE Maxwell Anderson. "Hush Hush" is light hearted but topical. It takes pot shots at the New Deal and is not much of a friend to President Franklin Roosevelt.
Peter Styvesant is really the villain of the piece (I didn't expect that from  the character who sings "September Song)" . Archives reveal that Walter Huston, who played Styvesant in the original production, asked for a number that would reveal a kinder side; he asked for a more emotional song, and as so often happens in musicals with last minute insertions, what turned out to be the one standard in the score was his gift from the authors. The musical never quite makes up its mind what it's after; as a result it has a mixture of styles. One can sense the lack of a clear viewpoint from its original director (I mean the structuring of the piece) even though that director was Joshua Logan – but a very young and inexperienced Joshua Logan.  Clearly he learned from this one – and it did chalk up a reasonable run of 168 performances, so some of it must have worked. The York's production is only a staged reading, with limited rehearsal, so it's not to be reviewed, but I do say a hearty thanks to Jim Morgan and his crew for taking it off the shelf, dusting it off, and giving us a look at two writers who were daring to tackle something new and original in a work that is rarely seen. This is just what the mandate of the Mufti series is, and for that I cry, perhaps inappropriately,  "Hosannah!"
————–
What a season we've had. O'Neill, Raphaelson, Reza, Foote, Beckett, Ionesco, Coward, Letts, August Wilson, Bernstein, Laurents and Sondheim, O'Hara, Rodgers and Hart, Sondheim and Styne, Ayckbourn, and on and on, all in one season. And those are merely the established writers. There was a basketful of new talent as well. One really must find a way to keep on living; really one must if theatre is going to continue to be as varied, entertaining, informative, startling and useful as it's been this very year. Let us pray.
————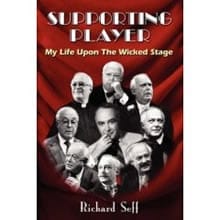 Richard Seff is author of Supporting Player: My Life Upon the Wicked Stage celebrating his lifetime on stage and behind the scenes, available through online booksellers, including Amazon.com.
Richard Seff chats with Joel Markowitz:
!