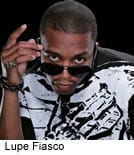 Rush hour was really rushed at Foggy Bottom/ GWU  Tuesday afternoon, as standing room only crowds boarded the free shuttle from the metro to the Kennedy Center. The crowd may not have been that unusual for a metro station that caters to the needs of one of the largest colleges in the region as well as a blossoming social scene in nearby Georgetown.  But when I reached the Terrace level of the Kennedy Center, I understood the magnitude of the HHTF event entitled Voices Remix: A People's History of the United States
The line to get into the 6 pm show in the Terrace Theatre of Kennedy Center snaked around the building, with people steadily arriving to join the excited crowd of people hoping to get a seat in a theatre that holds 350. [All HHTF shows are free.] Those seats went fast, as did seats in a large overflow room down the hall, leaving over 100 people to find other entertainment.
Meanwhile inside the theatre, hip hop beats abounded from DJ Earth 1ne positioned in the left corner of the stage providing a soundtrack to the history of America as told through poems, partial essays, and quotes from some of the most prolific writers, activists, and other keepers of oral tradition that ever lived or wrote in America.
The Voices project, based on a book by Howard Zinn,  has been traveling around the country,  and the ensemble cast last night including Michael Ealy, Walter Mosley, Lupe Fiasco, Staceyann Chin, Elizabeth Acevedo, and W. Ellington Felton made the words jump off the page.
The stories used in Voices included passages about unfair treatment of the Native American's by the "Whiteman", slavery, civil rights, Vietnam, The Gulf War, racism in America, unfair treatment of the Japanese among other stories. While Voices explored some of the more painful and sensitive aspects of American history, the show was not without hope. The last piece, a poem written and read by Elizabeth Acevedo, closed the show by encouraging the audience and pointing out how each movement has started with one person.
It was that hope that moved the crowd to give the production a standing ovation. As the audience from the Terrace Theatre and the overflow room filed out of the Kennedy Center, mixing with audiences waiting for The Color Purple and Spring Awakening in the lobby, they looked  more like a movement than a large group of individuals and I like to believe Voices was the reason why.
By Porscha "Lyrik Coleman