They are husband and wife, and are very happy to be spending time together as they travel from city to city in the National Tour of Spring Awakening, the winner of the 2007 Tony Award for Best Musical. On July 8th. one day before opening night at The Kennedy Center, Joel Markowitz schmoozed with Angela and Todd about the show, their careers, and what it's like to be a working theatre couple on the road.
Joel: Todd – what is Spring Awakening about?
Todd: It's about a community that is struggling with a 19th century set of morals, as it's getting ready to move into the 20th century, and learn what life and love is all about. It's about a bunch of children that receive a lot of instruction, but not a lot of compassion. And, we learn at the end of the show that the latter is more important than the former.
Joel: When did you get involved with this tour?
Todd: We started rehearsals in July of 2008 at the beginning of the National Tour. We started in San Diego, and we've been in 20 or 21 cities. I've lost count.
Joel: Angela, tell us about the Adult Women you play in Spring Awakening.
Angela: I play five different women. The first is Fanny Gabor – Melchior's mother, and although people say that the adults are mean and nasty and cruel, she is actually incredibly kind and warm, and actually progressive for the time. She is my favorite character to play. I also play Frau Bergmann – Wendla's mother. She is a woman who is very fearful. She did not tell her daughter the information she needed to know to get along in life, and therefore, sets in motion some of the unfortunate things that happen in the musical. I also play a piano teacher who is the subject of a young man's fantasy in the middle of a piano lesson, which is quite fun. I play a professor, and Martha"s mother – three mothers and 2 teachers!
Joel: How do you relate to these women?
Angela: I'm not a mother, so I don't relate in that way specifically, but Melchior's mother – Fanny Gabor – is a very progressive woman, and I hope if I did have children of my own, I would want them to be very much their own person, and try to raise them in a loving and supportive home. I think she tries to do that, and unfortunately, it doesn't turn out the way she wants. She's closest to me.
Joel: Todd, talk about the characters you play.
Todd: The Adult Men are the counterpoint to The Adult Women, and represent a lot of the authority figures. I enjoy playing the Adult Men, because I don't often get a chance to play so many bad guys. I play Moritz's father- Herr Stiefel. I also play Herr Knockenbruch, who is the principal of the school. He is a larger-than-life character, who has a general disregard for so many of the boys in his care. He's just a snippy, snooty, holier-than-though fellow, which is not unlike the pastor I play in the second act – Father Kaulbach – who gives a fiery speech, where he believes he is head-and-shoulders above everyone around him. So, there are a lot of inflated egos on the part of these fellows.
Joel: Todd, how many times have you gone on?
Todd: Too many times to count. It's Henry's (Stram) role, and he will be playing it during The Kennedy Center run. It's been lovely. I was on the road with 12 Angry Men for two years before this tour. We did come through to Kennedy Center. While I was doing 12 Angry Men, Angela was back in New York doing everything from working on Broadway to traveling and doing some regional theatre, and as many acting couples experience, we had a lot of time apart. When she got the call for this show, her agent said to the casting company, "Well, you know, her husband has been on the road for two years." It was the same casting outfit, and they said they'd see what they could do. They asked me to send in a tape, which I did. Then, director Michael Mayer offered me the understudy position, which has been terrific. It has given us both that rare experience to actually work together and see each other on a day-to-day basis. We have been having a year-long "catching up" of the previous two years.
Joel (kidding)  Has it been good or bad?
Todd: (Laughing). Really, it's been terrific. The two of us are also traveling with our dog. We have a sixty pound pit bull, who's a sweetheart! He's got a rather imposing head, but a very sweet dog.
Angela: You must put it in print that we have a pit bull, and he's a loving, sweet registered "therapy dog".
Todd: He is making friends with hotel staffs across the country! When we were in Des Moines, we had him registered as a "therapy dog" with The Delta Society. They work with "therapy dogs", and make them available for hospitals and hospices, and kids' reading programs, and all sorts of social service programs. So, he's been traveling with us. We bought a car when we were in San Diego, because we found that flying in from place to place was too prohibitive and difficult. We joke about the fact that we bought our dog a car! But, that's not too far from the truth! We've put on about 20,000 miles, so far.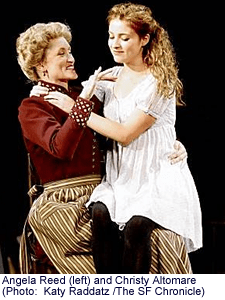 Joel: How do you enjoy working with a group of young actors?
Todd: What makes it so much fun and a real treat is working with such a professional group of actors. Angela and I have commented on the fact that working on this show is like working with the valedictorians of many music programs around the country, with a few prodigies thrown in for good measure. We've had some terrific times on stage, and in rehearsal rooms.
Joel: Which scene is the most emotional to play or watch?
Angela: For me, in the second half of the show. There is a scene that I have with Melchior's father. It's the only scene where we see a set of parents together – and it's very brief. She is just discovering that her son has gotten himself into trouble with Wendla, and because of that and the essay that he wrote, which may have lead, in an indirect way, to Moritz's death, she makes the final decision to send Melchior to a reformatory. The most painful part for her is that she feels she has done everything that she could, in the face of a very repressive society, to raise her child as a free thinker, and open and very much his own self, and it turns out to have this negative result. She feels terribly guilty and perhaps regretful of the way she was raising him. In the face of so many moments that we have as the adults – we come on – we come off – they are brief little snippets of characters – this feels like a real scene, with a beginning, a middle and an end. You get a real sense of the pain that his parents are going through in having to make this decision, because they love him so much and they have tried so hard to raise him to be – what he ends of being – which is a very intelligent and sensitive young man, but in the end, it backfires.
Todd: Definitely, it would be the scene where Moritz tells his father that he failed. It's a very stirring scene, He disappoints his father. Whereas his father is initially inclined to have an emotional outburst, in fact he withholds, and turns his vile into this withering type of disparagement and disappointment. It's a side of child abuse that often times gets forgotten and neglected, which is a form of degradation, as opposed to any kind of physical abuse. In fact, in some ways is the most punishing, because he conveys to his son that he is ultimately terribly, terribly disappointed. I think a lot of us can relate to it, not that most of us have had abusive parents, but because we have all disappointed someone in the past, and we know we are harder on ourselves than probably anybody else is. And, Moritz is in such a fragile state at that point, that it really sends him off the deep end.
I also agree with Angela's choice.  It's another chance you get to see an adult male character who thinks what he is doing is right, He just doesn't "get it". His wife is telling him his son is just inquisitive, and society is telling him his son is a threat to society. He's just trying to figure out who he should listen to. That's certainly a difficult line to cross. As a parent it must be difficult to figure out what kind of morals we should instill in out kids, and it's very hard to figure out what we should believe in the face of society is telling us something entirely different.
Joel: Where did you both meet?
Todd: We actually met in San Diego. We were in grad school at The University of California at San Diego. Andrea was actually a year ahead of me in the MFA program there. We knew each other, and maybe had ten minutes on stage together
Angela: It was Tartuffe.
Todd: We were dating other people at the time, and Angie left when she graduated, and I followed her to New York a year later, but we didn't see each other much – maybe a couple of times briefly – on the subway or bus as you do, and it wasn't until about five years later that we were cast in a workshop in Lincoln Center, and it was a brief 10-day workshop. We would go out for a drink or a bite after the rehearsal, and it was one of those  moments of, "Oh, that's who you are!" and, "Why didn't you say so?", and we've been together ever since!
Joel: What was the best advice director Michael Mayer gave you on playing your roles?
Angela: Michael was extremely generous to those of us who came into the show replacing someone from the Broadway company who had been doing the role for a long time. Following in the footsteps of Christine Estabrook, who has been involved in the show for many, many years both Off-Broadway and on Broadway. Those were some big shoes to fill. And, much to Michael's credit, he has let me find my own way. He never imposed upon me strict guidelines that I had to stay within, that were discovered by Christine. And, she was brilliant in the role. When I auditioned for the role, I said, "Why are they seeing me in this role? I am nothing like Christine Estabrook. I can't do what she does!"
Michael has always been supportive to those of us who came into it, who didn't have a history with the show. He guided us very gently towards things that have been successful in the roles in the past, shaping it in ways that help tell the story the best. That's what I've appreciated the most from Michael. Working on this show for the last eight years, in workshops and on Off and on Broadway, and now all over the world, I'm sure it's most fun for him to watch actors bring new things to it. Otherwise, I would think it would become a little tiresome.
Todd: I agree with Angela. I will say that being on a tour, and going from one city to another, every audience is different and every city has its difference. Things that are funny in DC may not be as funny in San Francisco, and vice versa. Michael is always very good in reminding us with the tour to "Don't play the audience. Play the show". They'll catch up where they want to and where they need to. You can't expect the same response from city to city.
One of the joys of being on the road is you can say, "Oh, my God. That line is funny, and it hasn't been funny the past four weeks, and it's funny again!" And the danger is that the line that was getting laughs the last four weeks and it's now not getting as much laughs when you perform somewhere else.  The audience has a huge impact on the work the performers do.
Joel: Have you performed in a city where the audiences didn't respond to the show?
Todd: We've had really striking differences. Cities like DC have been terrific.
Angela: We've only had one show in DC so far, but it was pretty awesome!
Todd: I say that because I was here (at The Kennedy Center) before with 12 Angry Men.
Joel: What memories do you have of 12 Angry Men here at The Kennedy Center?
Todd: It was a really great group of guys and we all got along well together. We got all our anger out on the stage. We'd get up in the morning and tour the city. What I like about this tour that I liked about that tour, was that it gave us a chance to really get in touch with theatres outside of New York, and to see how vibrant and strong they are.
Joel: Angela, you recently made your Broadway debut stepping in for Oscar winning actress Frances McDormand in The Country Girl. Talk about the first time you walked on the stage performing the role.
Angela: This was the first and only time.
Todd: And she did it very, very well! I was more nervous than she was. From the first moment she walked on, she looked liked she belonged there.
Angela: It was great! I had spent six months on Tom Stoppard's Rock 'N Roll. I was understudying five women, and did not go on. And, went directly into The Country Girl, so I was pretty ready to be working again. I was very prepared, and I fell in love with the play. To be in a room with Mike Nichols and Morgan Freeman and Peter Gallagher and Francs McDormand and the rest of the excellent cast – it was an opportunity I could not pass up. Although I had been understudying for months and never went on, I thought, "I can't do this again!"  Well, I did it again! And, the payoff was that I had one fantastic day where I got to do the show, and everyone was incredibly supportive, and we had a terrific time! I felt I played the show. It didn't feel like a run-through to see if I could get through it. I actually felt like I was telling the story, clearly and fully.
It was a magical day – it really was. My parents came in. I had friends there, and Mike Nichols was there. That was my fourth time understudying. The other Broadway show I understudied was The Rainmaker, which was many years earlier, where I covered Jane Atkinson. I didn't go on in that role either.
Joel: What is it with these actresses you understudy who never get sick or leave?
Angela: Women don't leave! Never! Never! Male understudies go on all the time. Female understudies rarely go on. I think it's because we have to scratch and fight for that one role in these plays with ten men that women just don't leave!
When I was covering Jane, she lived in Connecticut, and it was in the middle of winter, and she had an infant – the baby was less than six months old. What better circumstances could you ask for as an understudy? She couldn't get in because of the snow. The baby was sick. But, NO! She was there every night!
Off-Broadway, I covered for Isabella Rossellini at The Stendhal Syndrome at Primary Stages. I sat on the sidelines a lot, so when I had my one day to shine, I was ready for it.
Joel: Todd, you also appeared at Arena Stage in True West in a production directed by Howard Shalwitz, where you played Austin opposite Ted Koch's Lee.
Todd: That was fun! I've actually played the character twice now. The casting scenario that everyone knows is that both actors switch roles in the show. I think it exists because people understand that there is something strangely similar about the two characters. They just took different paths. They both have the same potential for chaos, and Lee has chosen to embrace it and Austin has chosen to repress it, and through the course of the show, Lee finds a way to channel it, while Austin finds a way to let it run rampant. It has some hilarious results – frightening results.
Joel: I just saw your brother Michael Cerveris perform at ArtSpeak a few weeks ago. You and Michael appeared together in The Booth Variations Off-Broadway and you appeared as Edwin Booth. What was it like working with Michael in the show, and why is it that the Cerveris brothers seem to enjoy playing the Booth brothers (Michael won a Tony Award playing John Wilkes Booth in the 2004 revival of Assassins).
Todd: That was just a really funny turn of events. I have to tell you that I was the first Cerveris brother to cast him as a Booth. It was not too different than the days we used to wrestle in the living room over who was going to get the chair in front of the TV.
Joel: Who wanted to become an actor first?
Todd: We grew up in an artistic family. My father is a pianist and my mother was trained as a modern dancer, and they met at Julliard. My sister is a dancer with the New York City Ballet. So, we all grew up backstage. I tried to stay away from it. I worked in publishing and health care for a while, and nothing really stuck, so I felt like The Godfather – they kept pulling me in.
Joel: What advice would you give young actors and students who are considering making theatre and/or acting their career?
Todd: Law School!
Angela: The advice is – there is no advice! If you love it and you're gonna do it – you're gonna do it! And, if you're good, you're going to get work. You may not work all the time, and you probably won't. If you are driven and talented, and it's what you are going to do with your life, there's nothing anyone can tell you to prevent you from doing it, so just go for it!
Todd: One thing that I can add to that is that it's a lot of work involved. It looks like a lot of fun, and it is, but it's a lot of work to get there. It's one thing to be talented, and one thing to be talented and hard working. You have to expect that there will be good times and bad times, and you will need to be able to ride it out, but in the meanwhile, it's like any other job. You have to put in your dues, and spend a lot of time in rehearsals, and taking classes, and getting rejected…
Angela: And spending a lot of time in restaurants taking orders.
Joel: I am a huge fan of Spring Awakening. From the first time I sat on the stage at the Atlantic Theatre, I was mesmerized by the power of the show, the score, and its message. What is the message of the show, and why do you think audiences all over the country and overseas have embraced the show?
Todd: The message of the show is that no one should be afraid of the truth. The truth is ultimately an empowering thing. It has been embraced because people recognize that fact, and also because of the history of the show – having been initially censored when it was first written, and not allowed to be performed in Europe. It had a wonderful revival in England, and now this musical has allowed it to be accessible to people all over the world. It empowers us to be honest about who we are and how we feel, and not shy away from it, but to embrace it and to work through any difficulties we may be having, in terms of the difficulties of growing up, instead of ignoring it. It's a lesson we are need to hear.
Angela: This show first appealed to a younger audience, but I've talked to so many people who have brought their parents to this show, or older siblings or older friends, and they have absolutely loved it. It has opened up opportunities for conversation between children and their parents. My sister came with her family to see the show in Tampa, and she brought her eleven year old daughter and fifteen year old son. We knew my nephew was at a right age for it, and thought perhaps that my niece was a little too young for it, but she would be terribly disappointed if everyone was gong to the show except her, and having an older brother, she knew what was going on in the world. It was a great opportunity for my sister and her husband to talk to her about what she was going to see. She has seen a lot of stuff on television and film, and here it was in front of her. My sister said it was an excellent opportunity for all four of them to sit at dinner and talk about what the show was about, and then they discussed it afterwards. I've heard that from so many people, that the show is a bridge for them to talk to their children and to see the show with their children. That's a really cool thing.
Spring Awakening is in the Eisenhower Theater at the Kennedy Center until August 2nd.
For Details, Directions and Tickets, click here.
Related: