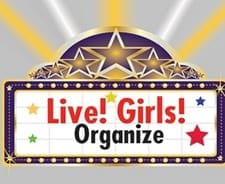 Jessica rates it:
The premise was so promising: Strippers fighting for their rights, union organizers in unfamiliar territory, nudity and social justice. However Live! Girls! Organize! does not live up to its potential. The comedy of the show consistently falls flat, and the characters are not well written enough to survive without comedy.
Live! Girls! Organize! follows two union organizers, Anderson and Coretta (Bruce Alan Rauscher and Soneyet Muhammad), as they show up in a small town to try and form a stripper's union at Rusty's Peek-a-boo Lounge.  However, all their work may be put on the line when Anderson becomes romantically involved with a sassy stripper named Chastity.
The cast covers the spectrum in terms of experience level: Jim Brady seems miscast as a vulgar, despicable night club owner and, according to his bio,  it appears to have been quite some time since he has acted regularly. Saade is inoffensively spunky as Chastity, but she misses a lot of comic opportunities, and Muhammad does as well as possible considering her character only exists to give exposition on Anderson's past.
Rausher's performance is the stand out of this show: since none of the characters ever become sympathetic, by the end I began to care about what happened to Anderson. Unfortunately, the end of the play leaves the audience completely in the dark. We never know if the stripper's union changes anything, or if Anderson and Chastity make it, or if Rusty the seedy owner really changes his ways.
See it: You are in the mood for some relatively tame theater about strippers; Nothing gets to you like a good union story,
Skip it: You are a stickler for plot and character development; You are horribly offended by either strip clubs or unions.
Live! Girls! Organize!

by  Malcolm Pelles
presented by New Galaxy Theatre Group Redrum
reviewed by Jessica Pearson